WOOHOO! This is it!
We've got pavé, we've got gravel road, we've got dramatic coastline and majestic mountains. The rumours were true – we'll be heading up the epic 13 hairpins of Alp d'Huez and re-visiting the llamas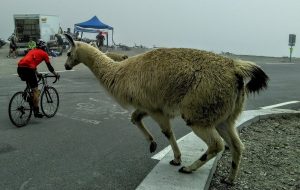 on the iconic Tourmalet.
Read more about the 2018 route here and check our facebook and twitter feeds for analysis from our favourite commentators.
We'll spend the next week working into the night to get all our Loop Options ready for you – we'll announce them here on our website a week from today – next Tuesday, October 24th.
If you've already paid your deposit to get your guaranteed Loop place, you have until 30th October to email Sarah with your choice.
If you were waiting to see the Loop Options before you commit, you have until 1st November to chew it over before our 2nd wave of sales opens at 9am.
If you haven't registered your interest yet – do it now to ensure you receive our important newsletters.
Vive Le Tour!