Watch the videos, read the personal stories and understand why our riders get such a huge sense of achievement from fundraising for WWMT.
Palace for Life Foundation
Palace for Life Foundation, the official charity of Crystal Palace FC, has been working with the south London community for over 25 years and launched Breaking the Cycle in 2018 with the aim of reducing youth violence in the area.
The Foundation uses the power of football and Crystal Palace to change the lives of young people across south London, particularly the most hard-to-reach and hard-to-help, working with over 13,000 people each year
The Foundation offers free sessions in sport and other activities, alongside pastoral support, to instill positive values and help prepare participants for a better life.
Breaking the Cycle, backed by WWMT, is a targeted intervention programme aimed at reducing youth violence in south London. They offer one-to-one mentoring sessions as well as group work with the aim of turning young people away from crime.
Founded in Somerset in 2012 after the 2011 England Riots, Key4Life's mission is to break the cycle of (re-)offending among young males aged 18-25, who have some of the highest rates of re-offending and lowest chances of securing employment if they receive a custodial sentence.
Key4Life has supported over 250 young people and trained 300 volunteer Mentors. They deliver a 12-month prison rehabilitation programme and a 6-month preventative community-based 'At Risk' programme.
The cost of putting one participant through the Key4Life programme is £5,000 versus the average annual cost of a prison place in England and Wales of £37,000.
14% of those who have been through Key4Life's prison and preventative programmes have re-offended, compared to the national proven re-offending rate of 64% one-year post-release.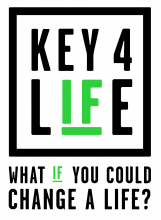 Youth Adventure Trust (YAT) introduce Year 7 to 9 pupils from Wiltshire to outdoor adventure through a series of adventure camps and day activities that take place over 3 years.
YAT believes that all vulnerable young people should have access to personal development opportunities so that they can fulfil their potential in the future.
As part of that, they understand that learning in an outdoor environment is a key part of a young person's development. Furthermore, they have seen how a long-term, early intervention, starting at age 11, successfully equips young people with the hope, confidence, skills and resilience that will last a lifetime.
One Headmaster from Warminster said of the YAT programme:
"It turned Daniel around from a boy at risk of permanent exclusion to a boy thoroughly engaged with his schoolwork who is now a pleasure to teach".