Fri 3rd to Mon 27th September 2021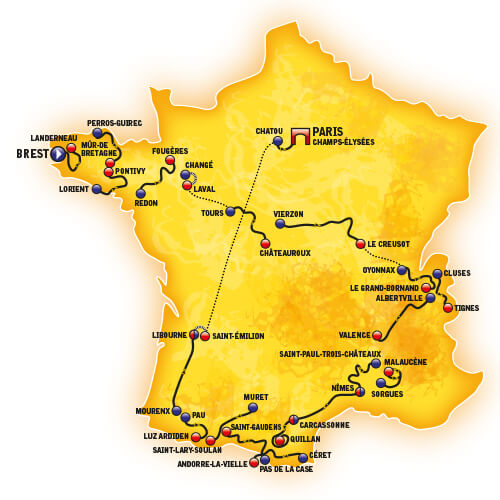 The Highlights
The very best bits:
Views from every corner for 21 stages. This is the year of spectacular citadelles and rock formations. Photo time!
Grand Depart in Brittany: Cycling history and quiet, stunning (hillier than you imagine) cycling. These stages will amaze those who don't know the region.
The Pyrenees: an incredible and unforgettable five (yes, five) stages which take us through these spectacular mountains
The Ventoux double: we weren't expecting that!
And we're also really excited about:
The Alpine stages which will bite! 4,400m of climbing in only 145km on stage 9 is going to need a rest day to recover!
Having enough time to savour Provence over 4 stages of southern French happiness
A stage 20 time trial through some of the most famous vinyards of the world. Yes please!
Full stage descriptions and profiles (where possible) below …
We set off from France's westernmost city, and our route initially takes us south, through the fresh salty air of the Atlantic coastline and the picturesque towns of Locronan and Quimper, before swinging north towards our finish town of Landerneau. This is an area known for its strong westerly winds as well as its scenery, so we can expect a buffeting from both sides throughout the course of the day. The second half of the stage takes us through the Monts d'Arée – a region of steep climbs, wooded valleys, rocky outcrops and wide open moorland that may remind you of Wales or Cornwall. Make sure you save some energy for the final 3km – the steep Côte de la Fosse aux Loups will ensure our legs are well-and-truly warmed up for what's to come tomorrow.
Tour Practicalities
Start: Hotel in Brest
Finish: Hotel in Landernau
Loop payments include a Friday arrival with the rider briefing at 5pm followed by dinner. You can buy an extra night of accommodation in Brest if you'd like to arrive on the Thursday rather than the Friday.
This hilly, rural stage flirts with the Côte de Granit Rose (Pink Granite Coastline) during its first half, delivering us to a series of seaside towns, then intermittently plunging into the pretty – and punchy – Breton interior. Expect refreshing sea breezes and a summer holiday vibe. We'll bid a final farewell to the Channel at Saint-Brieuc – famous for medieval atchitecture and delicious scallops – and then turn inland, where a quiet landscape of forests and farmland ushers us towards our second uphill finish: a double ascent of the fearsomely steep Mûr de Bretagne, cited by locals as their version of Mont Ventoux. (Grand Loopers will be able to verify this claim later in the Tour.)
Tour Practicalities
Start: Transfer to Perros Guirec
Finish: short transfer to Pontivy hotel
Today's route will be flatter, though we may well still encounter some stiff side winds as we meander through fields and forests, crossing several estuaries as Brittany's rivers empty themselves into the ocean. We'll slow briefly to admire the ranks of prehistoric standing stones at Carnac and La Trinité-sur-Mer, and enjoy being dwarfed by Josselin's towering fairytale castle. The final kilometres will be through vast open farmland, along smooth, quiet roads, and as the route swings round to approach Pontivy from the west, we may even finish with a tailwind behind us.
Tour Practicalities
Start: Transfer to Lorient
Finish: 2nd night in Pontivy hotel
We've left the coast behind now – this stage is all inland, and takes us through Brittany's rural hinterland, known as Argoat. Expect more of that immaculate French tarmac, gently rolling countryside, and big skies above endless fields of crops. This is listed as a flat stage, but Tour Director Christian Prudhomme has speculated over how the sprinters will cope with "hilly forest roads" and "unsheltered uplands", suggesting that it might hold a few more challenges than we would otherwise have expected. A couple of hours before we reach our finish town of Fougères, we'll skirt the divine old city of Vitré, with its step-back-in-time medieval streets, and yet another magnificent castle. And then it's another pleasant rural spin, through fields of maize and past prosperous stone farmhouses.
Tour Practicalities
Start: Transfer to Redon
Finish: Transfer to Changé
This would be a punchy little stage if ridden at full speed, but most of us will be happy to take it easy, enjoying the scenery and treating this as a recovery day between two big blocks of riding. We'll start by climbing up out of the Mayenne Valley, quickly leaving the metropolitan area behind us and heading out into quiet country roads, fringed with trees and hedgerows. Our second climb (of about a mile) comes as we recross the river, and from here the road undulates gently through fields of cows – their milk will be used to make the famous Babybel cheese, produced just up the road in Évron. We'll re-enter the suburbs of Laval from the east, and our final climb (a mere pimple compared to what we've seen elsewhere) comes at the very end of the stage – a smashing finish for the pros, and a nice roll-in for us.
Tour Practicalities
Start: Morning time trial ride from the hotel door, followed by a lunch time transfer to Tours
This is one of those stages designed for the helicopters, with numerous architectural wonders en route. And since we're not racing, we get to admire them as we pass, rather than focussing grimly on the wheel in front. We start out along the River Loire, then, after the statuesque bridges and graceful chateaux of Amboise (where Leonardo da Vinci is buried), we cross the river Cher, where alongside the imposing renaissance chateaux of Saint Aignan and Montrichard is the chateau of Chenonceau, built on a bridge over the river and used as a hospital for wounded soldiers in WW1. After our morning's sightseeing, a manageable amount of climbing takes us through the quiet pastoral region of Indre, through ancient woodland and small, sleepy villages, for a nice fast run into Châteauroux.
Tour Practicalities
Start: Tours hotel
Finish: Chateauroux hotel
This is the longest stage the Tour has seen since a monstrous 249.5km mountain stage in 2000. And while we're not going up any official mountains, there's still more than 3,000m climbing to enjoy. The first few hours will look flatter, but might not necessarily feel it. We'll cross a vast, prairie-like landscape, with the cathedral city of Bourges to offer respite from the sun and the wind. There'll be more woodland, as well as water meadows and vegetable farms, as we approach the mighty River Loire, and 'a bit of a hill' at Nevers, to show us the sights of this historic city. However the real climbs are stacked towards the end of the stage. We'll navigate the winding roads and wooded hillsides of the Morvan National Park, and the stage's final reckoning is on the Signal d'Uchon, 5.7km of uphill tarmac, through scenery so serene that we'll forgive its gradients.
Tour Practicalities
Start: Transfer to Vierzon
Finish: Le Creusot hotel
Today we meet the mountains. The climbing will begin immediately as we leave Oyonnax, with a detour into the Jura mountain range via the Forêt d'Échallon. We'll dip down to cross the River Rhône, and continue through the hills to Bonneville, watching the Alps grow larger and larger on the horizon. Our first big climb is the Côte de Mont-Saxonnex, which winds its way among the chalets and forests above Cluses. It's nowhere near as high the Colombière, but its 8.3% average gradient will give a hint of what's to come. The Col de Romme is a classic Alpine climb, with ringing cowbells and views of the surrounding peaks, and the Col de la Colombière is a psychological challenge as much as a physical one – you can see the gîte at the top from a long way down the road and the views will make it all worthwhile. The descent to Grand-Bornand is a fun one, with it's swooping hairpins, magnificent views, and a mural of Bernard Hinault partway down to remind you that you are now also part of Le Tour.
Lite option: You get a lift to the first feed stop in Frangy at 45km. This means a stage of little over 100km and a bit more energy to tackle those last three climbs of the day.
Tour Practicalities
Start (Grand Loop): Transfer to Oyonnax 
Start (Alps Loop): Oyonnax hotel
Finish: Le Grand Bornand hotel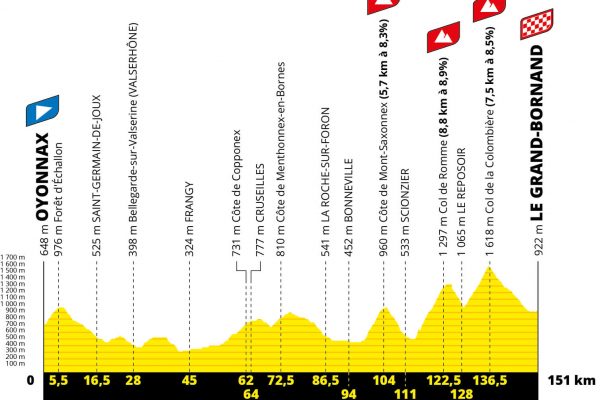 Taking in some of the most beautiful scenery in this region of the Alps, today's route starts off by rolling up the valley from Cluses, then the short sharp Côte de Domancy will awaken our legs, taking us up to the fancy ski resort of Megève. We'll keep most of the height we've gained, following the River Arly until Crest-Voland, when we'll encounter the Col des Saisies – 10km of gentler gradients, through Alpine meadows, overlooked by the jagged peaks we'll be getting a closer look at later on. We'll descend into pretty Beaufort (home of excellent cheese), and then take on the Col du Pré, a steeper, trickier climb, that may feel like the toughest of the day. Our reward is the stunning Lac de Roselend – we'll ride straight across its dam, admire the stone chapel at its far end, and then gaze back over it as the road continues to climb towards the Cormet de Roselend. From here it's a twisting technical descent to Bourg-Saint-Maurice, and then a long, steady climb up to Tignes, where we have a rest day to look forward to. This might only be 145km but it includes over 4400m of climbing; refer back to the first sentence for the scenic reward!
Lite option: A lift to top of the Col des Saisies at 50km makes this stage a little shy of 100km and focuses on two big climbs, rather than all three.
Tour Practicalities
Start: short transfer to Cluses
Finish: Tignes hotel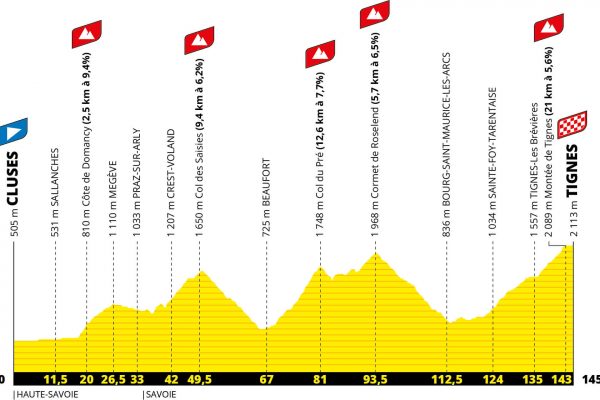 Relax …
Tour practicalities
Two nights in the same hotel. Deluxe!
Today's route is a feast for the eyes, as it'll take us past a series of spectacular mountains that we don't have to climb! We'll spin through the flat Isère Valley, then head through to Chambery between the rocky buttresses of the Bauges and Chartreuse massifs – where we may spot paragliders if the weather's clear. We'll then head south, encountering some smaller climbs en route, and watching the landscape open out before us as we approach the fertile Rhône Valley. There's a net descent over the day but it'll feel more like a pleasant tail wind than a freewheel. Transitional stages like this are really rewarding to ride – by the end of the day it'll be hard to remember that we woke up in the mountains.
Lite option: A lift to Col de la Placette makes this into a 102km stage with one big descent, one significant climb and a good amount of flat to warm you up to tomorrow's task.
Tour Practicalities
Start: Transfer to Albertville
Finish: Transfer to Sorgues