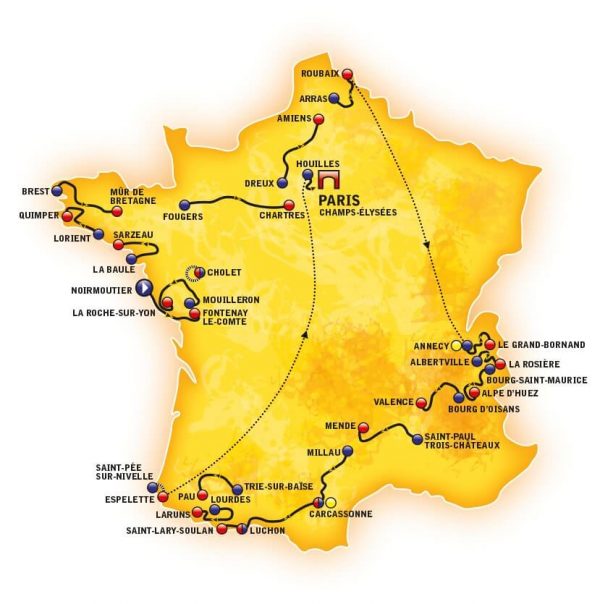 The Pro Tour organisers release stage profiles gradually. As soon as they are available, we will post them below.
The start and finish towns (along with the main mountain stage profiles) are announced each October but the rest of the detailed route information isn't released until 6 or 7 weeks before the tour. So if you're looking for exact route maps or profiles of non-mountain stages, you'll have to wait until early June when the best source of information is the official Tour de France magazine (available in bike and magazine shops as well as online).
Stage 1: Noirmoutier – Fontenay-le-Comte. 189km.
We begin on the small, warm, seasidey island of Noirmoutier, off the coast of the Vendée. We'll get to enjoy 110km of lovely coastal roads, pretty little beach towns and harbours, parklands and pine forests. We then turn inland through the delicate greenery of the Poitevin marshes towards Fontenay-le-Comte. It's a fairly flat, low-lying stage with lovely scenery and photo opportunities. The main challenges will come from the distance and the stiff Atlantic breeze but with some perfect, newly laid tarmac to help you along, it shouldn't be too tough.
Start: Noirmoutier hotel. Finish: Fontenay le Comte hotel.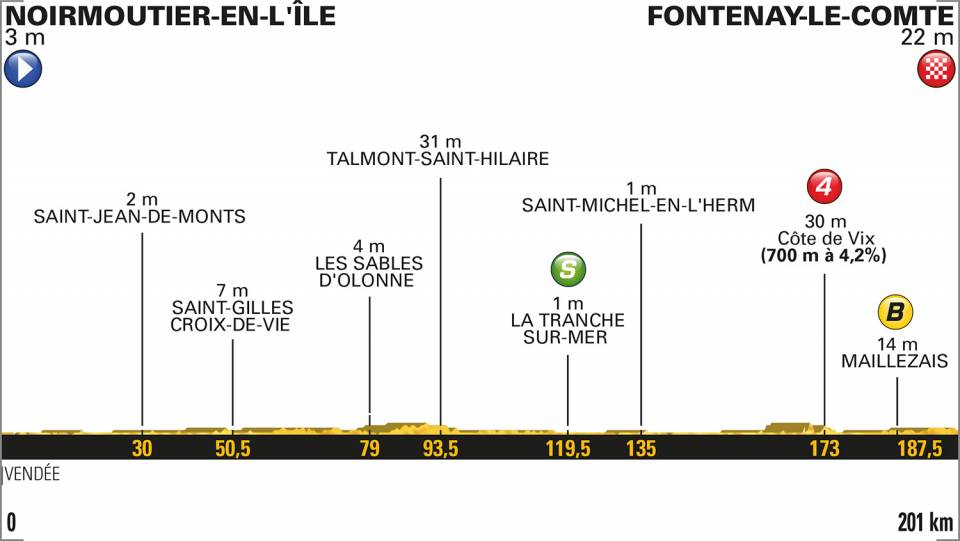 Stage 2: Mouilleron-Saint-Germain – La Roche-sur-Yon. 183km.
From the small rural community of Mouilleron-Saint-Germain, this second flat stage meanders through the farmland and villages of the Vendée, mostly avoiding main roads and finishing up in the regional capital of La Roche-sur-Yon, originally founded by Napoleon. You can expect a sprint finish during the Tour itself, but for Le Loopers this will be a lovely long gentle ride, perfect for bunch riding and getting to know the people with whom you'll be spending the next few days – or weeks.
Le Loop Practicalities: Start: Transfer to Mouilleron. Finish: La Roche sur Yon hotel.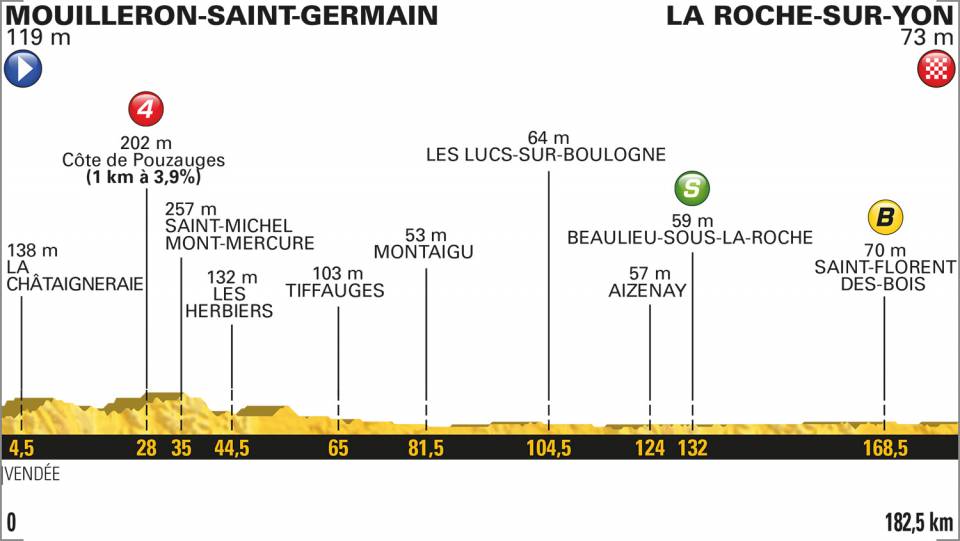 Stage 3: Cholet. 35km.
The first time trial, which for Le Loop means a lovely, short day out, with a chance to spin the legs, recover from the first two stages and rest up for what lies ahead. We'll be riding a great 35km loop through the farmland to the west of the town, with a couple of small climbs. Some will choose to test their speed with the help of Strava (though respecting traffic rules) while others will enjoy the opportunity for an easy ride. Then we transfer to the next stage start on the coast and should have time for a dip in the sea before dinner!
Le Loop Practicalities: Start: Transfer to Cholet. Finish: Transfer to La Baule hotel.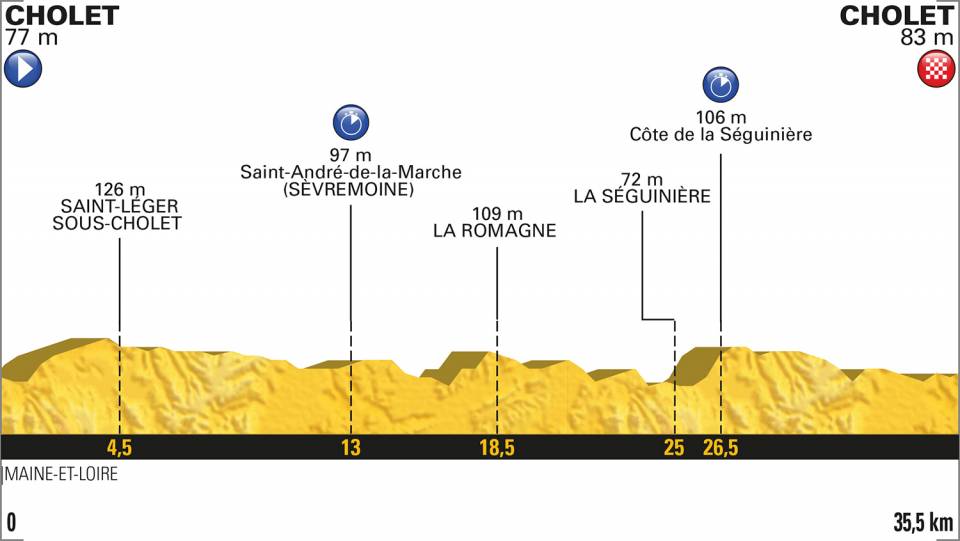 Stage 4: La Baule – Sarzeau. 192km.
Today's stage begins in La Baule, whose eight-kilometre beach was the site of the very first Tour village in 1988. It's a coast-to-coast ride (admittedly the same coast), as we'll finish a few miles north in Sarzeau, after plunging into the Breton countryside and enjoying some of the quiet country lanes that have helped Brittany become the region of France where cycling is most popular (and there's some stiff competition!). We're likely to be helped along by the wind for the first 100km, but we'll probably have it in our faces as we head back towards the Atlantic.
Le Loop Practicalities: Start: La Baule hotel. Finish: Sarzeau hotel.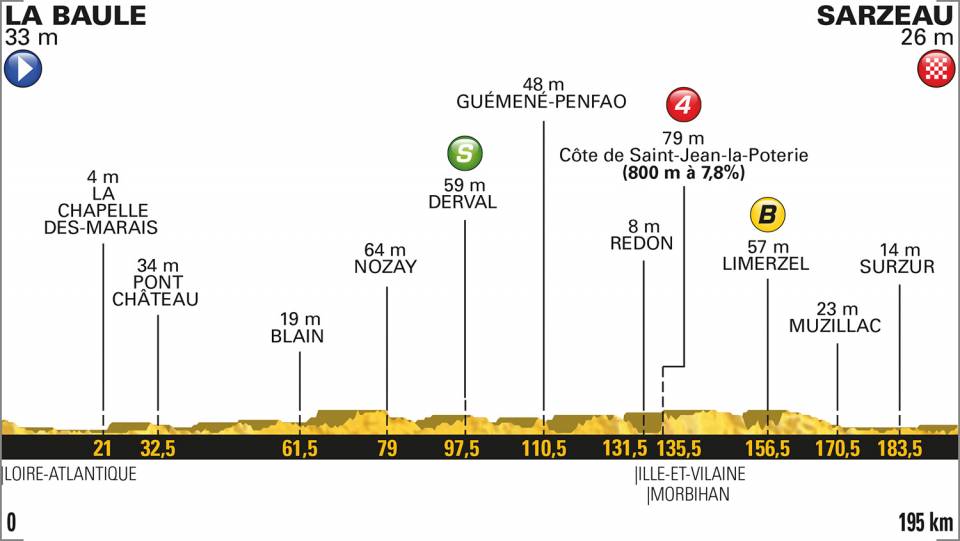 Stage 5: Lorient – Quimper. 203km.
This stage takes us into classic Breton cycling territory, with a lovely roll-out along the coast to the old fortified town of Concarneau, and a hilly finale along narrow lanes leading towards Quimper, commonly recognised as the cultural heart of Brittany. Riders will be beginning to feel the burn by now – Quimper's a far cry from the Alps, but this stage will feel tough and hilly and is designed to shake things up in the pro peloton a week later. It includes five categorised climbs, and is definitely 'hilly' rather than the previous 'rolling' or 'flat' stages.
Le Loop Practicalities: Start: Transfer to Lorient. Finish: Quimper hotel.
Stage 6: Brest – Mûr de Bretagne. 181km.
Brest, France's westernmost city, is positively steeped in Tour history, having been an indispensible part of the race between 1906 and 1931. We'll bid a final farewell to the wild Atlantic coast as we head eastwards on more quiet, perfect tarmac for a double ascent of the Mûr de Bretagne – a long, straight, uphill that's often known as "the Alp d'Huez of Brittany" (those of us also riding Stage 12 will be able to judge whether this is a fair comparison). This stage will be one to remember – some really lovely cycling.
Le Loop Practicalities: Start: Transfer to Brest. Finish: Mur de Bretagne hotel.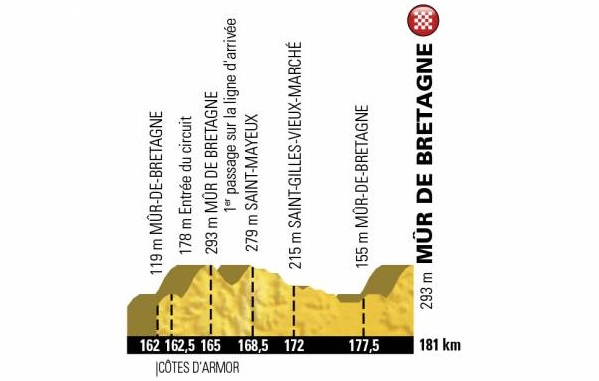 Stage 7: Fougères – Chartres. 231km.
This is the longest stage of this year's Tour, and we'll have Chartres' spectacular Gothic cathedral to welcome us at the end. The route takes us across the fertile farmland of Northern France, with golden wheat fields as far as the eye can see, and this will be a good stage for sheltering in the bunch, and practising our group riding skills. For pilgrims in the 14th century, arriving in Chartres was the end of a long, painful and poignant journey – by the end of 231km, we may well feel the same!
Le Loop Practicalities: Start: Transfer to Fougeres. Finish: Transfer to Dreux hotel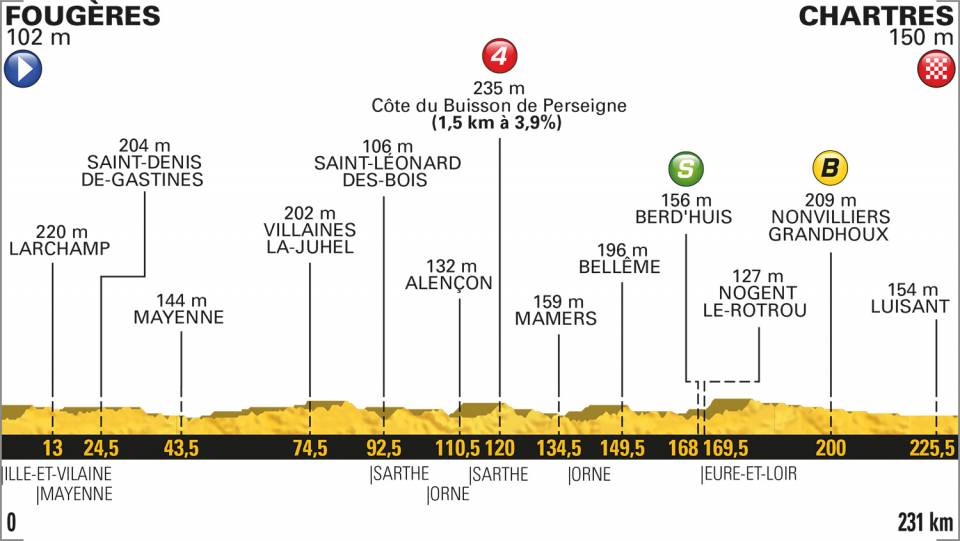 Stage 8: Dreux – Amiens. 181km.
We're already a long way from Brittany, and this stage takes us further across the immensity of Northern France, as we follow the Seine for a few miles, before striking out towards the historic battlefields of the First World War, through picturesque villages, small towns and rural french views a'plenty. There are no significant climbs on this stage, though we may have to do battle with the wind as we head into the final stretches.
Le Loop Practicalities: Start: Dreux hotel. Finish: Amiens hotel.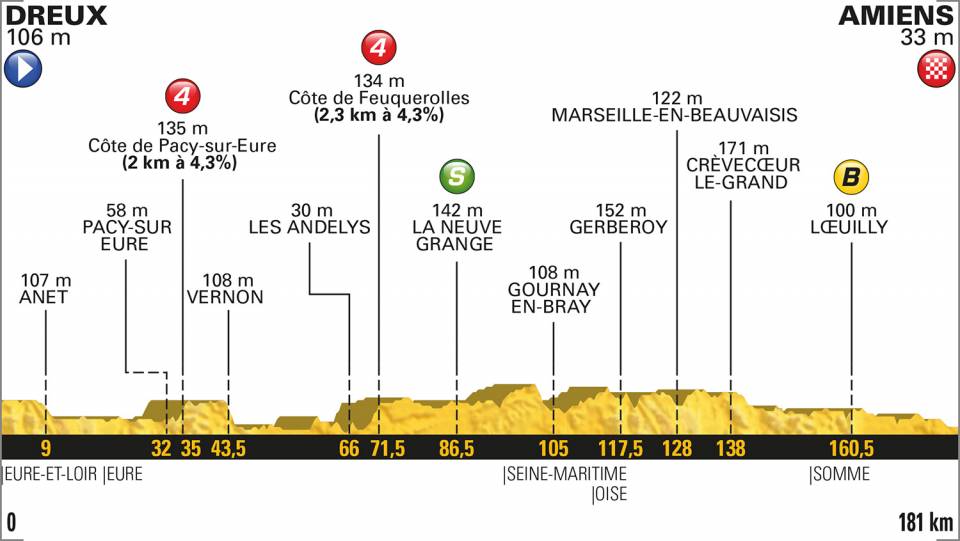 Stage 9: Arras – Roubaix. 154km.
And now for the cobbles! The inclusion of significant parts of the Paris-Roubaix route in Stage 9 has raised a few eyebrows, but we're looking forward to it, since we won't have to tackle the 21.7km of pavé at race pace, and the longest section we'll have to face in one go is only 2.7km, (Auchy to Bersée). We'll start the day with a 50km non-cobbled run-in to Cambrai and its famous battlefield, and riders will then spend the afternoon immersing themselves in a classic continental cycling tradition – and no, we're not talking about the mud! – before dinner and a beer or two in Roubaix.
Le Loop Practicalities: Start: Transfer to Arras. Finish: Roubaix hotel.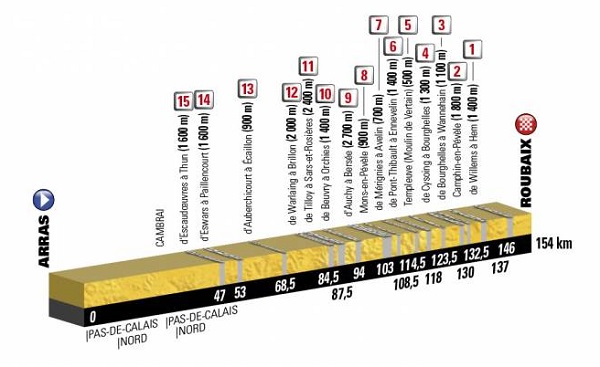 REST DAY 1
Le Loop Practicalities: We'll transfer from Roubaix to Annecy by TGV train. This is a departure day (from Roubaix) or arrival day (in Annecy) for several Loops.
Stage 10: Annecy – Le Grand-Bornand. 159km.
A great introduction to the mountains – this scenic stage will take riders alongside the picturesque Lake Annecy before heading up the 1,477m Col de la Croix Fry, and then on to the eagerly awaited Col de Glières. It's a relatively short climb but with an average gradient of 11.5%, it's a tough first test of the day. Riders will then get to enjoy a gentler 1.8km tarmac ascent through the peace and beauty of the Glières Plateau – a pivotal location in the French Resistance – before taking on the giants of Col de Romme (trees and shade give way to open pastures and stunning views) and the famous Col de la Colombière (you can see the chalet at the top with 4km to go – something to aim for!) and recovering on the descent to Le Grand-Bornand before a celebratory drink or ice cream.
Le Loop Practicalities: Start: Annecy hotel. Finish: Transfer to Albertville.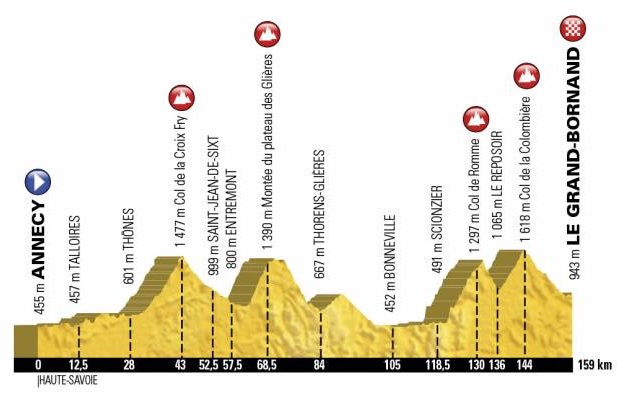 Stage 11: Albertville – La Rosière Espace San Bernardo. 108km.
Stage 11 isn't particularly long, but makes up for it with a lot of climbing – an overall 4,200m vertical gain. It also sees the Tour's first ascent of the 1,748m Col du Pré which follows a warm up on the similarly lofty Montée de Bisanne. Some of us will no doubt slow down to admire the sparkling lake before the next summit, the Cormet de Roselend. It's overlooked by the Roselend Chapel – all that remains of the village that was submerged when the hydroelectric dam was built in 1960. We'll then descend carefully, mindful of Johan Bruyneel's 1996 crash that saw him flying off a rainy hairpin into a ravine (he climbed out of it, got back on his bike and finished the stage, in case you were worried), and then it's one more long (but mercifully shallow) haul up the Col de Petit Saint Bernard to La Rosière.
Le Loop Practicalities: Start: Albertville hotel. Finish: La Rosiere Hotel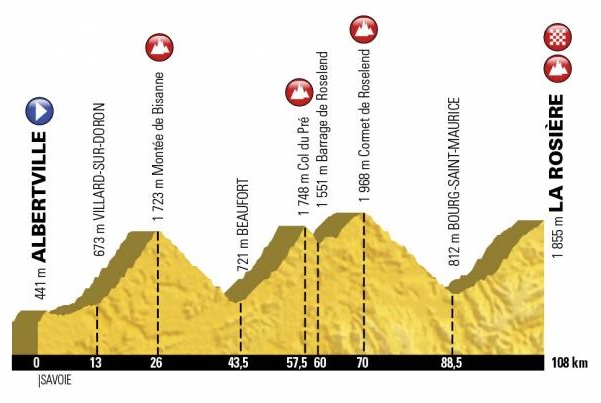 Stage 12: Bourg-Saint-Maurice Les Arcs – Alpe d'Huez. 175km.
Stage 12 is, according to Chris Froome, the "Queen stage" of this year's Tour with 5,400m of climbing over the Col de la Madeleine and the Col de la Croix de Fer, before an uphill finish on Alpe d'Huez. It's bucket list, tour climbs all day! Riders will also be treated to the absurd twists and turns of the Lacets (shoelaces) de Montvernier, which scale a near-vertical cliff face overlooking the Maurienne Valley. The pros may decide this is a stage for breakaways and attacks, but for our Le Loopers, this will be an exercise in pacing, rewarded with smiles over dinner in our hotel on top of the mountain.
Le Loop Practicalities: Start: La Rosiere hotel. Finish: Alpe d'Huez hotel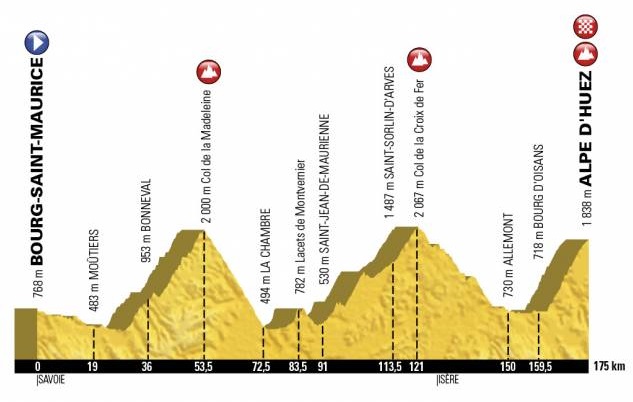 Stage 13: Bourg d'Oisans – Valence. 169km.
This flatter stage will offer some respite for those whose legs are tired from the Alps, as well as a chance for the sprinters to shine when the Tour itself comes through a week later. We're expecting Stage 13 to be a highlight for many, as it squeezes so many of France's finest landscapes into a single day's cycling. Riders will start their day in the Alps, pedal through the gorgeous greenery and stunning cliffs of the Vercors massif, and finish off among the flat open vineyards of the Provençale countryside. Although we'll finish the day lower down than we begin it, it won't all be downhill – there'll be a couple of 'bumps' in the Vercors to keep it fun, interesting and to make sure our legs are working hard.
Le Loop Practicalities: Start: Alpe d'Huez hotel. Finish: Valence hotel.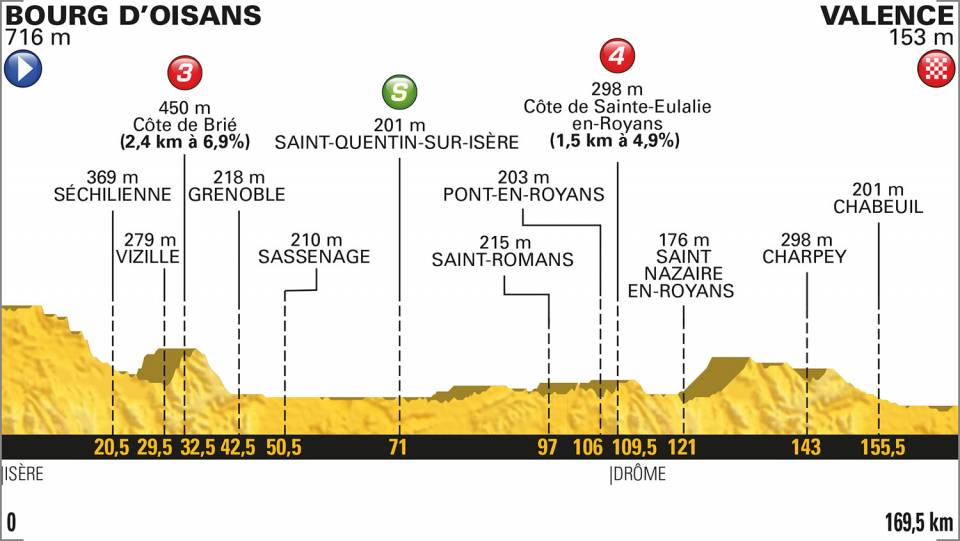 Stage 14: Saint-Paul-Trois-Châteaux – Mende. 187km.
Expect a summer holiday feeling for the first few miles of today's stage, as we wend our way out of the medieval fortified town of Saint-Paul-Trois-Châteaux and roll through fields of lavender and sunflowers towards the winding roads of the Cevennes (hamlets, rivers, ravines and a noticeably slower pace of life). The afternoon will be more demanding as the route carries on into the foothills of the Massif Central and through the craggy gorges of the Ardèche river, towards the final leg-busting climb up to the aerodrôme above Mende, the sting in the tail of a stunner-stage.
Le Loop Practicalities: Start: Transfer to St Paul 3 Chateaux. Finish: Mende hotel.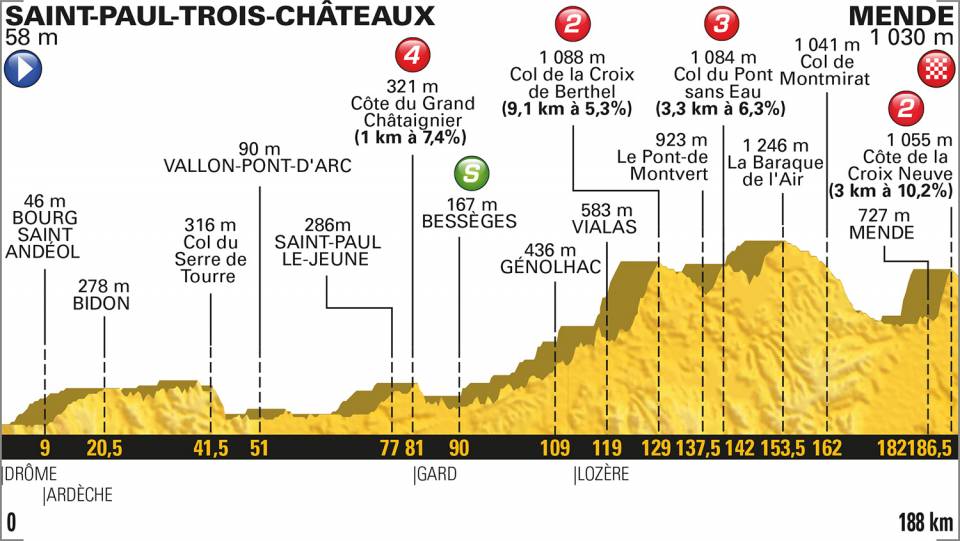 Stage 15: Millau to Carcassonne. 181km.
Passing under the impressive Millau Viaduct (the tallest bridge in Europe when it was opened in 2004), today's stage throws up some amazing geological features. You'll get gorges, caves, cliff faces and green, green plateaux and pastures in between. It also features the Tour's first ever ascent of the Pic de Nore – relatively gentle gradients, but topping out at 1,211m – before rolling down towards the flatter lands of the wine-growing region of Languedoc-Roussillon and our destination Carcassonne, a fully restored and breath-taking medieval city.
Le Loop Practicalities: Start: Transfer to Millau. Finish: Carcassonne hotel.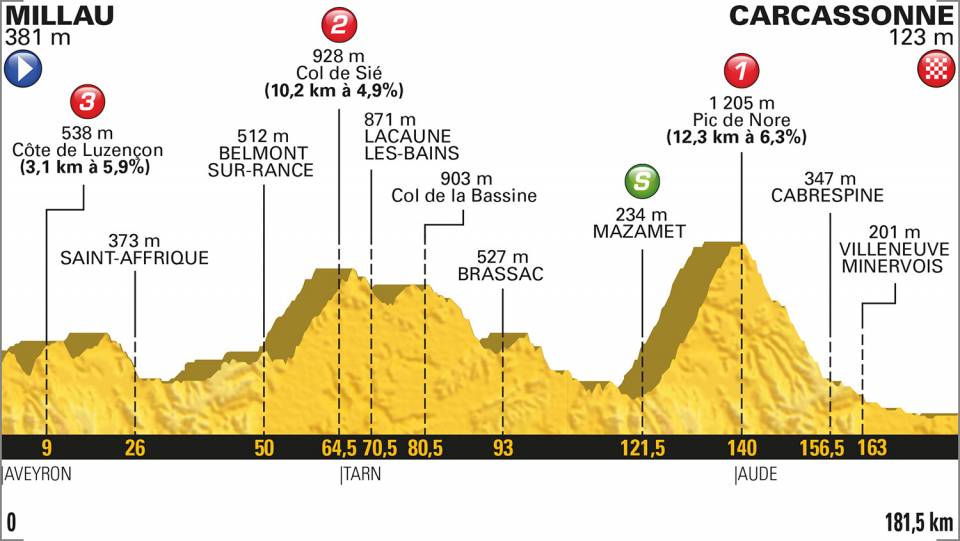 REST DAY 2
Le Loop Practicalities: We'll stay two nights in Carcassonne so this is a proper rest day. Yay. It's also a departure day and arrival day for several Loops.
Stage 16: Carcassonne to Bagnères-de-Luchon. 218km.
We're back in the mountains today, with a 218km stage taking us across the plains of Aude and Ariège and into the Pyrenees, with a brief incursion into Spain the only time this Tour breaches France's borders. A stage of two halves, you get a 120km peloton parade to start the day and then all of a sudden you're in the mountains. Grimpeurs will be pleased with the triple of Col de Portet-d'Aspet, Col de Mentée and Col de Portillon. The rest of us will be glad that we tackle the final climb from its gentler side, and have an 11km descent into Bagnères-de-Luchon to end the day.
Le Loop Practicalities: Start: Carcassonne hotel. Finish: Luchon hotel.
NOTE: For those who choose the 'fun' option on Loop 10, we'll drive you the first 120km of stage 16, taking away the time pressure and leaving you all day to tackle the remaining 100km of mountains.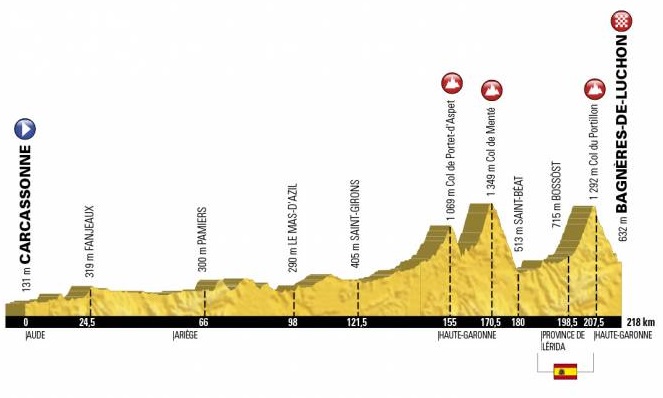 Stage 17: Bagnères-de-Luchon to Saint-Lary-Soulan. 65km.
This stage is a treat in many ways. It's the shortest stage the Tour has seen in 30 years, at 65km, and more than half of that (38km) will be uphill. What's more, it features a brand new climb – the Col de Portet – which is not only making its Tour de France debut, but will have been especially paved for the race (it's currently a dirt track), and is described by Christian Prudhomme as having "all the assets to become a new Tourmalet". The unusually short parcours, whilst striking fear into the hearts of the pro peloton (who will have to cover the 3,100m of vertical gain at a near-sprint), means that we'll be able to take this stage at a comfortable pace, enjoying the views from the Col de Peyragudes and the Col de Val Lauron-Azet before celebrating the Pyrenees' highest ever summit finish.
Le Loop Practicalities: Start: Luchon hotel. Finish: St Lary hotel.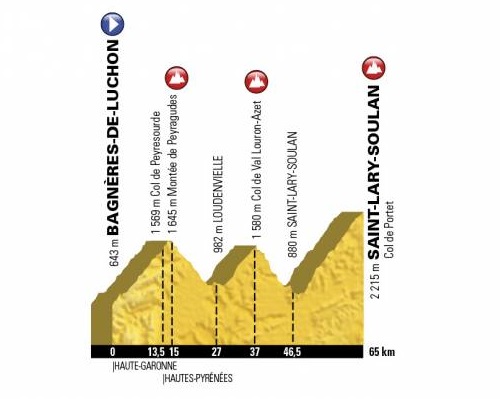 Stage 18: Trie-sur-Baïse – Pau. 172km.
A brief respite from the mountains, this stage will be a chance for the pro sprinters to get back in the game (depending on how many of them have survived the gradients of the last few days) and for us to stretch our legs and remember what 'flat' feels like. We'll enjoy blasting along the warm southern tarmac, perhaps stopping for a few selfies among the fields of sunflowers as we head for Pau, a Royal town (birthplace of Henri-'Paris is worth a mass'-IV) which the Tour loves so much that this will be the 70th visit. This stage won't feel easy after the last couple of days but it will be a very manageable 100 miler in the glorious French southern sun.
Le Loop Practicalities: Start: Transfer to Trie sur Baise. Finish: Pau hotel.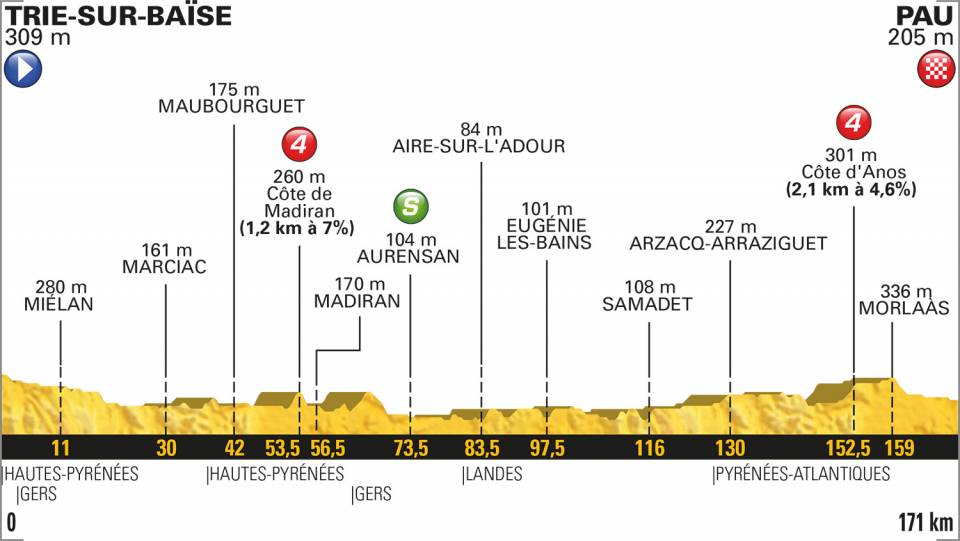 Stage 19: Lourdes – Laruns. 200km.
Our final day in the mountains, and we'll be making the most of it with what Prudhomme has described as "the frightening Aspin-Tourmalet-Bordères-Soulor-Aubisque sequence". The high point of this stage comes roughly halfway, at the top of the Tourmalet (one for all col baggers: it's the most climbed mountain in Tour history), but the real struggle will take place in the final third, with an ascent of the picturesque but little-known Col des Bordères en route to the fiercesome Col du Soulor. This is then followed by the vertiginous balcony road of the Cirque du Litor, and finally the magnificent Aubisque. Whilst being a mighty test for pros and Le Loopers alike, the Aubisque really is one of the most exceptionally beautiful climbs: a spectacular way to say goodbye to the Pyrenees.
Le Loop Practicalities: Start: Transfer to Lourdes. Finish: Transfer back to Pau hotel after dinner (so two nights in the same hotel. Yay).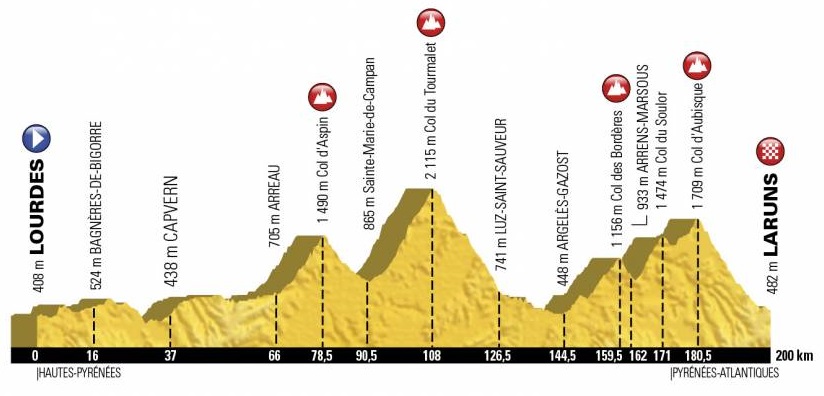 Stage 20: Saint-Pée-sur-Nivelle – Espelette. 31km.
The struggle isn't quite over. Today's stage is a time trial (ergo blessedly short), but it's a punchy one, with quite a bit of climbing, and a 10% stretch 3km from the finish. Some of us will use this as an opportunity to empty the tank before the long transfer to Paris in the afternoon – others will take it easier, enjoying the Basque scenery and looking forward to seeing the famous (and recently very trendy on menus all over France) peppers of Espelette, hanging out to dry from all of the town's balconies: one more regional snapshot before we head to the capital.
Le Loop Practicalities: Start: Transfer to St Pee. Finish: TGV from Biarritz to Paris and coach onwards to the hotel.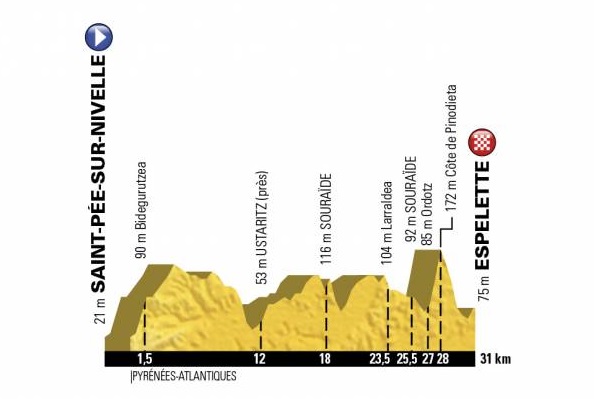 Stage 21: Houilles – Champs Élysées. About 100km
It's the moment we've all been waiting for! But before we live out our maillot jaune fantasies on the sacred cobblestones of the Champs Élysées (one lap only for us – one is enough!), we'll enjoy a relatively gentle roll in from the suburb of Houilles – a few hours to savour the highs and lows of the last three weeks, and look forward to celebrating our achievements in Paris that evening.
Le Loop Practicalities: Start: Houilles Hotel. Finish: Paris hotel with Seine boat ride party this evening (friends and family welcome – Click here for fuller explanation).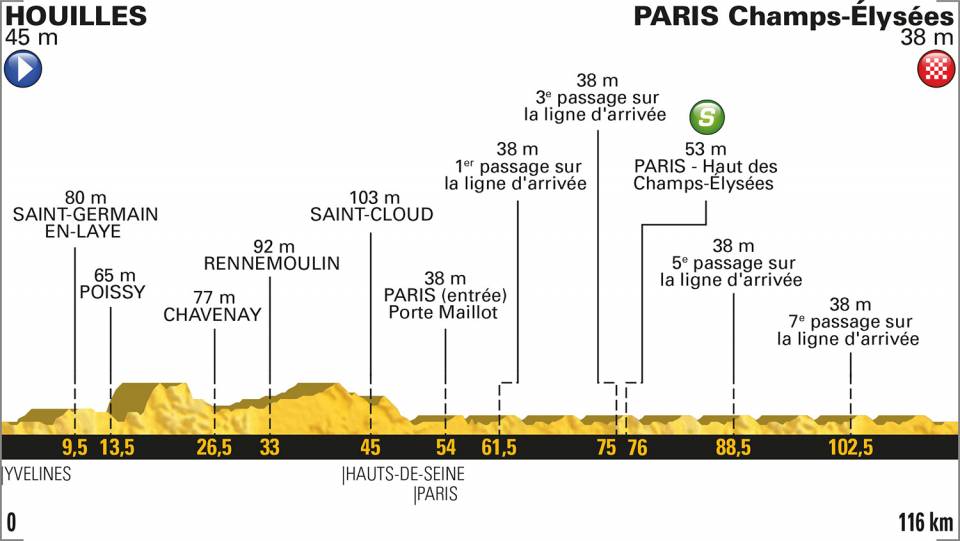 What are you waiting for?…      Don't just watch it, ride it!