The 2018 Tour de France route has been announced…
    and it's just as exciting as we'd hoped!
"I am really delighted by this year's tour. The mix of Tour history and modern, innovative stages is perfect. Every stage has something to offer – it'd be tough to design a better overview of France. Aside from the Mediterranean, this year's Tour really does have it all – so whichever Loop you choose, you're in for a treat"      Sarah, Tour Organiser
"I can't wait to ride this year's route – there are so many treats in store. I'm particularly eager for Brittany and to test myself on the notorious cobbles of Roubaix, and excited that they've included a small gravel section in Stage 10. I'm sure the ride from Lake Annecy up to the Plateau des Glières will be a highlight of the whole Tour, for those of us riding it, and for those watching the pros a week later. I'm also looking forward to being one of the first to ride the newly tarmacced Col de Portet. It's a brilliantly varied course – riders who take on the Grand Loop will be tested in every possible way, whilst those who opt for a Loop will be able to choose whatever best suits their strengths and ambitions. See you there!"     Emily, Lead Cyclist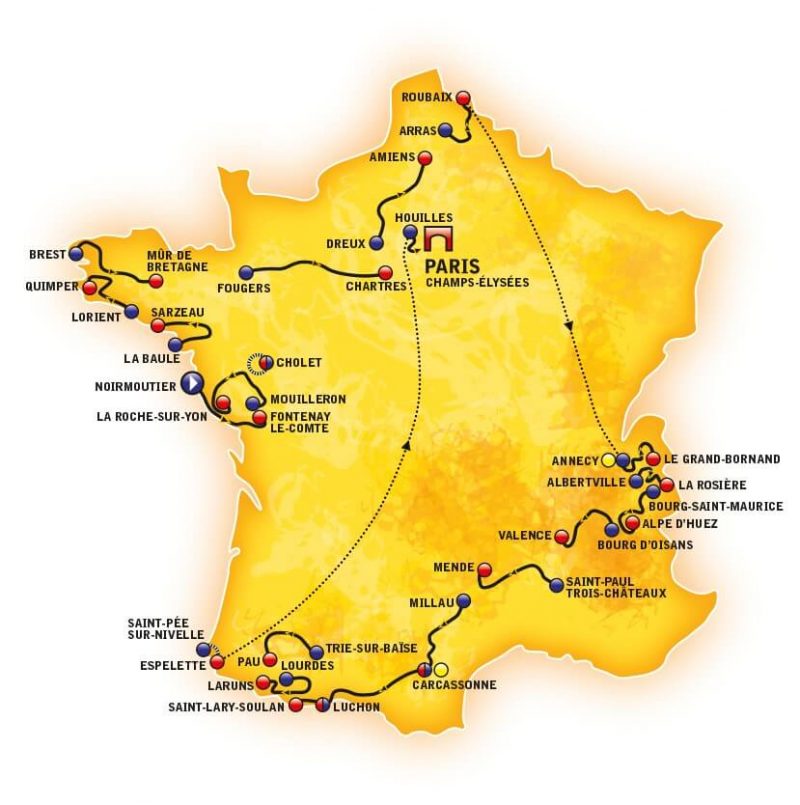 The 2018 Grand Depart will take us to the west coast region of the Vendée, famous for sailing, holidays and now cycling! Just South of Nantes and north of La Rochelle, it's an area of huge beauty and variety with stunning beaches, craggy coast lines and postcard-perfect small towns and villages.
The first couple of stages will be a great mix of coast and country with relatively quiet, flat(tish) roads, perfect for group riding and chatting. Stage three is then a time trial (which, for us, amounts to a very pleasant morning out and an afternoon of ice cream).
These will be brilliant stages to watch on TV the following week when the pro Tour passes through, with helicopter shots of amazing countryside as the sprinters and time trial specialists battle it out for the yellow jersey. But beware, what the tour calls a flat stage can still involve 1500m or more of climbing!
On into Brittany…
Next we'll wind up through west Brittany, calling at the Mur de Bretagne (Bernard Hinault's stomping ground), Brest (as famous a cycling town as is possible) and visiting some really spectacular rugged coastlines.
Brittany is a wonderful region of France with a very, very strong cycling culture and they will be proud to show off their roads. From towns to villages, to hamlets to the open road, expect a really gripping first week of the 2018 tour.
Keep rolling east…
From here, we're staying north and heading east, via some delightful discovery stages (the less obviously shouty stages can offer some of the most lovely cycling; through villages, past boulangeries, glimpses of church spires and Norman architecture at every turn)  towards some first world war battle sites which have been a point of interest over the last several years of tour routes and (wow! lucky us!) a stage finish in Roubaix after 'a few cobbles' to test our mettle. Join a classic cycling tradition with this taste of Paris-Roubaix.
The 22km of cobbles is in short sections, some much smoother than others and all very doable with advice and encouragement. We've done cobbles in the past, indeed some very nervous and inexperienced cyclists have taken on the cobbles and triumphed – this is perfect for fun and glory-stories!
Bonjour mountains…
We've got a long, rest-day transfer down to Annecy for our assault on the Alps. And what an Alpine feast! Alpe d'Huez is back to test us and along with the classic climbs we get the un-tarmacked Plateau des Glières. 11% on a gravel road at the end of a stage is going to be tough but if you're after challenges and stories, look no further. This is your chance to be part of tour history!

The very best of east to west…
Once we leave the Alps, we'll cross inland towards the Pyrenees, from the Rhone river, briefly skirting Provence (for the obligatory lavender fields and sunflowers) and deep into the Massif Central countryside which we've enjoyed so much in the past. This makes for a tour of variety, with gorges, rivers and green volcanoes contrasting with the coastal stages of the Grand Depart.
Throw in a rest day in Carcassonne with its medieval fortress and it's ever changing beauty, history and plenty of sunshine to take us to the next lot of mountains…
Cow bells and craggy peaks…
The Pyrenees are always a treat: they're more wild and craggy than the Alps and the Tour has increasingly embraced the steep, narrow climbs and the more remote areas of the high mountains. The 2018 tour is sticking with some good old crowd-pleasing climbs (Tourmalet: tick) and also treating us to some lesser-known stunners (stage 17 is a particular treat in this respect).
From the glorious Pyrenees we head on to a second time trial before the journey up to triumphant Paris.
What are you waiting for?…
Check out 'The Loops' button below.
Don't just watch it, ride it!
Previous Tour Routes
We have ridden the route of the Tour de France ever year since 2012, (as well as in 2006 and 2010 for the friends and relatives of the William Wates' Family). Sometimes it's fun to look back – afterall, the history and heritage of the event is all-important to Le Tour lovers. We plan to use this part of our website to look back at previous tour routes. We'll let you know when this is ready for you to enjoy – just make sure you've signed up for our newsletters!