Emily's April Training Advice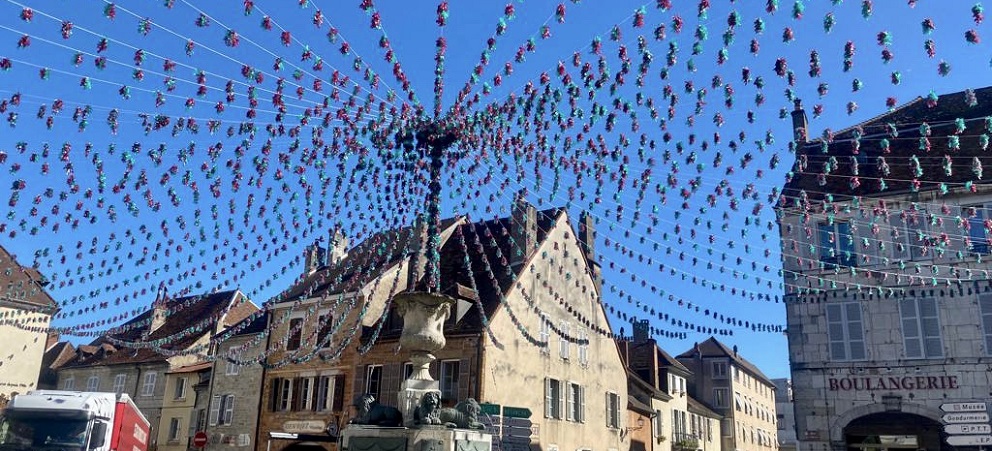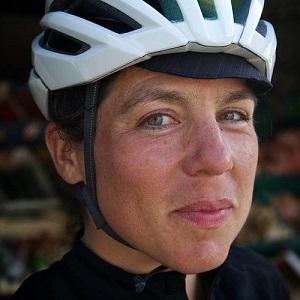 It's spring! It's spring! Which means that I can finally end my rides with dry shorts, and Le Loop starts in just three months' time. Scared? Don't be. In this blog post we'll take a long hard look at the training we've done so far and the challenge we've set ourselves, and I'll help you figure out what more you need to do to make sure you're ready by the time you're on the start line.
This month, if you're riding the full route in July, you should be looking to complete at least two back-to-back days, at least one of which should be 200km or more. Try to pick routes that include a decent amount of climbing – over two days, you should aim to cover around 3,000m of ascent. If you're riding a medium-length loop, I'd recommend aiming for back-to-back days of 180km and 100km, with at least 1,500m of climbing over both rides. And for those working towards a 2- or 3-day loop, 200km over two days will ensure you're on track for July.
(If you're a bit confused as to how you might work out the precise length and elevation gain of a potential ride, I'd recommend using planning tools like ridewithgps.com and Komoot. Give me a shout if you need any help getting your head around route planning).
Enjoying the Ups and Downs
By now you should have a fairly good idea of where your personal strengths and weaknesses lie – and as I discussed back in February, it's much more important to target your weaknesses than to work on areas you're already good at. Don't pointlessly flog yourself through hard rides though, or you'll end up never wanting to see your bike again.
What I tend to do is structure my week so that it includes a few 'rewards' – if I've spent a couple of days struggling through difficult sessions, I'll schedule in a nice ride on a route that I know makes me feel strong, powerful and happy. Or I'll simply plan my rides so that the difficult bit comes first, and I end on a high (or a nice swooping downhill). Never forget to celebrate (and enjoy) your strengths as well as focusing on your weaknesses!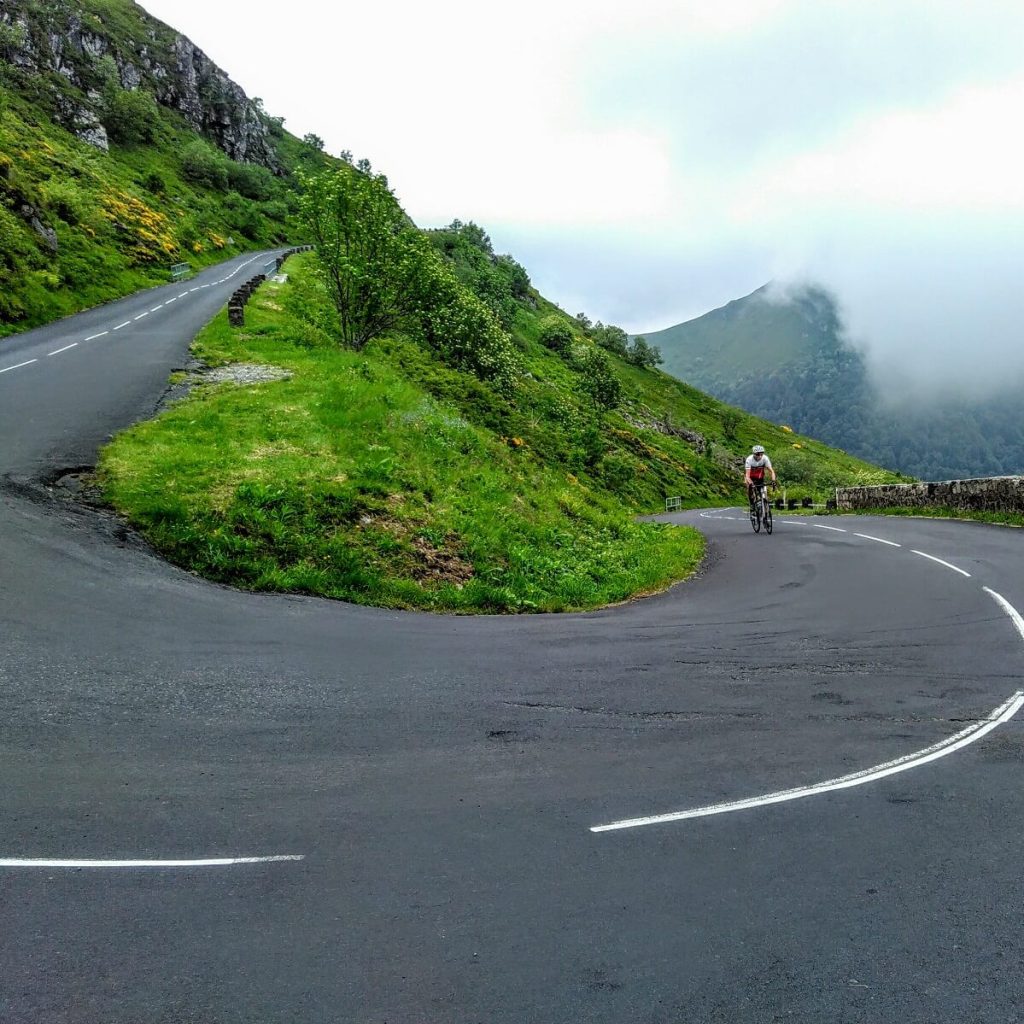 Given that most Le Loop riders will be coming from the UK, one of people's main concerns is usually how they'll cope with France's monster climbs, given that very few British roads go above 600m. (To put that into perspective, the Col de la Loze tops out at 2,304m.) The good news is, this doesn't necessarily mean you won't be prepared. UK hills tend to be short, but much steeper than the big Alpine climbs, and a long ride is more likely to consist of numerous ups and downs, rather than one or two long steady ascents. This makes it harder to get into a rhythm, but means you're more likely to build strength and explosive power that will stand you in good stead come June/July.
If you want to work on your hill climbing specifically, I'd recommend finding a couple of climbs near you and doing hill repetitions. It's easier to gauge your progress on a familiar route, and you'll be better able to focus on breathing and technique than if you were in the middle of a longer ride. This article has some good advice for how to plan your hill sessions, though depending on which Loops you're riding, you might want to focus more on slow, sustained, seated climbing, rather than intervals. Where a mountain stage consists of long steady climbs, unless you're Julian Alaphilippe, I'd recommend you aim to ride these at a steady pace rather than a sprint.
And for the turbo junkies among us, British Cycling offers this excellent four-week training block, which fits in well around a working week, and is just the thing if you're looking to build up your climbing muscles.
I know what you're thinking. Three months really isn't that long, especially given that you'll want to start tapering from around mid June (or a bit later for the later Loops). There's still plenty of room for improvement though, and if you've not trained at this level before, you'll be astonished at what a difference a few weeks can make. But if you're feeling scared of this large, impossible task that lies before you (or even if you just want to feel like you're on top of things), I'd recommend taking a detailed look at the stages you'll be riding, seeing what challenges they hold, and making a plan for how you're going to ride each one.
This is how I planned for the Pyrenees Loop last year, as an example. (You can find maps and route profiles where we have them, for all the 2023 stages here):
"OK, so the Loop consists of three days' riding, with distances of 179km, 130km and 143km. I won't be able to cover those distances in my training, but I reckon I can squeeze in two 130km days, followed by a 100km day, by mid June, and I've done a couple of standalone 160kms this year. Riding with fellow Loopers will make things a bit easier (especially if I find someone strong to follow up the hills!), and I'll have the advantage of four daily food stops, and not having to carry my own bags. I know the weather might be hotter than I'm used to, so I'll prepare for that by getting in the habit of drinking regularly, and keeping an eye on the colour of my urine.
"Looking at the route itself, all three stages have the hardest climbs stacked towards the end, which gives me an opportunity to warm my legs up over the last few hours, but also means I need to make sure I don't start too hard and exhaust myself.
"My aim for Stage 16 will be to save myself for the Mur de Péguére, which is notoriously long and steep, and starts 141km in. So I'll start slowly, and try to identify fellow riders whose speed matches mine – maybe we can help each other on the hills.
"Stage 17 starts with a relatively flat 50km before we hit the first climb, so I'll have a good breakfast, give myself some time to digest it, and then decide if I need to refuel before hitting Col d'Aspin. Again, the hardest gradients are towards the end of the day's ride, so I'll remember to take it steady on the Aspin and Hourquette, to save some beans for the steep bits. I'll book a massage for the evening, to get me ready for the final push, and I'll try and get as much sleep as possible.
"I expect to be tired for Stage 18, so I've decided to divide it into three sections: Enjoy, Grind, and Survive. The Aubisque and Soulor are famed for their beauty, so I'll focus on that, use it to distract myself from my stiff legs, and use the relatively gentle pace to eat and drink well, so I'm fuelled for what's to come. Col de Spandelles is the steepest, so I'll aim to ride as strongly and efficiently as possible. And the Hautacam is the last big climb we'll be doing, so I'll hope the exhilaration of being nearly finished will carry me to the top. Failing that, I'll call on the solidarity of my fellow riders, and remember that even the strongest will be struggling at this point."
I've found that making a clear plan for each stage (even if I end up changing my mind later on) helps me to put things into perspective, isolate the particular aspects I need to work on, and stop worrying about the rest.
Rest, stretch, bend, recover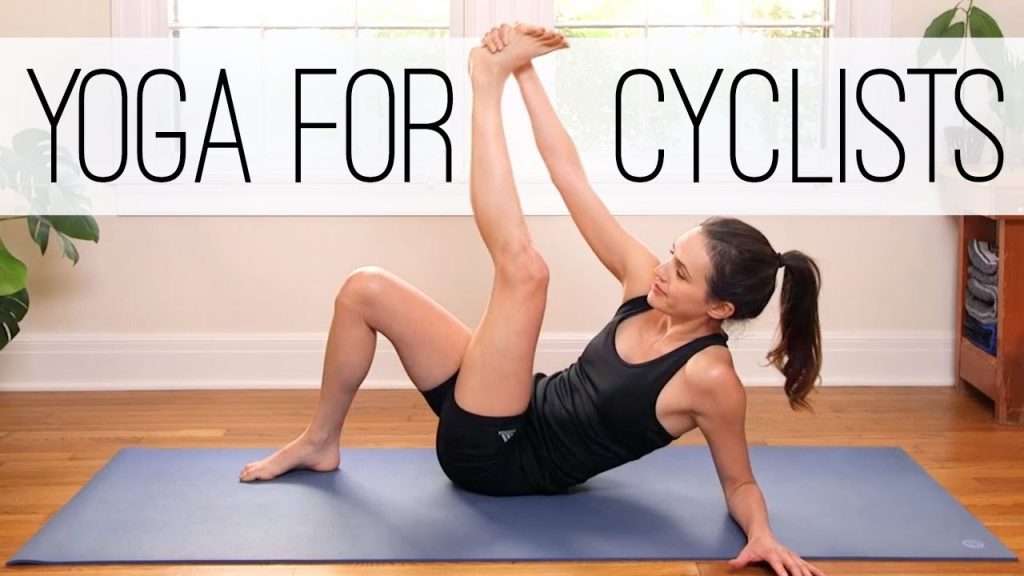 As you increase your mileage, it's all the more important to make sure you rest and recover properly in between sessions. This isn't just about reducing injury and fatigue – remember that recovery is when your muscles rebuild (and get stronger), which makes it just as important as cycling itself.
A recovery day doesn't need to be spent in idleness though. Here's my monthly reminder to work on your flexibility and core strength, both of which are especially important to prevent injury and increase your comfort over long consecutive days in the saddle. I'd recommend the following yoga sessions to work on common problem areas for cyclists:
And here's this month's reading recommendation: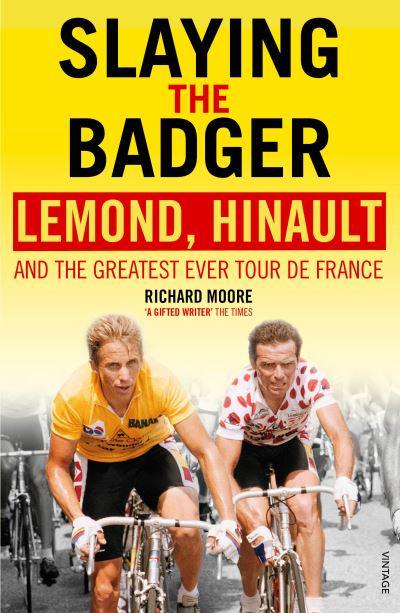 Slaying The Badger; Lemond, Hinault and the Greatest Ever Tour de France, Richard Moore
Tour history is replete with rivalries, but none is quite so famous as the clash between Greg Lemond and Bernard Hinault, the esteemed French champion and the young American upstart, whose conflicting ambitions were uneasily harnessed within the same team during the 1980s. This book is a fascinating chronicle of this era of racing, and commentators pull out all the superlatives when recalling the intrigue and skulduggery that went on behind the scenes as the two heroes battled for supremacy in the 1986 race. Whether or not you agree this was the "greatest ever Tour", you'll enjoy recalling the Hinault and Lemond crossing the Alpe d'Huez finish line together, as we ride an exact replica of that stage on the 7th July.
Vive Le Tour!
Emily
We post daily during the Tour, so follow us as we travel around France.