Back in the Spring we asked 3 of our 2018 riders to tell us how their plans were going, what were their biggest fears and the things they were most looking forward to:
3 of our 2018 Riders Share their Stories So Far
Now that the dust has settled on the 2018 Tour, we've asked them to tell us how it went!
Tom Wells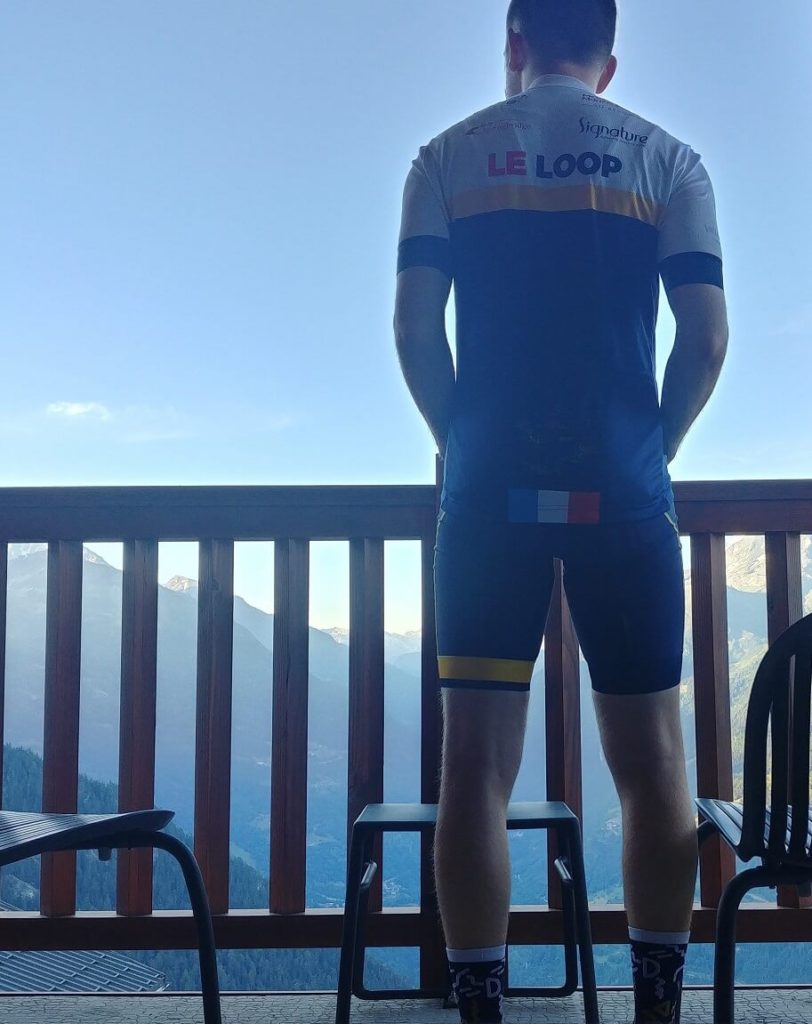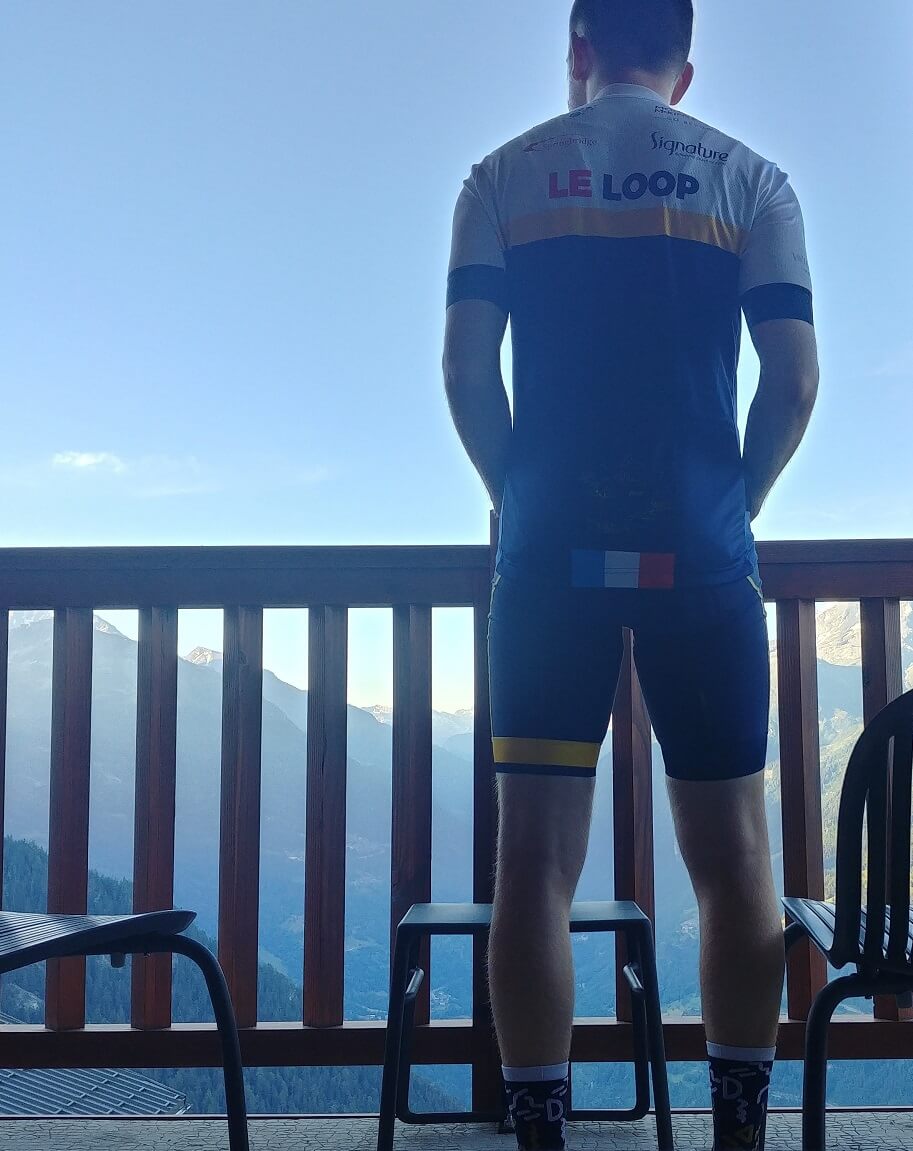 Tom rode 4 stages with us in 2017 and returned to ride 6 … in the mountains! He's 30 years old and took up road cycling just 3 years ago. He blogged about his tour this year – check it out.
This year's tour was mostly as I expected. The long HC climbs were a lot tougher than I thought they'd be, especially the second one on the third day (Col de la Croix de Fer).
Personally, I really struggled here. I made the mistake of stopping too often and focusing on the negatives – my feet were really hurting at this point and I knew I was running low on reserves. In fact, when I got to the top of this climb I pulled into the feed stop and told Ian that I was done for the day and I couldn't do another pedal stroke. Luckily for me, a can of coke and a few choccy biscuits later I had perked up and decided that I'd crack on. After all, the whole reason I was on this Tour was all that was standing between me and the finish line so I'd regret it forever if I quit now.
And what was Tom's whole reason for choosing these stages to ride? Alped'Huez!
The highlight was definitely climbing Alpe D'Huez for many reasons, mainly because it was the focal point of the week. The La Rosiere climb on Day 2 was a close second though … It was paced amazingly and I felt really good as I got to the top, even catching other riders in the last 5km. And my good mood got even better as I arrived in time to shower, eat dinner, have a massage and then watch the world cup in a brand spanking new hotel!
But on day 4 I got a string of punctures and as I was fixing them the freewheel hub stopped working. While the bike mechanic worked to fix the bike, I got to ride one of the spare bikes. Now I'm sure many of you have experienced this before in some shape or form but whenever you have something that's yours and custom fit to you it is very hard to go to something that isn't yours and definitely isn't custom fit to you. It's not so much physical, I mean a bike is a bike right – they've all got pedals and gears and handlebars and brakes and you use your legs to propel yourself forward, but mental. If something doesn't quite feel right then all of a sudden it's a massive deal and it's so easy to get down about it. Especially on the 5th day of hard riding and less sleep than is optimal! That's exactly what happened to me on this 5th day. However, I did manage to take in the scenery and made sure that I lifted my head up to enjoy where I was in the world.
And your advice for anyone considering take part?
I'd keep the same advice as before. Just do it. Prepare properly, do as much training as you can and you'll be fine.
Jonny Wates
As one of the Trustees of WWMT Jonny was heavily involved in the very first Tour in 2006 and has ridden at least some of the tour most years. This year he joined us for the 2nd half).
This was a vintage renewal of Le Loop. I enjoyed it very much. I've been involved every year since the event started, so there aren't too many surprises! At the heart of the enjoyment is the people. We always have lovely people, but this year's group were especially good to be around. There was a great atmosphere, mixing friendliness and commitment to the task at hand. I had some great fun on the bike and everyone was welcoming. I also had a group of friends from the Family Business Network, something I'm involved in. They were like a team within a team. Having them there was special. I'd also mention the support team. They are in many ways the backbone of the event. They are all in the image of Sarah – totally professional, incredibly good at what they do and always friendly. Given the demands placed upon them this is remarkable.
My highlight was the company. I was immersed in Le Loop for 12 days and felt I was part of something wonderful throughout. I didn't have any low lights at all. So instead I'll pull out another highlight.. by my own standards I cycled strong this year! That will pass I'm sure, but in the meantime I'm banking that sensation of feeling strong on the bike in the mountains. Amazing!
Only one small thing.. I would not have worn a new pair of bib shorts! Doing so resulted in a rather sizable and uncomfortable saddle sore (now thankfully gone)
You really can have faith in the event. It's very well run and the people are super friendly. And of course, you get out what you put in.
Jonny didn't actually SAY that his highlight was the leg-licking sheep on one Pyrenean Col, but we're pretty sure it was! (Ed)
Jackie Fraser
Jackie joined us for the first 3 stages of the 2018 Tour, along with her husband Stuart.
I have to admit that on the first night (the Grand Depart) I felt intimidated seeing everyone else looking very focussed, fit and confident.  The orientation and dinner that night, gave a hint of the herculean effort that is required to manage such an event.
I had done all the training and knew that I was physically fit for what I was undertaking.  What I hadn't really factored in was the heat and humidity, I'm from Scotland!
But Jackie soon got into the swing of things, finding wheels to draft and groups to socialise with as she rode through the heat of those first 2 stages.
It was lovely to have the first 40km of the ride neutralised, allowing everyone to meet up at the first feedstop.  I found that I was able to cycle at a pace that put us in with the faster riders, and was enjoying group riding with a lovely bunch of guys … Cycling on day two was much the same, and I felt fresh and raring to go.
The highlights of Le Loop for me was meeting a group of people who were all up for an adventure.  The camaraderie was amazing and I was honoured to have shared a few days in the company of some lovely, funny, eccentric, driven, and slightly insane cyclists.  That, and being able to access every area of the support provided by Le Loop, all of the team were kind, thoughtful and bloody great at their jobs.
The lowlights for me were realising, that no matter how prepared you are and how much training you do, shit happens.  I would have loved to have done a longer Loop but my body would not have withstood it.  I ended up with a particularly nasty saddle sore I christened Donald Trump, as it was an immense pain in the arse which hung around far too long!  (Ed. possibly my favourite quote of the 2018 Tour)
Saying goodbye to everyone after stage 3, Stuart and I were on our own and feeling a bit discombobulated.  Even after only three days we felt lost.  How would we know where to go without having yellow arrows to follow?  Who would appear every 40km to feed us?  How would we know what we were supposed to be doing, without Sarah's briefings and instructions?  Who would massage my weary body at the end of the day?  I can only just begin to imagine how the Grand Loopers felt the morning after Paris.
To anyone thinking of riding Le Loop, my advice is the same as before, do it, Do It, DO IT!  You will not regret it.  You will be excellently looked after by the Le Loop team, riding with people from all over the world and sharing the most amazing experience with them.  The camaraderie is uplifting and you will quickly become part of the Le Loop family, which welcomes everyone.  It was so inspiring hearing people's stories of how they came to be doing Le Loop, sharing useful cycling tips and encouraging each other on.  I also loved the fact there was a healthy dose of banter, joking and dry humour!  I wish we had been able to stay longer, as there was so many Loopers that I wanted to get to know.  To be cycling stages of the Tour de France route with Le Loop, whilst raising money for The William Wates Memorial Trust, enabling them to continue supporting fantastic charities, is a win/win situation.  You are contributing to something worthwhile, whilst doing what you love.  We can't wait to join everyone next year, cycling on great tarmac in the beautiful French countryside, what more could you want!
When my husband Stuart, and I signed up to do the first 3 stages of 2018 Tour de France with Le Loop, we didn't bank on it becoming a minor obsession which would lead to our signing up for 2019!  Stuart is going for the Grand Loop and I am waiting to see what the route will be, before I decide how many Loops to go for.