Name: Simon Nicholl
Age: 50
Location: The Peoples' Republic of Wesham, Sunny Lancashire.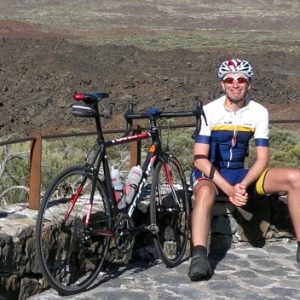 "Could certainly use some" (his words, not ours! Ed). As a keen roadie, Simon took on the Grand Loop challenge (all 21 stages) in 2015. In 2016 (as he explains) he took on the epic challenge of riding across America, unsupported
"Heading to the fridge for a beer. Oh you mean 'what have you been up to since you rode the TdF'? To be honest, the only challenge that I could think of that really caught my imagination was a solo and unsupported jaunt from Seattle to Miami: this took me 30 days.
2017's challenges will hopefully be to ride up some more mountains but I haven't ruled out another tilt at the TdF some day. If you'll have me back, of course…"
Of course we'll have you back! Ed