Name: Katy Hebditch
Age: 28 (birthday on tour!)
Location: Kent, UK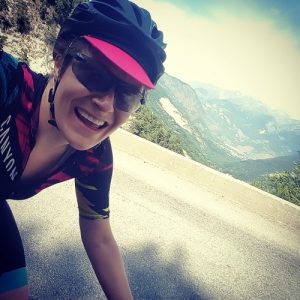 Unconfident but determined plodder! First mountains tackled in Tenerife in same year, but that was only one in a day so how would I really cope with the Alps?!
The Tour came at a pretty epic time for me – I was in between work travels and interviews for a new job (which also was a bit of a leap). I am pleased to say I got the job offer whilst on the Eurostar en route to the Alps! Le Loop has really changed my outlook and given me a new found confidence and zest for pushing my boundaries, and I'm now looking forwards to roughly planning some travel (with a bike!) for the next few months before the next big challenge starts.