Name: Russ Middleton
Age: 52
Location: Bovey Tracey, South Devon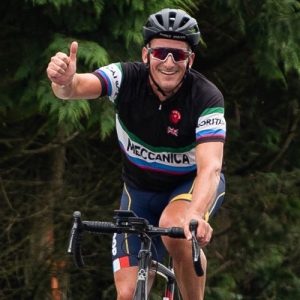 I hadn't done very much cycling at all really. Certainly not ridden any mountains, nor had I ever cycled outside of the south west.
A couple years ago I was reading a book that inspired me to do something crazy. It was "French Revolutions" by Tim Moore. I said to my wife " I'm going to do that when I retire"  ……, she said "don't be daft" , and the rest is history !
I researched different ways to do the route, and to be honest was initially thinking of doing 50 or so miles a day, and to take 6 weeks to get around. But I found "Tour de Force" as it was called before Le Loop, met up with Sarah in 2016 and somehow booked myself a place to do the Grand Loop in 2018. Pretty daunting but it was a real focus for me whilst approaching a new chapter in my life after policing for 30 years.
I retired from Devon and Cornwall Police in January 2018. I was 52 yrs old, 18 stone 8lbs (118kg), and at 6ft 4 not really built for climbing or racing around the hardest bike race in the World ……
I trained for the full 6 months before the start of the tour (not counting the 4 weeks off the bike after rupturing my medial ligament whilst skiing – idiot!) managed to get pretty fit, and lost 23 kg in the process.
I treated myself to a new bike, which got named "Eric" and I was ready for France ……
I am feeling fitter, stronger and healthier than I ever have.
I have made many new friends for life. I have fallen in love with cycling and am so proud to have completed the full Tour 7 days ahead of the pros.  I still find myself watching the highlights of this year's actual tour, and thinking quietly to myself "I did that …."
I'm also immensely proud to be part of a small group of fantastic people that raised nearly £400k between us this year. The William Wates Memorial Trust is doing amazing things for young people and if my small part helps someone like Will or Sky to reach their potential then I'm happy.
As for the future, I don't really know yet as I'm having a "gap year "with my wife. One thing is for sure though, it will involve cycling, a lot and I'm already booking some events for next year to give me a focus with my training.
If anyone reading this is thinking about doing any part of Le Loop, be that a single Loop or the whole darn thing, my advice is DO IT … Life is too short and you never know what's around the corner, so take your chances when you can, get out on your bike, embrace the training, seek out some hills, look up and enjoy the ride.