Name: Jenn Brittain
Age: 41
Location: Canadian living in Australia since 2013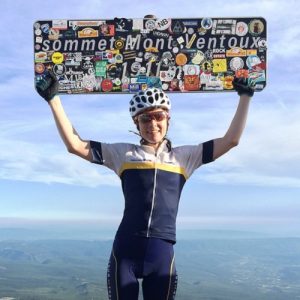 Jenn started cycling in 2007 and loves it, but she loves it even more since finishing completing the full TDF in 2016! Somehow she fits all this riding in around a job and 3 young kids too and is proof that where there's a will, there's a way. She finished the 2016 tour in style having got stronger and stronger through the tour until she was steaming up the Alpine climbs like a pro and returned to ride the Alps in 2018.
I have always defined myself as academic rather than sporty, so to have someone refer to me as an athlete still gives me goosebumps.  I have entered a few Gran Fondo races here in Australia upon the suggestion of a few fellow Loopers and loved them.  Whilst I have yet to place, I wouldn't even have considered an entry before Le Loop.
The aftermath has held plenty of pleasant surprises for me (in addition to the athlete reference!).  Several friends and strangers have told me that they have learned either from my experience, either in conversation or from my blog.  I still receive emails from people who have been inspired by my TDF to challenge themselves physically or otherwise.  I feel truly blessed to have had the chance to participate in Le Loop, and the gift continues!
I am still riding, albeit in a far less organized way.  I went into the TDF secretly saying to myself that I could safely never ride again if I could just complete the Tour de France, and now that I have permission to retire, I am enjoying it more than ever!