Name: Chris Glazier
Age: 61
Location: Dartmoor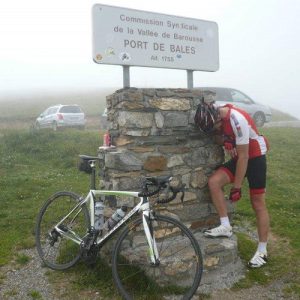 Chris completed the full Tour in 2012 with 2 fellow riders from Plymouth based YOGi cycling club – he was awarded 'top rider' of the Tour in recognition of his generosity of spirit and attitude to the challenge.
He started riding – and squeezing into lycra! at the grand old age of 50, essentially to keep fit and try and keep some of the weight off, he'd always been relatively fit but a hip operation a few years previous had stopped a lot of the normal exercise routes to good health. Prior to Le Loop Chris' main experience had been Sportives around the country, a favourite being the Etape Caledonia, he also dabbled for fun in some Crit racing but gracefully retired when he achieved his Cat 3 licence. His longest event was a self-organised ride from Nice to Roscoff over a week with a small group of friends that included that monster of Provence, the Ventoux. He returned to ride the full tour with Le Loop once more in 2017 to mark his 60th birthday and will return again in 2023. One day he might be our oldest Grand Looper, but he'll have to keep going for a good few more years yet!
"Like the majority of you reading this, I'm day dreaming at work and thinking of living in that three week bubble that is – Le Loop: what bike to take? Perm any from three or fall back on n+1! When to start that weight loss regime? (never soon enough!), when to start the heavy miles? (never soon enough!)."
The photo is Chris 'enjoying' summiting Port de Bales in 2012. He revisited it in 2017 and we're still waiting for the photo of him there smiling at the camera this time!