Name: Andy Smith
Age: 52
Location: Ex-pat Shetlander living in Berkshire!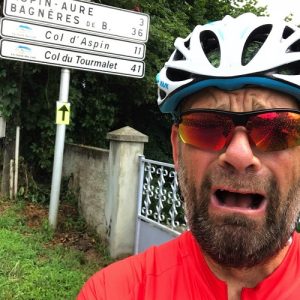 When I signed up for Le Loop, I didn't even have a road bike. An "intermittent" Mountain Biker in my younger years, I had completed LEJOG in my twenties, so where I had an idea of what a long day in the saddle looked like, I had no mountain experience. Knowing I was up against it, I borrowed a bike from a friend and got some serious training miles in. I had become very unhealthy, and having turned some self – harmful behaviours around, I was looking for an avenue to continue my journey and see how far I could actually push myself. After all, if I had achieved something I previously thought to be impossible, what else had I talked myself out of?

When I got the confirmation I'd got my place to ride the Grand Loop, I didn't know whether to laugh or cry!
From a life and business perspective, I now help people with alcohol issues and for sure completing the Grand Loop achieved my objective of portraying a positive image of life without a glass in your hand. I am fitter, stronger, healthier, and have a genuine knowing that my limits exist only in my head. I have signed up to do the Mallorca 312KM sportive in April with a bunch of fellow loopers and frankly cannot wait to see them all again. We are also looking at the three ascents of Ventoux, and I am planning recruit some friends to do a few stages of Le loop in the mountains too. I have another Grand Loop in me without doubt, but not next year. If you are looking into doing a challenge like this, I can't imagine a better organised way to do it. I didn't know too much about WWMT before I signed up, but meeting some of the kids at the training camp and in the Pyrenees affirmed to me the awesome work they do and as the event went on, this became the biggest motivator.