We often have teams of colleagues taking part and Alitex have ridden with us 3 times, bringing colleagues along each time – making it both a team building exercise and a seriously fun shared challenge. Teams of colleagues also mean that they often include riders who have very little experience of cycling, but want to be part of the team challenge. Melanie is a perfect example:
Name: Melanie Johnson
Age: 46
Location: Hampshire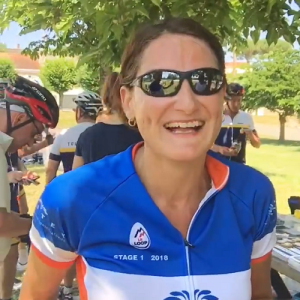 I had an original Raleigh Racer as a youngster (35 years ago!!) and would cycle around 12  miles through the Yorkshire countryside to the nearest sweet shop  with my siblings & more recently used to potter around when my boys were little with one in the seat and the other on the tag along but that is it! And I hadn't really been on a bike for 15 years choosing to run instead. A broken ankle and snapped Achilles 18 months ago put paid to this (and I was going a little stir crazy through lack of exercise) so when  I joined Alitex in Jan '18 and learned of the company's participation in Le Loop my interest was piqued … I signed up to Le Loop in March, bought a bike and got cycling!
I continued to cycle over the summer and signed up for the cancelled Velo South, but now the winter nights are drawing in and my ankle's fully working again I've swapped the cleats for running shoes once more …. Just for the winter though…..