Route Blog Stage 11. Clermont Ferrand - Moulins. 180km.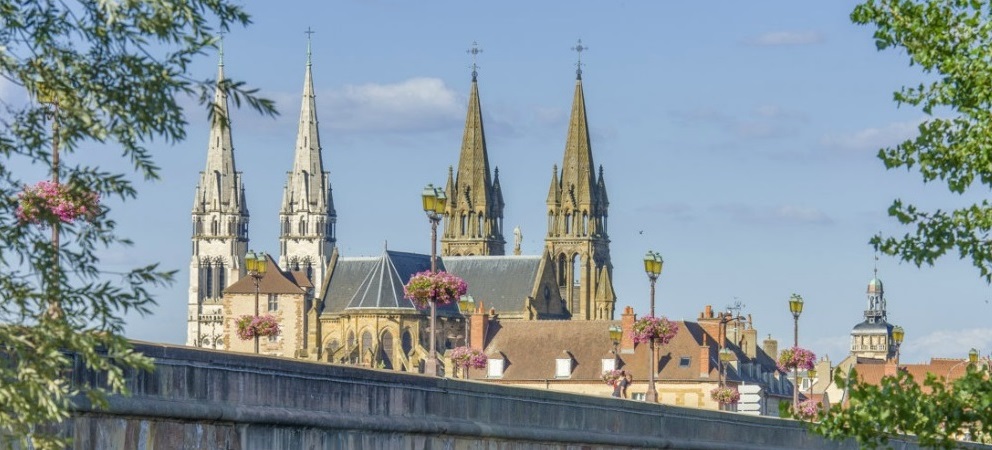 Between December and June, we're going to blog, one stage at a time, about the 2023 Tour de France route. You'll find stage descriptions for every stage on our Route page.
Back to the now-familiar Clermont Ferrand for the start location of stage 11 and we'll have one last wave goodbye to our 3-night home (and start location of the 2023 Tour de France Femmes).
Even from afar, as we cycle past and away from the city, we'll be able to see the cathedral made from distinctive black lava-stone. This is where the Michelin family opened their first tyre factory and the city is still home to the business headquarters.
We're heading north but with a circuitous route to Moulins as it's only 100km as the crow flies and we're going to take 180km to get there. That means we have plenty of time (and kilometres) to explore and to take the best roads. We're in the geographic centre of France here in an area which had an important artistic significance in the Renaissance period.
Today however, the department of Allier (which takes its name from the river that runs through it) which we'll spend most of the day cycling through, is having a tough time. Until the First World War, its population grew and industry kept investment high but after significant war losses and a barely static population through to the sixties, the rural exodus, aging society and low birth rate have led to a population fall of 49,000 (almost 13%) over the last 40 years. The population density of the department is less than 20 people per km2 (compare this to 120 per km2 in the Loire Valley and over 20,000 per km2 in Paris!).
If you recognise the word name of the stage finish city, you're right! The town takes its name from the mills which lined the river Allier a thousand years ago. Slightly more recent is the cathedral that towers over the town and boasts a belltower with automated characters who emerge to ring the bells each hour.
This stage is part of the following Loops: Second half, Middle Mountains, Mountains Week & Grand Loop.
Don't just watch it; Ride it!