Route Blog: Stage 1. Bilbao – Bilbao. 182km.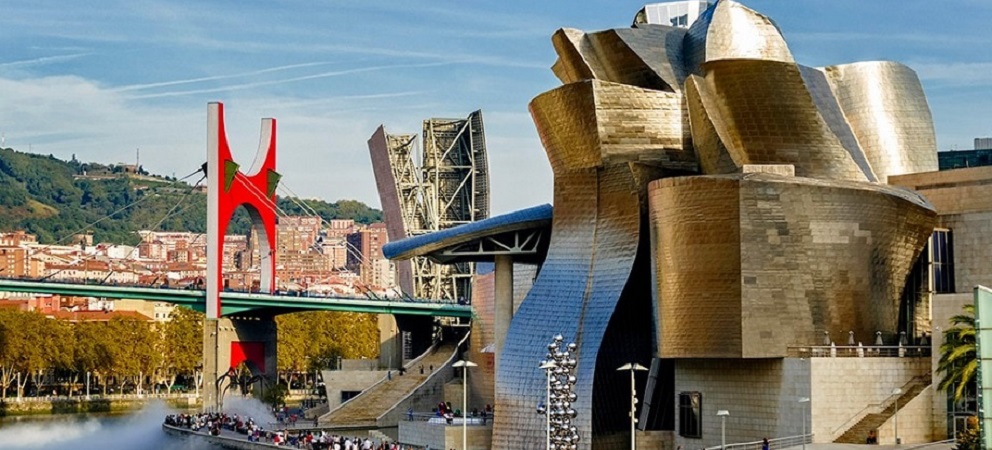 Between December and June, we're going to blog, one stage at a time, about the 2023 Tour de France route. You'll find stage descriptions for every stage on our Route page.
Bilbao (population 354,000) is one of Spain's cultural centres and is known by many for the iconic Guggenheim Museum which was built in 1997. But there are two other sides of Bilbao that we'll experience during our brief stay; one is the Basque culture which is a matter of local pride and very evident to anyone visiting the city and the other, of course, is it's cycling history…
The Spanish Basque country has a population of 2.2 million and, given the two biggest cities (Bilbao and San Sebastian) have just over 500,000 people between them, you get a sense of how many people live in small, rural villages and towns. So the opportunity to cycle through this region is an opportunity to see the real Basque area and get a sense of how most of its population lives; in tight knit rural communities with red-rooved houses tucked away amongst the hills, forests and beaches. Food is important as is the outdoors with sport and festivals taking equal importance.
The Basque region has its own language, "Euskal", spoken by 28% of the population; it was banned under Franco who also stripped rights from the Basques and ordered the destruction of the Basque city of Guernica – but the language has seen a resurgence in the last couple of decades and this ability to celebrate their own culture and heritage was a major factor in the disbanding of the ETA separatist group in 2018 and a new stability and freedom has arrived in the now-autonomous region.
The other aspect of Bilbao that we're celebrating in 2023 is its cycling history; this might be the first time that the Tour de France has visited but Bilbao has hosted the Vuelta an incredible 37 times. The region has it's own "Tour of the Basque Country" (Euskal Herriko Itzulia), won by Roglic in 2021 and Martinez in 2022. And it also has its own pro cycling team, Euskatel Euskadi, whose website states that "This privately managed sociocultural organization was founded on June 17, 1993 for the express purpose of promoting, supporting, popularizing and developing the sport of Basque cycling.
So… a lot to look forward to in the first stage of the Tour.
This stage is part of the following Loops: Grand Depart, First Half, Grand Loop.
Don't just watch it; Ride it!