Plenty of our riders come in pairs, or groups of mates. Peter and Lee are a great example. Having ridden the mountains with Le Loop in earlier years, they returned for a 2nd bite of the quiche, along with a couple of extra mates – and the team moniker 'Back Street Boys'.
Name: Peter Thompson, if we are using the band theme "Back Street Boys" I am the talented, slightly more handsome one who goes off solo, then comes back, however falls out with the chubby one and then leaves… but wait, and comes back again…
Age:44
Location: live in Englefield green, work in West End
Name: Lee Oxley
Age Slightly older than Peter
Location: Nr Reading, Berkshire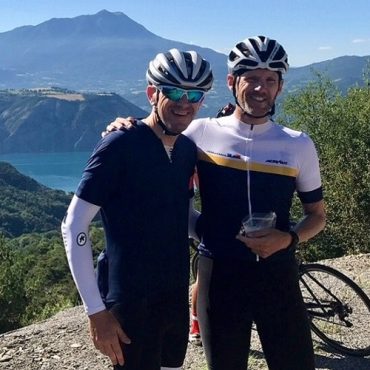 Peter: 2013 TDF Alps, 7 stages, was found out on day 1 by Ventoux, loved it though. 2017 Alps with Lee. 2018 Pyrenees with Lee and others.
3 x half Ironman, 1 full
Windsor to Harrogate not stop ride in 17 hours
9 marathons
Etc
Lee : Nothing more than regular weekend rides and the odd sportive around Reading, Windsor, Henley etc. 
Peter – Back at work after a vacation (in which I cycled everyday) I am inspired, yes, more than ever. Meeting some of the people that the charity has helped and listening to them was something special. If you're feeling sorry for yourself this is the wakeup call… its proof that everybody is capable of so much, it's about being pointed in the right direction or being given a chance.
Not sure about 2019, I am planning a 3-day race in March and need to figure out some logistics with wife and children. They sacrifice a lot for me, need to do a bit of investing here. However I have vowed to have ridden 50 stages of the tour by my 50th birthday, so it won't be long until I am back. (Ed. Peter continues to return each year – creeping towards his 50 stages!)
Lee – I've done Le Loop mountain stages for two years running now and of course, you want to go bigger next time so next years plans are being formulated. As for doing the full Tour, what else am I going to do when I'm 50!!!  Certainly not a luxurious holiday with my wife!!!