Name: Ella Green
Age: 36
Location: London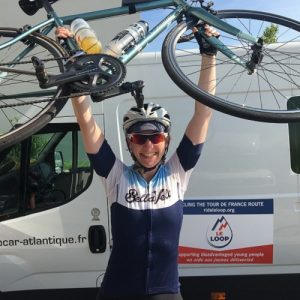 Before Le Loop I had completed Ride London twice and a few sportives around London's south west. But never the distance of a single stage of the Tour de France and never two days in a row! One of the rides I'm most proud of was the C2C from Whitehaven to Tyneside with just myself, my bike and 2 panniers. I'd also cycled solo from London to Margate earlier this year, which was the longest I'd cycled solo in a day. For me I wasn't afraid of the long distances but 102miles was my mental barrier, what happens when the garmin ticks over to 103… turns out you just keep pedalling!
Best (and worst) moments:
I loved riding out in the morning with all the riders as Le Loop has a wonderful rule where no one can leave the first stop until the last rider has arrived. This gave me a chance to ride and chat with some of the faster riders about their cycling experiences.
Riding with Emily Chappell, Emily is a phenomenal cyclist and astute ride leader. It was so inspiring to have her lead the ride, ride along side her and then follow her online while she completed the whole tour.
Stopping under a sprinkler by a corn field and getting absolutely soaked, I can still hear Annabel laughing at me (it was 35 degrees btw)
Knowing there were 4 feed stops to keep you going, just focus on the next one, only 40km away…
On the second day it was thought that Chris Froome was out of the Tour, for many miles all I could think was "I'll finish more stages than Froome this year" sadly short lived but it got me through a few miles
Getting back on that saddle on day 2
Not getting back on that saddle on day 3
Riding through villages that felt deserted due to the heat but that also had all the TdF bunting up in preparation for 7 days time
Riding what felt like long roads that never end with a head wind that made them even longer
A week later watching the real TdF and seeing where I had been and knowing I had cycled those stages was just so exciting (and I was super proud of everyone)
Being back in London and following Le Loop, knowing they were out there doing every single stage one day at a time
Advice:
Sign up!
Sudocrem is your friend
Break the stage down into chunks, focus on the next set of miles rather than the whole thing
Pack for all weathers (including super hot, Summer base layers do keep you cool)
The team at Le Loop are there to support you, they are some of the most capable people I have ever met, they are there to help you achieve your TdF goal
Well if I thought cycling was a huge part of my life before it's even bigger now! Before Le Loop I thought there were rides I could never do, now I just think how am I ever going to do them all!
On returning to London having done the first two flat stages of the Tour de France, I then decided to take on some Alps and headed back to France in August. I climbed 7,627m over 5 days and went from an extremely nervous descender (like crying downhill nervous) to a… well lets just say less nervous! I fell in love with the mountains, the gradients and the switchbacks and cannot wait to go back.
Now that I've achieved what seemed unachievable I have so much more confidence in my cycling and what's even better is this is filtering into other parts of my life.
I'm learning a lot more about bike mechanics, having built my own single speed and doing a lot of my own bike maintenance. I'm also very much involved with BellaVelo (the women's cycling club I joined only months before Le Loop). I'm doing my ride leader training, assisting with our beginner sessions and general club organisation.