Last week we had another great visit to one of the charities supported by WWMT. 

Tour Manager Sarah joined 8 cyclists plus 3 of their supporters to find out more about Regenerate. One of those supporters, Emma, put together this report:
The amazing Regenerate youth centre in south London is a charity funded project with one of their largest donors being the William Wates Foundation.  This is just one of the charities we'll be fund raising for on the Le Loop bike ride challenge at the end of June.
The youth centre runs positive activities for children and young people (many who have been in and out of prision), giving them a chance to change their lives and contribute to society.
One of their fantastic initiatives is the Feel Good Bakery with re-enters NEETS (not in education, employment or training) 16-25's into employment through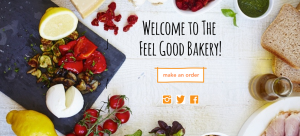 mentoring and coaching.  Individuals, who have no hope of securing steady employment (hardened gang members, some who've been to prison for knife crime, some who are the main drug dealers in South London and all who are waiting for an opportunity and the support to turn their lives around and be proud of themselves), are given an opportunity to work for six months in the bakery, providing sandwiches for local business.  Every sandwich purchased buys a meal for a child in Africa – read more at www.thefeelgoodbakery.com.
We met Andy who founded Regenerate 18 years ago with his mum, both of them were living in the Ashburton council estate (one of the largest in Europe) and wanted to make a difference to the lives of the people around them.  Andy has an incredible spirit, passion and drive to help and care for those who have not had a good start in life.
He also set up an initiative to support the elderly on the estate 'Regenerate – RISE', many of them were isolated in their own homes and afraid to go out into the violent neighbourhood.    His mum now runs RISE while he focuses his efforts on his work on the youth programme.
We also met Jordon, whose life has been transformed by Regenerate, after a rough start he now works for the charity as a mentor and is helping others to change their lives.  He'll be riding on one of the stages of Le Loop as the chaperone for William who is currently being supported by Jordan and the team – William will also be riding a stage with us in France as one of the charity visitors. Andy told us an amazing story of one other member of the youth club who after serving a sentence for gun related crimes, secured a job as a mechanic and attended a Regenerate volunteer trip to Kenya to work with street kids facing poverty.  This trip had a big impact on him, so much so he decided to raise funds to buy some land on which to build a garage, enabling some of the children he met to transform their lives by going into work and becoming apprentice mechanics.  He single handily raised over £30,000!
Regenerate is an incredible initiative and it's well worth visiting.
Enormous thanks to Emma Parkin from the Alitex team of supporters for putting this together for us.