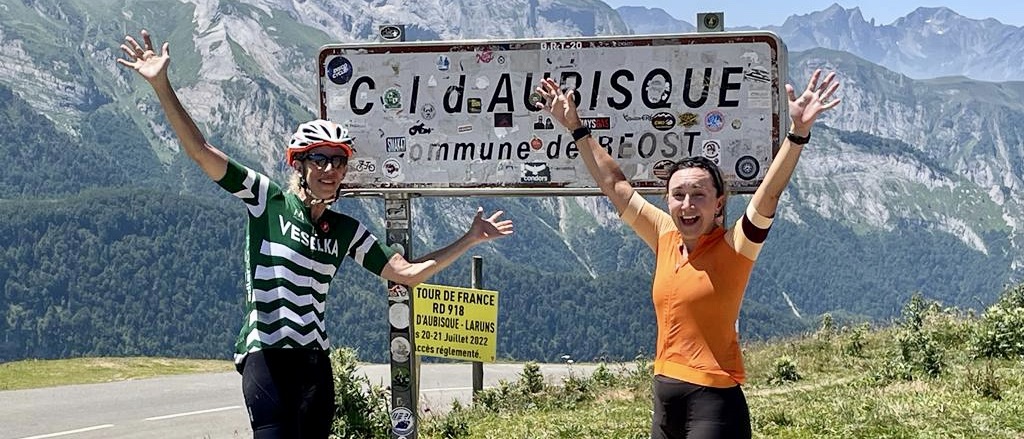 After 3 years and 2 missed tours (thanks to 'you know what'), 2022 was our much-longed-for return to normal. But there's not much normal about a Copenhagen Grand Depart! It was an excited troop of riders who arrived in Denmark for stage 1's gentle spin around this beautiful cycling city, where bikes rule the road. A time trial for the pros; for us it was a chance to spin the legs and start to get to know each other. The next 2 stages continued to tour Denmark on a network of peaceful roads passing through pretty towns and villages, alongside lovely coastline and in the sunshine, often on their incredible cycle path network. Why isn't every country like this? Our 'Grand Depart' Loopers had a fantastic introduction to the 2022 route with sunny days and promises to return for more soon (several have already signed up for 2023).
A 10 hour coach transfer to Northern France at least ensured that we were under cover instead of riding our bikes in the torrential rain storms that day. Perfect timing! We were joined in Dunkirk by the excellent Ben (and mentor Ollie) from Youth Adventure Trust – one of the youngsters benefiting from WWMT grant support. He is now the proud record holder of the furthest distance even ridden by a charity visitor on tour (118 hilly kms). Chapeau Ben. Ben and Ollie both spoke to the group and gave us the inspiration needed before tackling the cobbles of stage 5. We were also joined here by Team Alitex – regular visitors to Le Loop headed up by Tom Hall – they came to ride 2 stages on our 'Tour de France Adventure' Loop. The dry conditions meant that this stage was certainly manageable, with the usual poignant reminders of the first and second world wars. Massive hats-off to the Alitex riders who are not all mad-keen roadies, but always pull it off with aplomb as well as raising huge funds for WWMT.
The next few stages saw the tour travelling across northern France and into Switzerland – it also saw our only wet stage of the tour! Heading into the mountains is always very special as the scenery becomes more dramatic and the effort more ascent-driven rather than pure distance. Arriving on stage 9 in Morzine was a big achievement – a real marker in the tour and a much-needed rest day surrounded by stunning mountain scenery. Here we sadly parted company with our 'First Half' Loopers who gave us a wonderful send-off.
A new influx of riders joined us here to tackle the 'Second Half' and the 'Alps' Loop – a gnarly 3 stages of enormous distances and ascents in what proved to be hot hot hot temperatures. We were also joined by the brilliant Daley from Chew Valley Rugby's STAR Scheme. Between him and his mentor, Christian, the group was left in no doubt of just how big an impact their fundraising will have on young lives like Daley's. In Christian's now-immortal words: "What you are doing here, today, by riding your bikes and raising funds, is creating more Daleys in the world". Inspiring words for the eve of the Alpine stages.
Stages 10, 11 and 12 were huge. They saw us ride over the Galibier, twice(!), Up the Telegraph, Col du Glandon, Lacets, the punishing Croix de Fer and a summit finish on Alpe d'Huez – so many bucket-list ticks in so few days! Stage 12 also saw the arrival of our 'Mountains Week' Loopers. Riders of all backgrounds, experience and abilities took part in these stages – some were fast, some were not so fast, but everyone faced down their challenges with grit, determination and humour. Chapeau!
We left the Alps Loopers justifiably celebrating their achievements in Alpe d'Huez, with an early descent for stage 13 that took us out of the mountains towards the med. These 'transition' stages are best ridden in groups, working in chain gangs to eat up the miles in increasing heat and wind. The heat just kept increasing and by the time we'd reached Carcassonne for our 3rd rest day it was topping 40 degrees. A day here to re-group, tinker with bikes, eat massive amounts of calories and find the coolest spots to rest in was just what was needed. Again, we were joined here by a new contingent – the Pyrenees Loopers. At least the high temperatures in the UK meant that most riders were at least partially acclimatized to the melting heat. Knowing that the higher they rode, the cooler it should become didn't quite compensate for the amount of heat generated in the process! But these are glorious, challenging mountains and the peloton was smiling through the sweat as each stage challenged us more and more.
Classic climbs: Col de Peguere ("How I got up the Mur de Péguère in this heat I will never know!"), Col d'Aspin, Hourquette d'Ancizan, vertiginous Col de Val Louron-Azet, Col d'Aubisque and the triple; Col du Soulor followed by Tour newcomer Col de Spandelles and finally Hautacam. Just immense! The Pyrenees and Mountains Week Loopers certainly got their money's worth on these stages and were left hot, shattered but happy.
The final 3 stages of the tour were ridden by a peloton of just the remaining Grand Loopers and Second-Halfers. With a couple of surprise guest visitors from alumni holidaying in the area who couldn't resist popping by to say hello, it had a more relaxed feel – a sense that this job was very nearly done. But it's never over until it's over! So we continued our journey towards Paris with a final coach transfer North to ride stage 21 into Paris.
Joined there by WWMT Trustees Rick (Will's brother), Andrew and Sarah Wates (Will's parents) gave our celebratory ride and final dinner in Paris a true sense of a job well done – a massive achievement with a far greater benefit than purely our own sense of satisfaction. We were reminded of the youngsters whose lives we are helping to get back on track, so that they too can realise their dreams.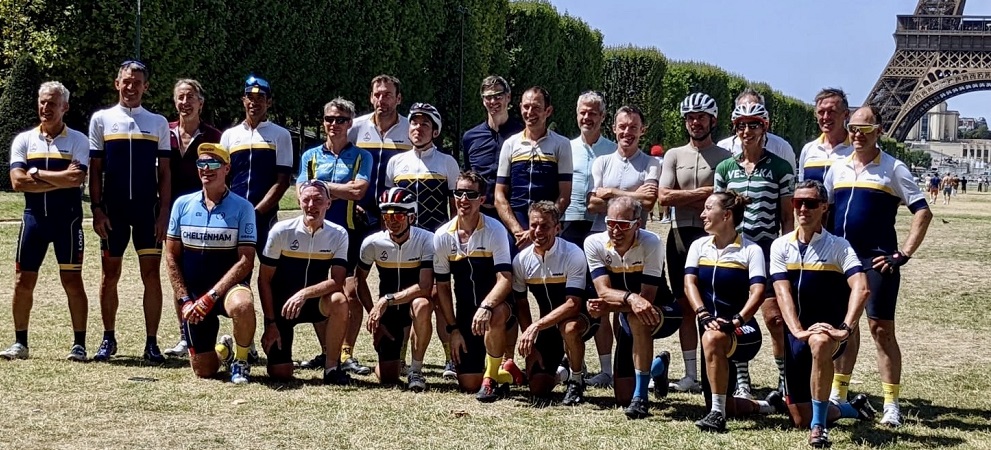 Despite 26 riders getting covid during the tour and having to leave early, 164 cyclists completed their challenge with spirit and courage. Whilst we're gutted for those who had to leave early (for anyone wondering, 20 of them are already booked to come back in 2023 and a couple more are waiting until 2024), we are sincerely grateful to our volunteer Tour doctors for the extra work they did preparing for and overseeing a "covid Tour". Alongside the other event staff, they work harder than any of us realise to make sure the event is safe and enjoyable – and we'd like to take this opportunity to offer a special thank you for their enormous contribution in 2022.
Bravo to all our fantastic Loopers. What an incredible achievement! And to top it all, we are beyond delighted to be able to announce that this has been a stellar year for fundraising. The 2022 tour has raised an astonishing £485,320 for the William Wates Memorial Trust. This is already being distributed in grants to charities like Youth Adventure Trust and Chew Valley Rugby's STAR scheme.
A huge thank you to each and every one of you who took part, worked in our support crew and donated to our riders. It takes a team to make this work – or perhaps we can say a family? What an incredible achievement.
Vive Le Tour!