We've got an incredible team looking after everything for you on tour, so that all you need to focus on is riding your bike. Eat, sleep, ride, repeat.
So we thought it would be fun to start to introduce you to some of our staff who make all this possible. First up – Tour Manager Sarah Perry. Sarah works throughout the year on all the operational logistics of the Tour and much more. Sarah eats logistics for breakfast. She's a fluent French speaker, can charm the pants of the gendarmerie if needed, and if only she were in charge of Brexit it would all have been sorted out last Christmas in a timely and cost-efficient manner and non of the melodrama! Once on the tour itself, she runs the show. She is, quite frankly, a Tour de Force.
What does an average day on tour involve for you?
I'm up at 5.30 most mornings: there are often already texts from the signing car (who left even earlier) with notes about the route so I check that before heading out to see the other staff, checking the vans have everything they need for the day, that the cyclists have enough calories at the hotel breakfast, that the doctors and physios are managing to keep everyone happy and (relatively) pain free…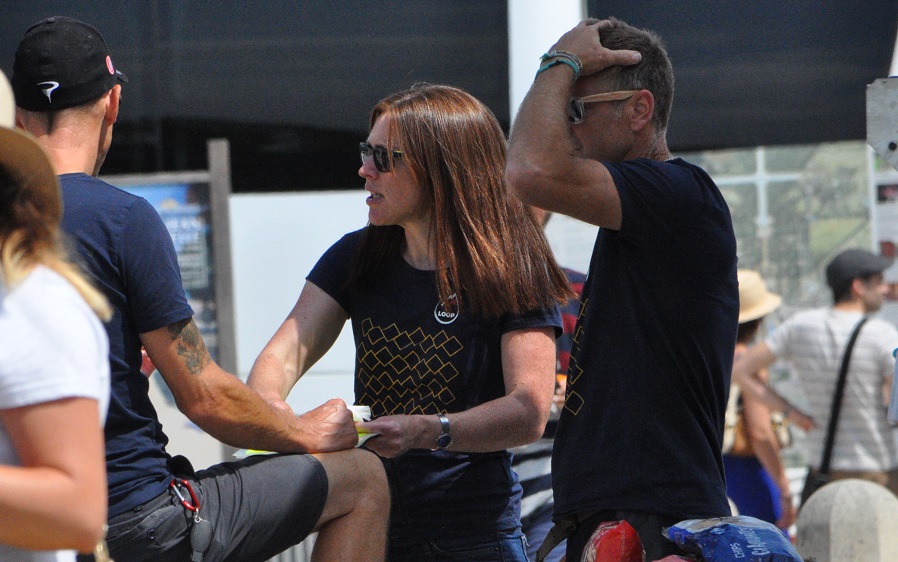 Once the cycling starts, I'm towards the front of the group, doing 2 or 3 supermarket sweeps each day (each one can easily be two overflowing trolleys) and delivering supplies to the feedstops. If I'm lucky, I catch feedstop 2 just as Ian has brewed the first pot of coffee. Ian's coffee isn't just a cyclist highlight; the staff rely on it too!
I try to get to the evening's hotel at around 4pm, just ahead of the first cyclists, to make sure that everything is organised and well set up for action once the cyclists arrive: bike storage, massage, room keys, dinner… there's lots to organise and lots of hotel staff to make friends with!
On tour, time absolutely flies and with arriving cyclists, plans for the next day and staff to check in with, it's normally dinner time, briefing time and bedtime before I know it.
What's your favourite bit of the job?
Seeing cyclists (fast, slow, experienced or not) arrive at a hotel buzzing, telling everyone that it's been their best day ever on a bike. As I drive between supermarkets, hotels and feedstops, I see groups of cyclists riding along, chatting and laughing – and that makes me smile to myself too – just knowing that everyone's having such a good time.
What are you most proud of about Le Loop?
That it's a good idea, that people come back year after year, that we're running a great event that contributes to something bigger and more important than just a fun holiday.
What's the toughest thing about Le Loop for you?
It would have to be the sleep deprivation. I'm pretty wired all day long with so much going on and although I'm asleep the moment my head hits the pillow, my head isn't on that pillow for quite as long as I'd like each night! I do a lot of sleeping in the week or 2 after the tour though.
What are you particularly looking forward to on the 2019 tour?
I always look forward to being on the road but it's not one place or one stage – it's the general fast-paced-fun and buzz of the event which I love. That and Ian's coffee at feedstop 2!
You'll hear more about Coffee Ian (a day on tour with …) in one of our next staff profiles. Watch this space …