Route Blog: Stage 5. Pau – Laruns. 165km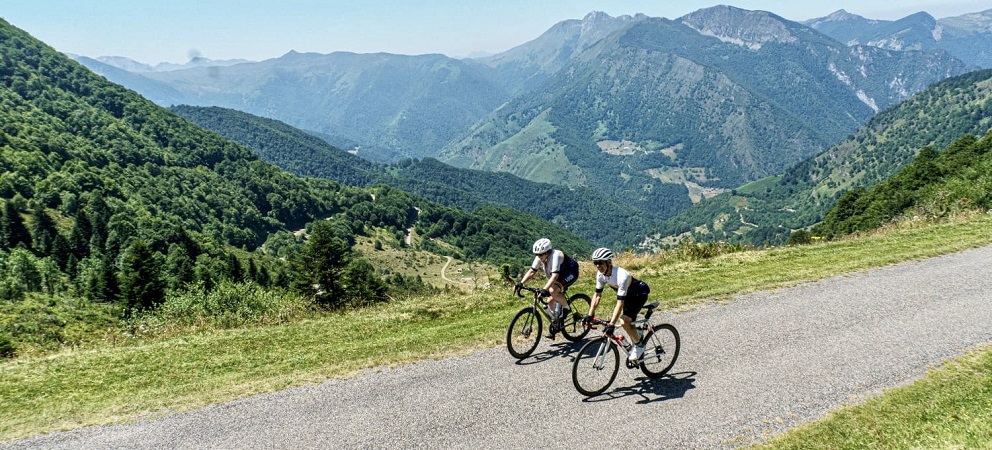 Between December and June, we're going to blog, one stage at a time, about the 2023 Tour de France route. You'll find stage descriptions for every stage on our Route page.
Pau has hosted the Tour de France 74 times; Laruns 4, so this stage takes us from big Pyrenean metropolis to sleepy mountain market town. The distance between the two is only 40km but clearly we're taking a more scenic route, crossing two spectacular climbs.
This gives us the opportunity to enjoy our first taste of the mountains and more specifically the amazing natural environment of the craggy, wild Pyrenees. The sports that bring summer tourists say it all; trout, salmon and eel fishing, rafting, canyoning, caving, rock climbing and paragliding. Over the course of this stage you'll find yourself in thick pine forests beside fast running rivers one moment, glimpsing a waterfall appearing out of a grey, rocky outcrop the next and then staring across wide, open views, past cattle pastures and on to high altitude, stunning mountain passes.
Two more interesting facts about this stage;
The famous, area-protected, sheeps milk Ossau-Iraty cheese comes from here. You might see it at a Le Loop feed stop!
On your way down from the Col de Soudet, you pass through Arette. In 1967, the town was 80% destroyed by an earthquake that killed one person. Seismic waves were felt as far away as Pau and even Bayonne.
This stage is part of the following Loops: Pyrenees, First Half, Grand Loop.
Don't just watch it; Ride it!