Route Blog: Stage 3. Amorebieta Etxano – Bayonne. 185km.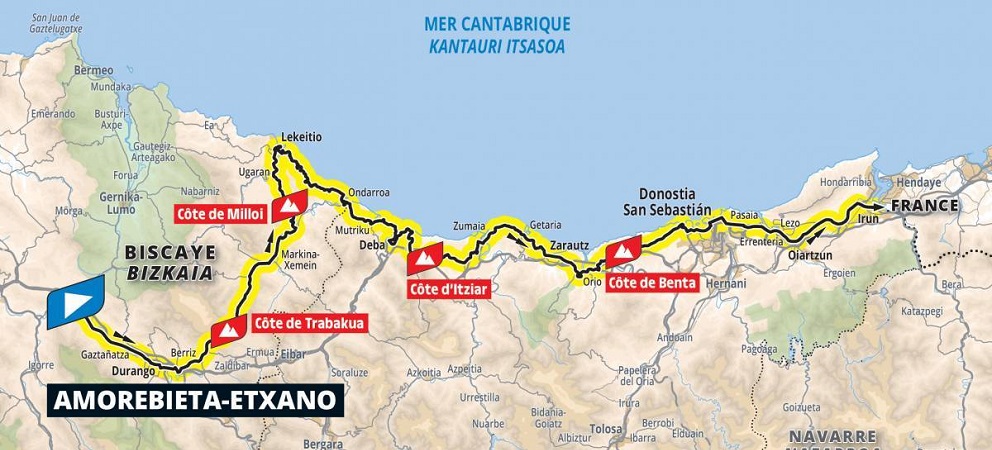 Between December and June, we're going to blog, one stage at a time, about the 2023 Tour de France route. You'll find stage descriptions for every stage on our Route page.
This is the most coastal stage of the 2023 Tour and the only one this year where we cycle across a country border. We start in Spain, looking west to the Atlantic and more specifically the Bay of Biscay, known for storms, high winds and (due to the underwater shelf and above-water wind patterns) dangerous shipping conditions. With any luck, June will gift us more clement conditions and we'll spend the day gazing left to the turquoise waters and stunning beaches where the water is reliably 23 degrees or warmer over the summer months.
We cycle across the border between the industrial Spanish town of Irun (its commercial history goes back 2,000 years) and the French port of Hendaye, best known in the last 150 years for its 3.5km long beach and the tourists that flock to it. It's a very low-key border; a small two-lane bridge over the Bidasoa river with one plain sign reading "France". You'll have time to ponder the wonders of the European Union and the ease with which neighbouring nations can now travel, work and shop in another country.
Cycle on past another couple of Le Loop feed stops and the stage ends in Bayonne, just to the north of Biarritz; a city famous for cycling. But Bayonne is smaller with a more relaxed vibe than its formal, glamorous neighbour. It's a happy mishmash of French and Spanish influence, with Roman Roads, half-timbered buildings from the Middle Ages and modern architecture from a more recent (and very successful) regeneration project. The town is filled with chocolate shops, tapas bars and colourful riverside views (our hotel is on the banks of the Nive, one of two rivers that meet in Bayonne) and makes a really fantastic stage finish town.
This stage is part of the following Loops: Grand Depart, First Half, Grand Loop.
Don't just watch it; Ride it!