2022 is one of 'those' years … the ones that include a dose of the infamous pavé that helped to christen the Paris-Roubaix race "the Hell of the North"! But it's also known as "The Queen of the Classics" – so maybe this is more about perspective and attitude than lumps and bumps? Love them or hate them (and I promise you, lots of people love them!), you're not going to easily forget them.
What are pavé?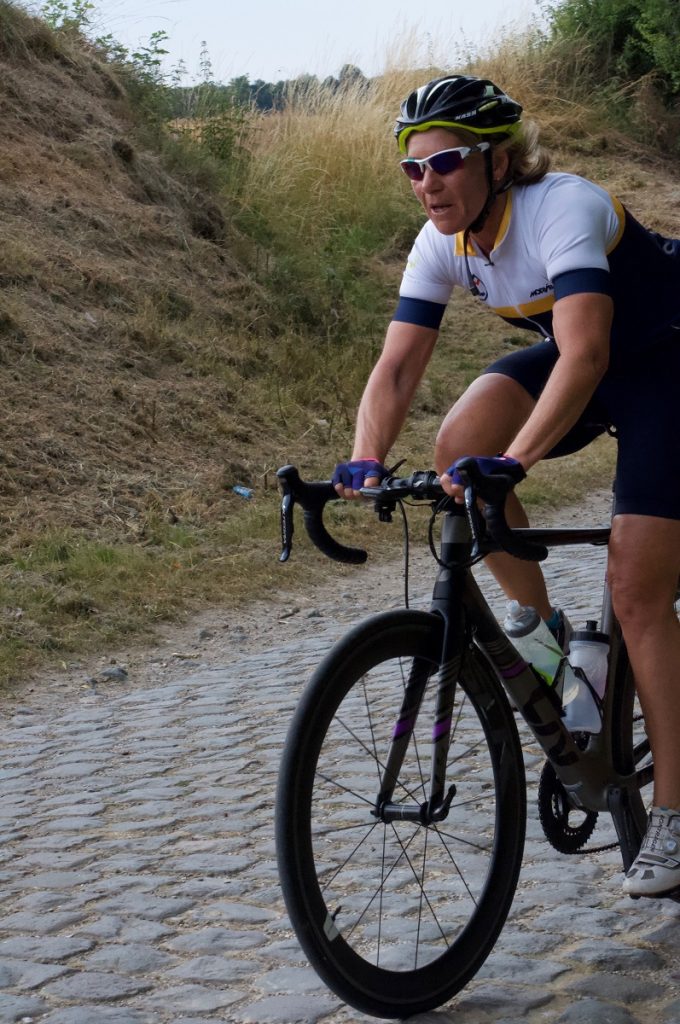 Pavé, or cobblestones, were once considered a significant step up in luxury when it came to road building. Cobbles in city centres and towns tend to be refined affairs with flattened tops and are neat and tight fitting; but the pavé of northern Europe sweep through rural countryside, between fields and hedgerows and are more likely to be used by a farmer on a tractor than horse and carriage. They're often uneven, loose, and the tops are usually more rounded, leading some Belgians to refer to them as kinderkopjes – children's heads!
How to ride them?
Throw in some filthy weather (unlikely in late June – more likely to be very dusty) and you've got a muddy obstacle course that makes for thrilling and bone-rattling cycle racing. When British cyclist Lizzie Deignan took the trophy in this year's first ever womens Paris-Roubaix, she said:
"The funny thing with cobbles is it's always about momentum. As soon as you lose momentum, that's when you start bouncing around, so you need to be able to produce enough power to go over them at speed. When you start to fatigue that's when your power drops and you start bouncing around more, your bike becomes harder to control!"
But let's face it, we're not going to be racing the pavé like a Paris-Roubaix winner next summer (much as we might like to dream!). So how can Loopers ride stage 5 of the 2022 Tour de France route with their dignity (and various body parts) intact?
People are fond of playing up the difficulty (and potential disaster) of riding on cobbles, but in reality it can be a rewarding – and enjoyably challenging – experience. Cycling over uneven cobbles requires you to focus your mind as well as your legs and we'll help you manage it. You'll also gain the kudos of having participated in one of continental cycling's proudest traditions.
The trick to riding on cobbles is to relax. We know that's easier said than done, but keeping your body loose will mean that it functions as a natural shock absorber, so that you get less vibration, especially through your arms. The bike will also be easier to control if you don't grip the bars too tightly, and if you maintain a smooth, high cadence, it will help you float over the uneven surface (yes, I said 'float' – you can remind me of that later).
Check out Assistant Lead Cyclist Gareth's 'How To Ride Cobbles' video:

A sense of perspective
2018 saw a great cobble stage in lovely sunshine for Loopers. Alumnus Butch Keahiolalo remembers:
"The cobbles were a 2018 highlight for me … If you can do these things at the same time, you'll barely notice them:
1. Pedal like HELL!
2. Barely hold on"
At the end of the day, it is epic stages such as this that give Le Tour so much character. These are the days that are etched into your memory and that you'll be telling your grandchildren about. And if the cobbles don't humble you, then your arrival at Arenberg surely will. This area was so heavily bombed in the first world war that the land was devastated. Not a single tree was left standing, and there wasn't a field or road that hadn't been bombed, horrifying the 1919 Paris-Roubaix cyclists when they rode through. There's nothing like a bit of history to give you a sense of perspective on any discomfort you may suffer on your bike.
You'll finish stage 5 with epic tales and a whole heap of gratitude that you're lucky enough to be taking part in this incredible adventure.
Bon courage!
Want to know more about the specifics of Stage 5? Check out our in-depth recce by assistant Lead Cyclist Gareth.