We launched our Rider Competition to try to get your words and images from the tour this year. No one says it better than you – our riders – and we received some wonderful entries that really captured the essence of what riding Le Tour is all about with Tour de Force (and now, Le Loop). For the first year we had daily vloggers on tour – so particular thanks to Chris Stephens (https://www.instagram.com/chrisandthetour/) and the duo behind 'Project Camembert' – Ian Coop and Chris Lewis: https://crankman26.wordpress.com/ for their brilliant contributions.
Many riders used blogs, twitter and instagram to record their journey. Many of the blogs are listed in this post: https://rideleloop.org/are-we-nearly-there-yet/ and a few riders emailed their entries to us.
And so came the really difficult job of selecting our winners … not least because you're ALL winners in our eyes. THANK YOU to each and every one of you for your commitment, enthusiasm and generosity of spirit in sharing your experience. But just as someone has to get the yellow jersey, we do have to choose 3 winners … and they are as follows:
FIRST PRIZE – goes to Chris Stephens for his wonderful vlogs. Though we could have chosen any one of his vlogs, the collection as a whole just nails it – he finds the words, the images, the epic views and the emotion that expresses what it is to ride Le Tour.  Chapeau Chris. They're all there to view on his instagram feed above.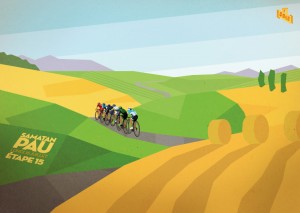 Chris wins a beautiful copy of cycling artist (and TDF Alumni Lifer) Bruce Doscher's new book that is a collection of his best 'Daily Poster works'. Bruce has spent the last few years creating an epic image that captures the essence of that day's stage of the Tour de France. He produces it on the same day – 21 images in 23 days. His work is stunning and iconic.
SECOND PRIZE – goes to John Griffiths who captured, precisely, what the Tour de Force is truly all about: not just the unbelievable experience that is riding the actual route of the Tour de France, one week ahead of the pros – but the fundamental reason why TDF/Le Loop exists – as a fundraiser to support the work of the William Wates Memorial Trust – supporting the most disadvantaged young people in the UK and France to get the sort of opportunities in life that many of us take for granted, and to realise their own true potential.
"What we have done is great, but it's over. What the charities do is greater & continues day after day & is far more than a 3 week affair"
You can check out John's full blog here: https://johnstourdeforce.com/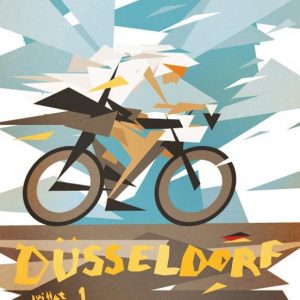 John wins a stunning 'Cycling Poster' by Bruce Doscher and gets to choose the image he likes best from Bruce's 2017 Tour de France work.
THIRD PRIZE – we really hoped for a single, brilliant image that captured the staggering beauty that we are lucky enough to experience on tour. The moments high in the mountains, with enormous vistas to reward us for our blood, sweat and tears as we reach the tops of crippling climbs, give us some of our most emotional moments – the ones when we're glad to be alive and know just how very very lucky we are to be doing this. It's when we know that riding the Tour de Force is about so much more than just our ride. It's about other people benefiting too. There is camaraderie aplenty on the road, but to get to the top of a climb, it really is all about you and the bike, and digging deep. This chimes perfectly with the work of the Trust – where each young person we are helping has their own mountain to climb. We support them in every way we can, but in the end, it's up to them to come out on top. We felt that this image taken by Roly Kitson's daughter Megan captured that emotion: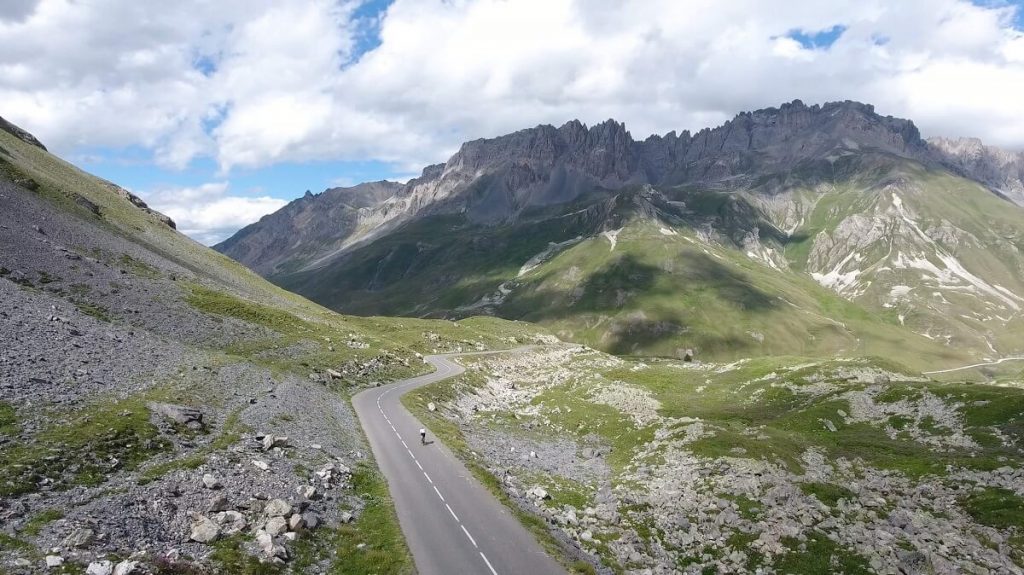 Megan wins a signed copy of  our new Lead Cyclist Emily Chappell's excellent book What Goes Around: A London Cycle Courier's Story.
CONGRATULATIONS to all our competition winners. We will be in touch to organise your prizes.
And to all those of you who contributed to the competition, our enormous thanks and appreciation.
Vive Le Tour!