Route Blog Stage 19. Moirans en Montagne - Poligny. 173km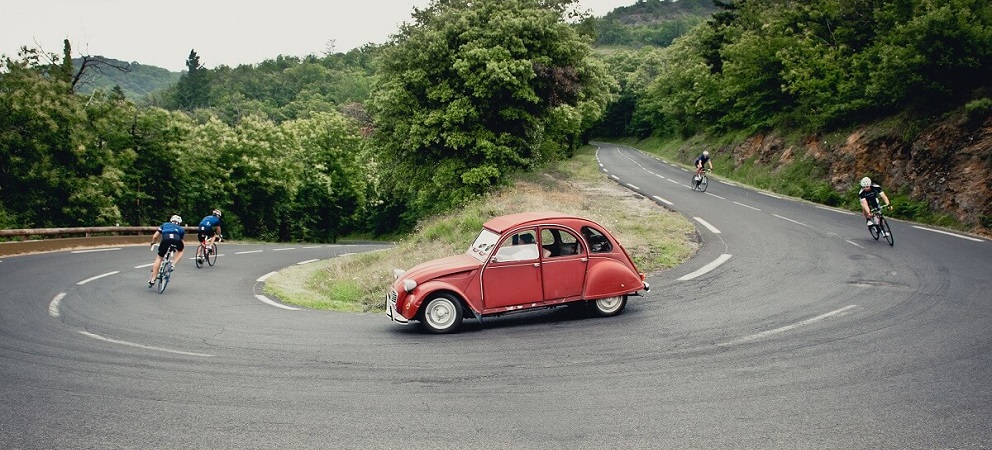 Between December and June, we're going to blog, one stage at a time, about the 2023 Tour de France route. You'll find stage descriptions for every stage on our Route page.
This stage, entirely in the Jura, shows us a much lesser known region, not quite high enough into the mountains to be skiable, not close enough to an airport to be a commercial or tourist centre and not glamorous enough to have made it onto the Top Three lists for anything. However, from an "enjoy the views as you're cycling on quiet undulating roads" point of view, it's a fabulous stage and there's much to hold our interest…
We start with a loop south from Moirans (on a stage that's otherwise all north) to a small, sleepy town called Arinthod with an impressive 12th century Romanesque church (pre-dating all the fancy gothic architecture of bigger towns and extremely noteworthy because of it) and a coat of arms which includes a perfect French moustache motif (technically part of a bow and arrow but from a distance you'd never know).
The windy road north takes us to Champagnole, the biggest town we pass through on this stage and also the most self-agrandising. They've given themselves the title (for promotional purposes) "Pearl of the Jura"; fighting talk for a region that has plenty of pearls to choose from. It's a perfectly nice town but as tripadvisor would confirm (with a hiking trail at number 1 and the tourist office itself at number 2 attraction), the best things are the countryside surrounding the town rather than the centre itself.
The Jura mountains are made from limestone which means plenty of plant diversity to look at as we ride. Wild flowers as well as a huge variety of trees are here (beech, maple, spruce, pine to name a few)and  flourish on these slopes.
If you look at a map, there appears to be an unnecessary loop to the north before we approach Poligny for a 10km straight sprinters' finish but as well as adding more, fun kilometres, this detour is to show the world the town of Salins les Bains. It's a spa town which was in its prime during Roman times, providing both water and salt to traders who passed through (a few kms north west is Arc en Senans; the royal salt works visited on the 2012 Tour de France). Enjoy the history and spare a small thank you to the Roman legions who built so many of the roads that we've spent the last 19 stages riding on.
This stage is part of the following Loops: Second half & Grand Loop.
Don't just watch it; Ride it!