We (Sarah and Kate) recently spent and afternoon in Milton Keynes to learn more about WWMT's biggest grant project – Ride High. They provide riding classes and tie them in with support work for young people experiencing real disadvantage.
They work with 80 children (aged 8-17) every week who may be in foster care, young carers, are suicidal or self-harming or living in environments dominated by ill health, poverty, drugs or alcohol. All the young people are referred to the project by social workers, schools or medical professionals. The charity's goal is to transform children from being disengaged, unhappy and with very poor prospects to being confident and positively engaged in the outside world – and they do it exceptionally well.
For some kids, simple communication has become an insurmountable challenge, but through working with the horses, they learn about empathy, compassion, discipline and kindness. Hannah, one of the team working with the children told us:
"When a child first comes here, they often hardly speak, sometimes not at all. But then they start to whisper to the horses, and once they've started whispering, we can join in … from there, we can start to help them"
The children join them for an initial 12 weeks, 2 hours a week and might stay with the project for as long as a couple of years. The first hour is a riding lesson and the 2nd is an opportunity to work in small groups on ideas like kindness and empathy. 2 hours doesn't sound like much, but as Hannah explained, that session can make all the difference to a child. She shared G's story:
"On Mondays and Tuesdays at school, I have so much anger in me, but I can keep control of it because I know that on Wednesday I'm coming to Ride High. After that, I'm calm and Thursday and Friday are fine".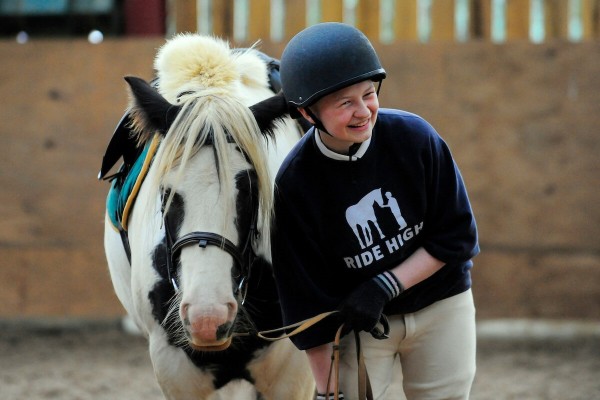 Ride High helps G to get through her school week – without it, there wouldn't be the relief from her difficult emotions that she needs, or the support to help her get on top of them for the rest of the week. All that, from just 2 hours a week.
The role of the animals is key to recovery for these children and Ride High is at a critical but incredibly exciting point in their history, having recently managed to purchase a new stables site to operate from. Unlike the old stables where they hire their space and the horses, they have purchased the new site outright, with bold ambitions. A huge project of renovation is taking place, fast, run by the extremely capable Jo Fay. The stables will be first and foremost a home for Ride High (house in a run down, but about-to-be renovated Georgian house), but will also run as a commercial stables to self-fund the charity. The response of the local community to the new site has been tremendous, with 65 riding lessons being booked in the first 5 weeks of business. The goal for Ride High to be self-funding is entirely realistic, with bold ambitions to develop the site to include meeting space, pony parties, a cafe and more.
The new stables site is an opportunity for Ride High to enable the children to do even more work with the horses – grooming, cleaning tack, riding and more. The house gives them the space for their counselling and support work, included a much needed room for one-to-one conversations in a private space – something they lack at the old site. A small but absolutely dedicated team are driving the project forward through enthusiasm, hard work and grit determination. One of their team, Britney, was one of the children they helped a few years ago and is now a testament to how successful Ride High's methods can be. She stayed with Ride High and is now a confident and capable young woman who we watched instructing another child on horseback. Ride High works.
WWMT began by funding a minibus and driver to transport the children to and from Ride High. Earlier this year they agreed their largest single grant donation to date – £130,000 to secure the long term lease of the new site. Ride High currently supports 80 children a week and will be increasing that number from January to 88 initially, with a view to reaching even more children who need support. Your fundraising efforts are helping the children of Milton Keynes who are facing severe disadvantage. If you would like to see the project for yourself, drop Kate a line to arrange.