Journey to the mighty Alps!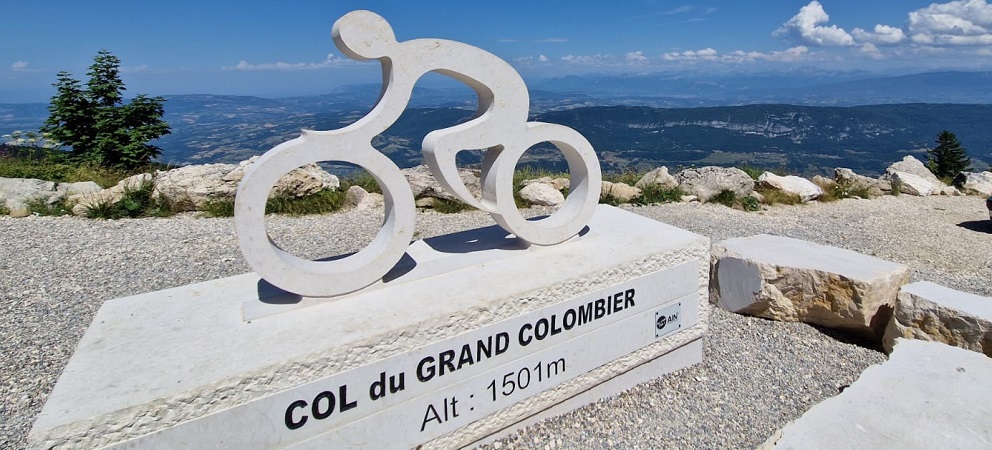 Our first rest day back in Clermont Ferrand seems an awfully long time ago now! It was an opportunity to re-group, get on top of laundry, eat huge amounts of food and even do a little bit of sightseeing in that lovely town. We said goodbye to all our 'First Half Loopers' there and soon welcomed a big contingent of riders tackling the Middle Mountains (3 stages) and Mountains Week (7 stages) Loops. Nothing beats fresh legs on tour, and it was wonderful to welcome familiar faces along with lots of new Loopers. We love the way that our Alumni are so welcoming to new riders – no impenetrable cliques here!
We rode in the heart of the Massif Central with high temperatures but beautiful rolling climbs, culminating on stage 13 at the top of the mighty Grand Colombier. We'd been joined the night before by our Alps Loopers for their first of 3 'big climb' stages into the Alps.
It was a huge pleasure to be joined by William Wates's father, Andrew for a couple of days on tour – he rode with us, cheered us on and got stuck in to helping the team at feed stops. He epitomizes the huge commitment and enthusiasm from the Wates family for Le Loop – something we all appreciate hugely. With every rider raising funds for the William Wates Memorial Trust, to meet Andrew is an opportunity to really connect with the origins of the Trust and our goals. Andrew shared stories from 1 or 2 of the projects he personally champions, where he sees the effects being 'transformational' on the lives of these youngsters. Once again, we are humbled by both the Wates family story and the many individual success stories achieved by the charities we support through grants. We all ride with a bigger, greater purpose as a result.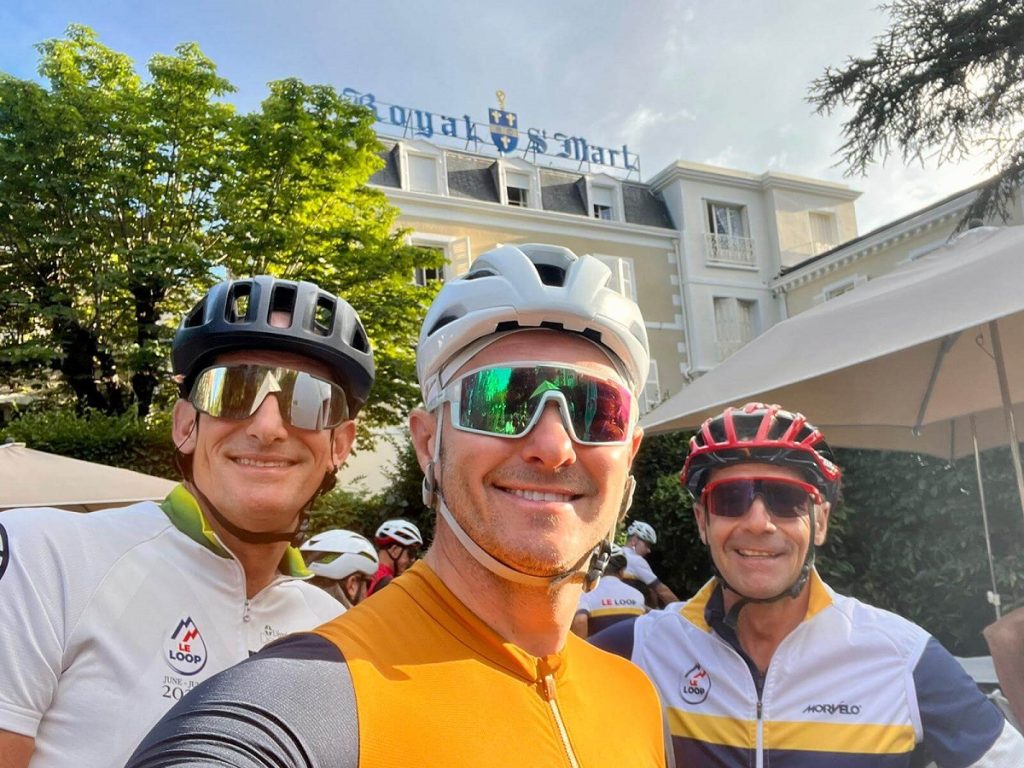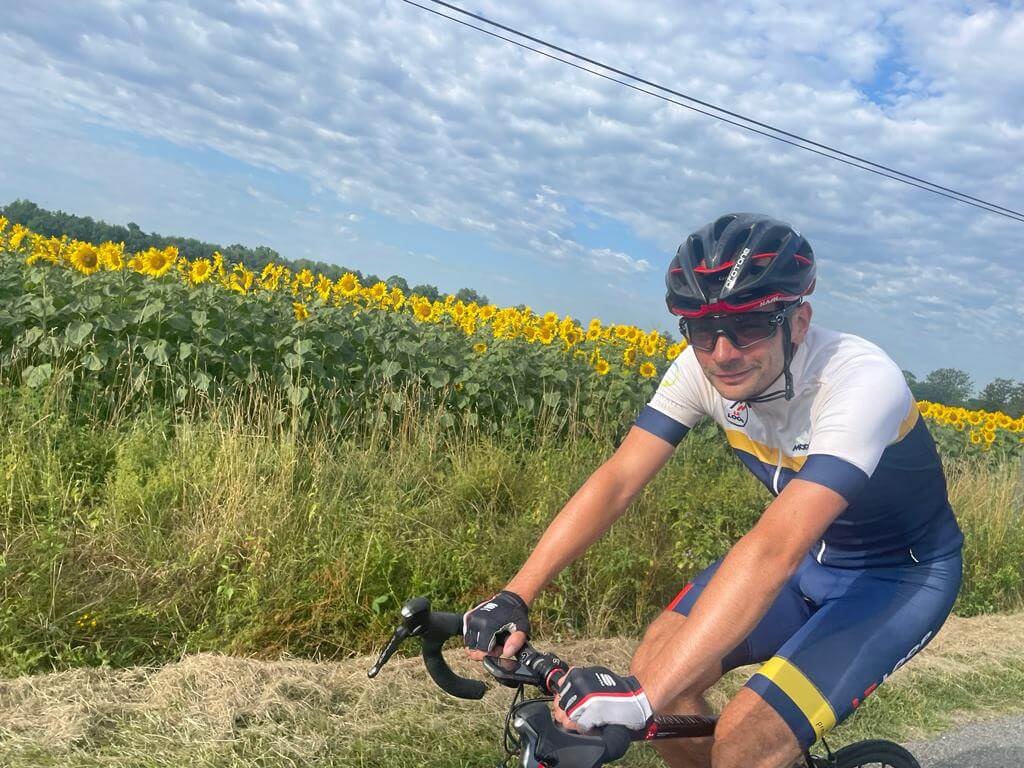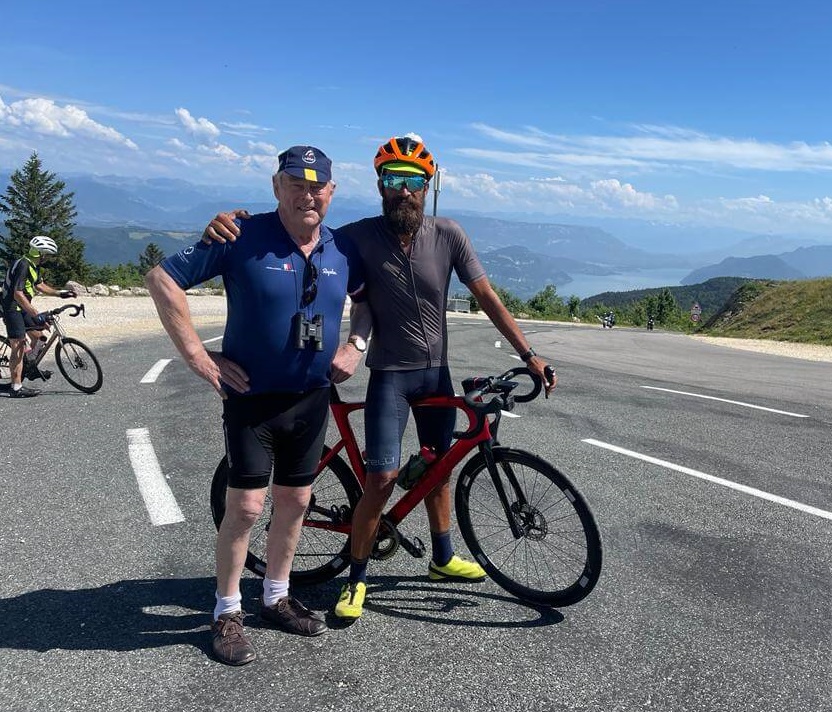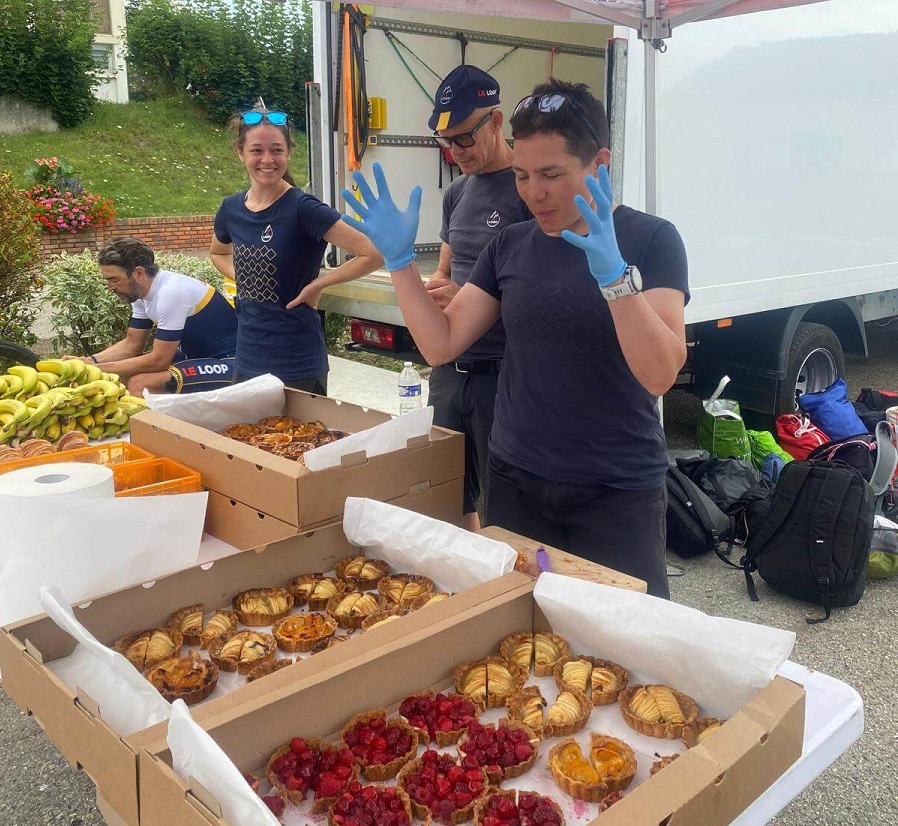 Having conquered the intimidating summit of Colombier, the Middle Mountains Loopers waved goodbye, job done, while those remaining rode on towards ever more mountainous terrain. The temperatures climbed just as we did! Stage 14 was huge – but the breathtaking scenery and glorious sunshine made this an unforgettable stage. With 4,100m of climbing, this was always going to hurt, but the rewards were immense. Does cycling get any better?
Then on to stage 15: another monster, made almost crippling by the heat well into the 40s (one rider clocked 43.9 degrees – oof!). But the views of the Mont Blanc Massif as we approached our stage finish in the lovely St Gervais filled us with awe and made the achievement almost overwhelming.
And so we arrive at our 2nd rest day. St Gervais has a long history as a spa town and we're in one of the more lovely hotels of the tour. It feels like a massive treat – a reward for all the immense effort. Not only is today a rest day, but tomorrow is the time trial (which we don't race and prefer to call the ice cream tour) – just 22km leaving plenty of time for more rest and relaxation. But by Wednesday, we'll be straight back into the business end of things with another massive mountain day in which we exceed 5000m of climbing. Yes – the legs are going to know about that one!
But first – I'll have a 2nd round of burger and chips please before a dunk in the jacuzzi – don't mind if I do!