We've been posting stories from our riders onto facebook for a while now – alternate Fridays through the long hard autumn/winter months. They're probably our most popular posts – and they demonstrate just how diverse our Loopers are.  So if you're considering riding Le Loop but are a bit nervous about your ability, your experience, whether you'll find other people your speed, read a few of these features and we're sure you'll be reasured.
Name: Russ Middleton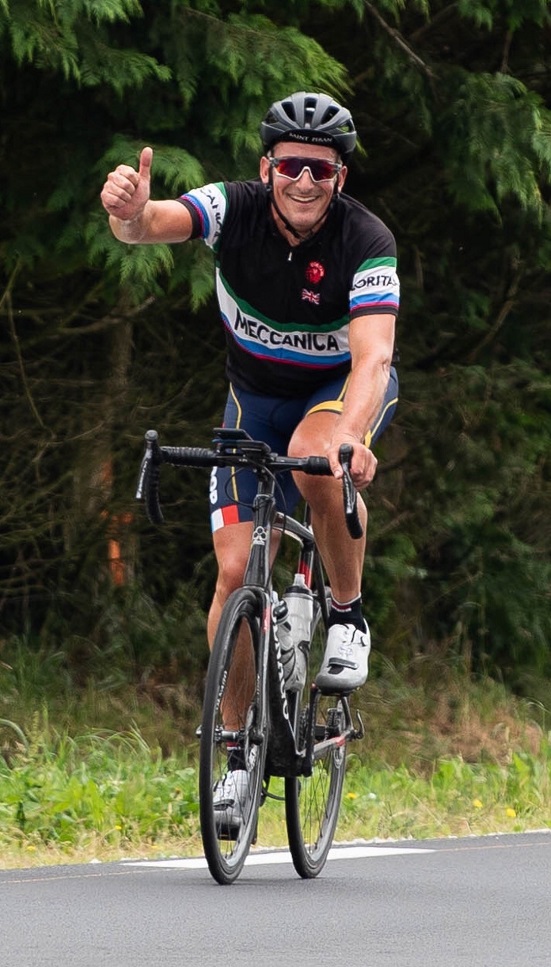 Age: 52
Location: Bovey Tracey, South Devon 
Pedigree:
I hadn't done very much cycling at all really. Certainly not ridden any mountains, nor had I ever cycled outside of the south west.
A couple years ago I was reading a book that inspired me to do something crazy. It was "French Revolutions" by Tim Moore. I said to my wife " I'm going to do that when I retire"  ……, she said "don't be daft" , and the rest is history !
I researched different ways to do the route, and to be honest was initially thinking of doing 50 or so miles a day, and to take 6 weeks to get around. But I found "Tour de Force" as it was called before Le Loop, met up with Sarah in 2016 and somehow booked myself a place to do the Grand Loop in 2018. Pretty daunting but it was a real focus for me whilst approaching a new chapter in my life after policing for 30 years.
I retired from Devon and Cornwall Police in January 2018. I was 52 yrs old, 18 stone 8lbs (118kg), and at 6ft 4 not really built for climbing or racing around the hardest bike race in the World ……
I trained for the full 6 months before the start of the tour (not counting the 4 weeks off the bike after rupturing my medial ligament whilst skiing – idiot!) managed to get pretty fit, and lost 23 kg in the process.
I treated myself to a new bike, which got named "Eric" and I was ready for France ……
He Says:
I used a coach to help me with my training and at the start he said to me "I will do my best to try and get you to a level where you enjoy at least some of the stages". He was an x-pro and had ridden some big Tours, but never the Tour de France. He couldn't imagine 21 days in the saddle, particularly not at my level which would mean twice the time in the saddle that the pros take each day.
Well I can honestly say that I enjoyed every single stage, in fact more than that, I had the best of times and was amazed to find that despite the pain on some days, I particularly loved it in the mountains. The scenery, the comradeship, the challenge, the time to think, the pride of the mountain top finishes … all made for what was one of the best experiences of my life. I cannot praise the Le Loop team enough. This is without doubt the absolute best bike ride you can ever do, and I don't think you will find a better organised trip anywhere.
Where are you now?
I am feeling fitter, stronger and healthier than I ever have.
I have made many new friends for life. I have fallen in love with cycling and am so proud to have completed the full Tour 7 days ahead of the pros.  I still find myself watching the highlights of this year's actual tour, and thinking quietly to myself "I did that …."
I'm also immensely proud to be part of a small group of fantastic people that raised nearly £400k between us this year. The William Wates Memorial Trust is doing amazing things for young people and if my small part helps someone like Will or Sky to reach their potential then I'm happy.
As for the future, I don't really know yet as I'm having a "gap year "with my wife. One thing is for sure though, it will involve cycling, a lot and I'm already booking some events for next year to give me a focus with my training.
If anyone reading this is thinking about doing any part of Le Loop, be that a single Loop or the whole darn thing, my advice is DO IT … Life is too short and you never know what's around the corner, so take your chances when you can, get out on your bike, embrace the training, seek out some hills, look up and enjoy the ride.
Name: Katy Hebditch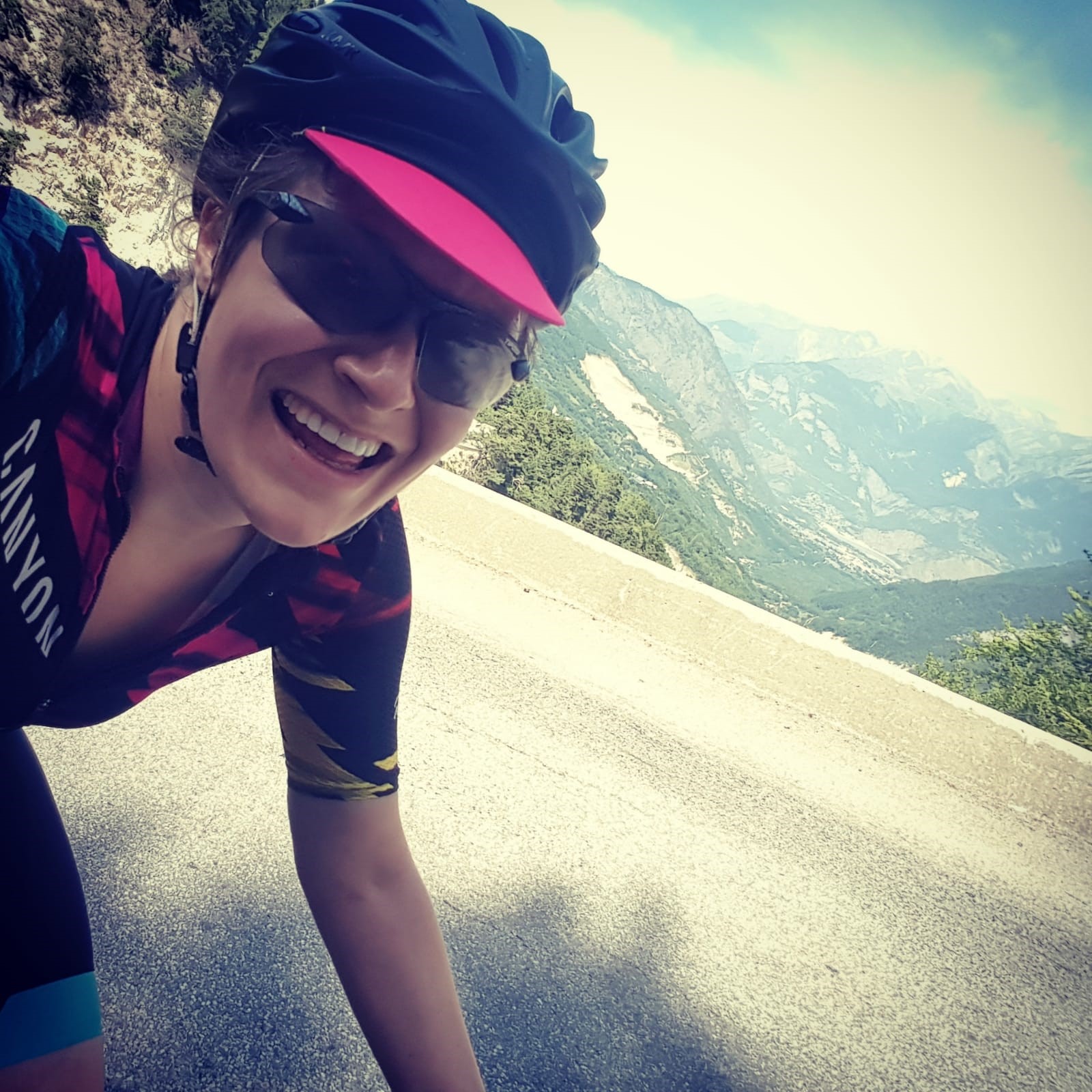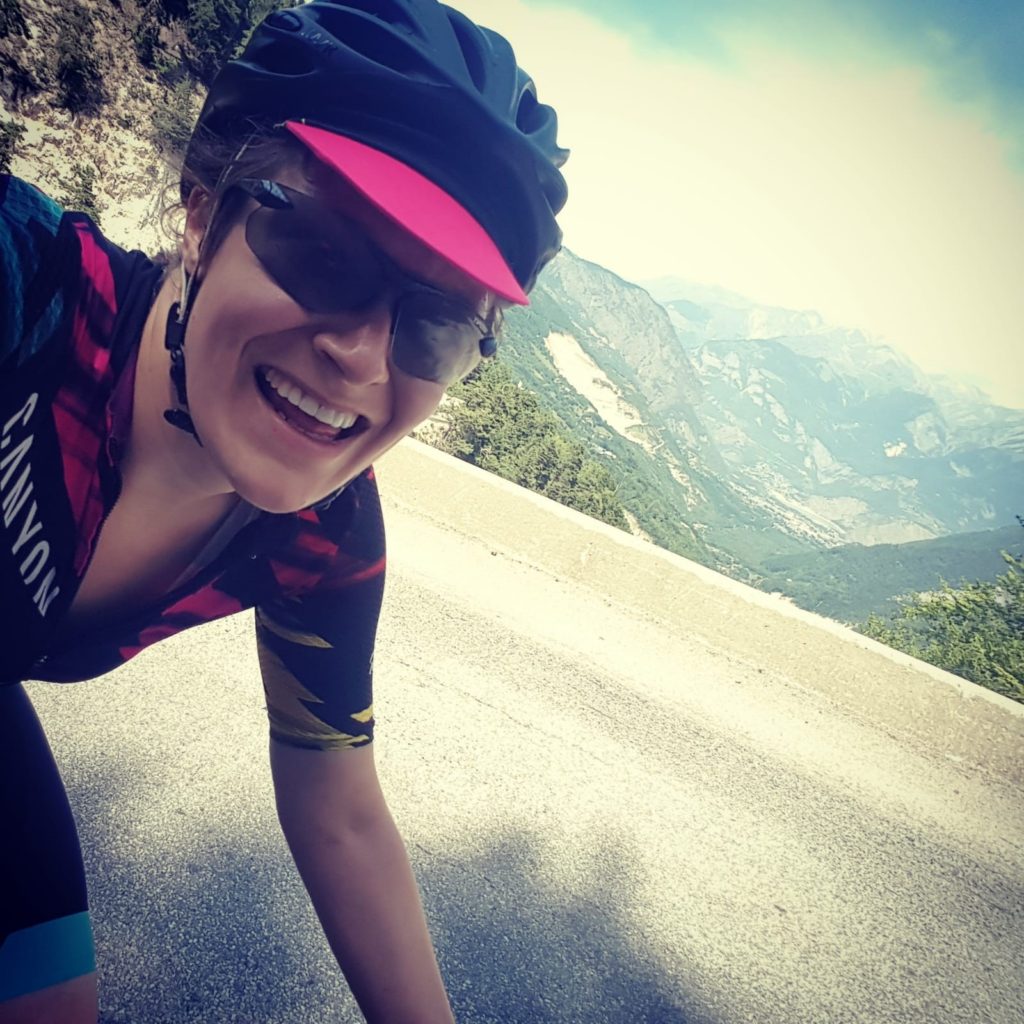 Age: 28 (birthday on tour!)
Location: Kent, UK
Pedigree:
Unconfident but determined plodder! First mountains tackled in Tenerife in same year, but that was only one in a day so how would I really cope with the Alps?!
She Says: 
This year I've been challenging myself to get out of my comfort zone, both personally and professionally. It's an amazing feeling to prove yourself wrong! Le Loop is simply a fantastic environment – with inspiring, supportive people, right from the get go.  Huge thanks go to Emily & Kate for the numerous emails challenging my perceptions of failure, persuading me to take part and supporting me through a bit of a hectic 5 weeks of training! I chose to ride the Alps, due to work schedule and the prospect of champagne at the top of Alpe d'Huez on my birthday (now that's motivation!). However, as a solo woman, with little time for training (late sign up, London commuter blah blah) and very little experience in mountain climbs, I was pretty nervy.  I put on a 11-40 cassette (Yes, it's possible!) for the Alps, and that was the best decision I could have made.. I spun up the mountains at my own snail pace, but kept going and enjoyed the view. It was perhaps one of the toughest things I've done physically, but also mentally and emotionally.  Going on my own was the best thing I could have done for me, for my confidence, as it meant i was totally open to meet new people and have made some incredible friends (you've already got cycling in common!), yet could also take some time out on my own when I needed to have space or thinking time (plenty of that available on some of those climbs!).
Remember, whatever you sign up for, it's your ride, your challenge, don't compare yourself to others. You can achieve SO much more than you think – don't be afraid to take a leap and see what happens. Kudos for even putting yourself out there and considering taking on a challenge! Above all, enjoy the ride and enjoy the view.
Where are you now? 
The Tour came at a pretty epic time for me – I was in between work travels and interviews for a new job (which also was a bit of a leap). I am pleased to say I got the job offer whilst on the Eurostar en route to the Alps! Le Loop has really changed my outlook and given me a new found confidence and zest for pushing my boundaries, and I'm now looking forwards to roughly planning some travel (with a bike!) for the next few months before the next big challenge starts.
Name:   Lenny Hartley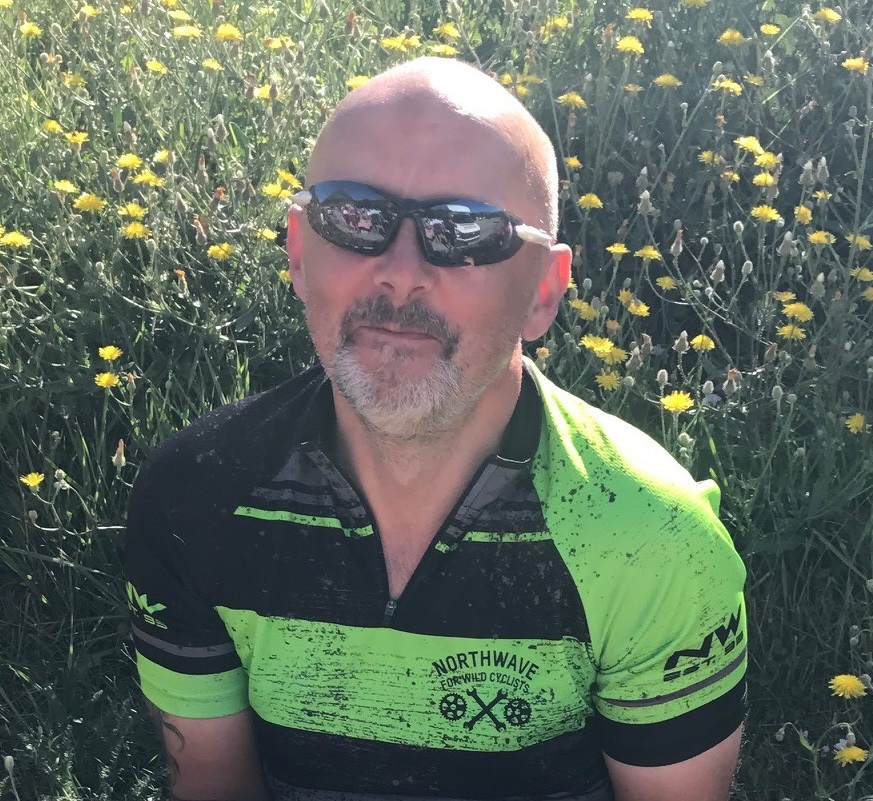 Age:   48
Location: Shipley, Yorkshire
Pedigree:
Not a complete novice, mountain biking in my 30s, cycling as transport in my teens, but no consistent road riding until I started training a year before the ride. More of a runner than a rider till then. Generally fit and was told I would complete the tour on pig headedness alone, which I took as a compliment
He Says:
A combination of factors led me to this challenge, a long-held love of the professional tour, my running buddy buying a road bike. My receiving a cannondale road bike as part payment for a job, the tour coming to Yorkshire and my own need to do something epic and push myself to my limits in a field other than work. I searched for a way I could ride the tour and found Tour de Force (or Le Loop).
11 months before the ride I took delivery of a Canyon Ultimate which I immediately took out for a spin. So much lighter than my previous bike it was faster and accelerated quicker and to be honest I was a bit giddy. Taking a corner with more speed than skill I ended up over the bars and went face first into the tarmac. Thanks to my helmet I am still here but I fractured the c2 vertebrae, my nose and my eye socket as well as my pride. The accident also aggravated or trapped nerves in my neck causing dizzy spells that at times had me vomiting. Because of this I was barred from cycling till my final CT and MRI in December. It took me till April to descend without keeping the breaks on and to start cornering without taking erratic and wide lines. There was no way I was cancelling though and I completed all but one stage (tendonitis put me out of stage 8).
It was an amazing experience which I would repeat tomorrow. When I do it again in 2020 I will be more bike fit, pay more attention to gearing, (my 36-52 front 29-11 rear set up was tiring on the long ascents) and be a student of pilates to ensure the tendons and muscles have a better time of it.
Where are you now?
Deep into renovating my new house and work, the riding has taken a back seat for now; though I did a sportive 4 weeks after the tour and came in 6th out of 400 riders which was a really good feeling, not that I am competitive!! I am left with a love of cycling though and intend to do a lot more of it, I am thinking of a couple of self-supported rides such as Channel to Med and LEJOG, and I will return to the Tour in 2020 with greater bike fitness.
Name:  Johnny Thompson
Age: 66
Location: Minneapolis, Minnesota  U.S.
Pedigree: 
Johnny was riding the full tour in 2014 until an accident forced him to pay a visit to the Besancon Hospital following Stage 10. Given the unfinished business, he signed up again in 2015 and made it all of the way to Paris.  A former marathoner, Johnny was our first American participant and remains one of our biggest fans.  What began as a "to-do" item on his bucket list became, "one of the most memorable experiences of my life."   "Once I get a little older, I'll go back. In the meantime, if there's anyone from the U.S. who's considering the event, let me know if I can be of any help."
He Says:
"While the day-to-day TdF experience on the bike will be remarkable, you'll find that the accomplishment will get enhanced over time. Not in an embellished sort of way. Rather, with the distance of time, you'll realize what an extraordinary thing you did.  You achieved something that others – OK, maybe only a few others – will only dream of. In the enormity of life, the TdF will really stands out as a bright and shiny star long after you peddle into Paris."
Where is he now?
With a wonderful job at the University of Minnesota, three kids and four grandchildren, Johnny may actually be putting more emphasis on the bike than ever before. "I've begun to notice that others my age are beginning to accept that slowing down is OK – maybe even a good thing. The bike, and those who show up at the race starting lines, help turn back the clock.  It's motivating to compete.  It's invigorating to push yourself. And when I step off the bike, the cold beer tastes all the better!  As for the future, climbing Colorado's Mount Evans and riding the route of the Strada Bianche is on the list for 2017. As for the Tour de France, I still feel France calling my name. (Jonny rode the entire tour again with Le Loop in 2018!).
Name: Matt Rayment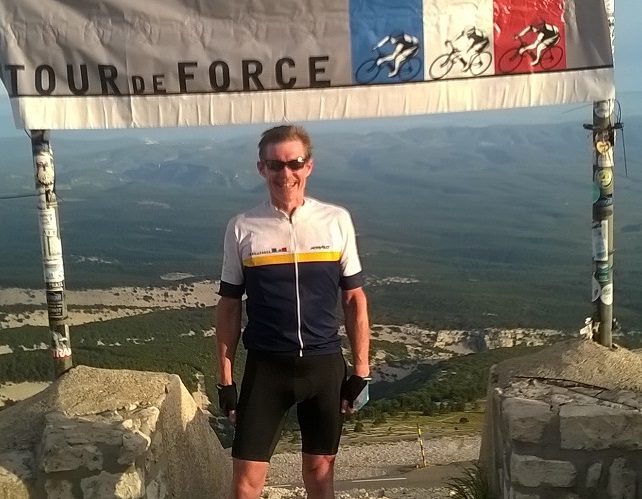 Age: 50 (just!)
Location: Plymouth – Britain's Ocean City and a great place to ride a bike
Pedigree: Middle aged man in lycra – became quite a keen cyclist and triathlete in my 40s.   Signed up for TDF with a bunch of colleagues at ICF.
He Says: I chose to do Loop 5 in 2016 – on the basis that it was probably the most challenging week-long Loop and took us up some iconic climbs – the Tourmalet and the mighty Ventoux – which I'd wanted to climb for a while.  I loved it – it was as challenging as I expected but I'd trained well and got through OK.  The organisation was superb, leaving all of us to concentrate on the ride.  The route was varied and scenic, taking us through the Pyrenees before a rest day in Andorra, then into the flatlands of southern France before the final assault on the Ventoux.   I even managed to spot some birds on the way.  I did a blog at: https://mattraymenttdf.wordpress.com/
My tips for future riders:
Listen to the nightly tips for the next day – I was slightly apprehensive about climbing the Ventoux after cycling 100 miles in extreme heat – but I took Phil's advice to leave the climb until late and immerse myself in a fountain first – it was not as hard as I expected and super enjoyable
Try to remember your room number, as stumbling round hotels late at night after a few beers over a football match, and waking up exhausted cyclists, is stressful for all concerned
Avoid applying suncream to your forehead unless it is waterproof – you don't need the extra pain of stinging eyes and blindness on a hot mountain
Train hard and enjoy – you can do it!
Where are you now?
Taking a breath before the next challenge grabs me – maybe the whole thing one day?  Spending more time with my lovely wife and daughter this year.  Enjoying riding my bike, as well as doing a bit more swimming and running and a few triathlons.  Taking on the mighty Dartmoor Classic in July, as usual.  Occasionally dreaming of French mountains…
Name: Simon Nicholl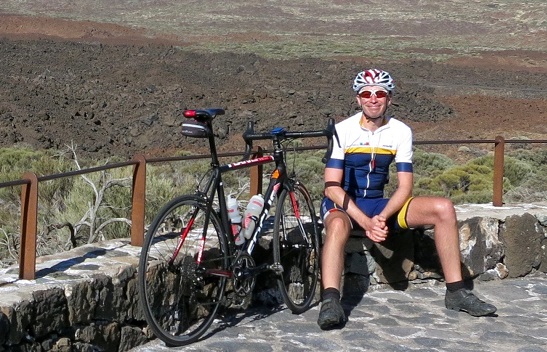 Age: 50
Location: The Peoples' Republic of Wesham, Sunny Lancashire.
Pedigree:
"Could certainly use some" (his words, not ours! Ed). As a keen roadie, Simon took on the Lifer challenge (all 21 stages) in 2015. I 2016 (as he explains) he took on the epic challenge of riding across America, unsupported. And he blogged about it too (link below).
He Says:
I rode the 2015 TdF as a Lifer, sharing a room with my occasional cycling-partner-in-crime, The Tractor. It was a terrific experience and on a selfish note, it allowed me to realise one of my few two-wheeled ambitions for which I will be grateful to everyone on the TdF team for a long old time. It is these folks that make those 3 weeks so special and ensure that the strenuous and frankly daft event is doable – there are too many people to single out for praise so let me say that they are all unfailing in their humour, enthusiasm, practical nous and sheer encouragement and they will do everything in their gift to help you finish each stage: it's up to you to meet them half-way and at least get yourself in half-decent shape.
As you'd expect with such a group of cyclists there was a range of abilities on display but there was a shared determination and a shared good humour even when things went a little awry, as they sometimes will. It was also a joy to welcome the folks who were dipping in and out to ride a few stages – their fresh enthusiasm was contagious I reckon! If anyone has a few minutes that they'll never need back, I kept a shoddy blog at https://2015tdf.blogspot.co.uk/ There, told you it was shoddy!"
Where are you now?
"Heading to the fridge for a beer. Oh you mean 'what have you been up to since you rode the TdF'? To be honest, the only challenge that I could think of that really caught my imagination was a solo and unsupported jaunt from Seattle to Miami: this took me 30 days and I finished it in October of this year.
2017's challenges will hopefully be to ride up some more mountains but I haven't ruled out another tilt at the TdF some day. If they'll have me back, of course…"
Of course we'll have you back! Ed
Name: Jennifer Brittain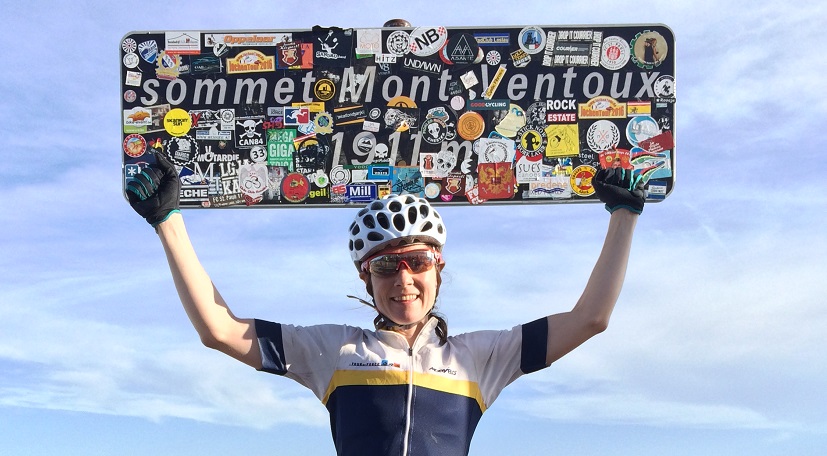 Age: 41
Location: Canadian living in Australia since 2013
Pedigree:
Jenn started cycling in 2007 and loves it, but she loves it even more since finishing TDF 2016 as a Lifer! Somehow she fits all this riding in around a job and 3 young kids too and is proof that where there's a will, there's a way. She finished the 2016 tour in style having got stronger and stronger through the tour until she was steaming up the Alpine climbs like a pro (and returned to ride the Alps in 2018 – Ed).
She Says:
Le Loop will change you forever.  Whether you choose to ride a Loop or the Grand Loop, each day and stage of the Tour offers the opportunity to learn about yourself.
I often compare the TDF experience to summer camp – the experiences and relationships are short-lived but intense.  No one but your fellow riders will ever understand exactly what you've been through – the terrain, the weather, the mechanicals – and it very quickly becomes clear that teamwork is necessary for survival.  I am fortunate enough to play the role of daughter, wife, mother and health care practitioner in my real life.  During the TDF, I had the chance to be a cyclist, to test myself, to focus purely toward a personal goal, and at the same time contribute to the greater goals of the William Wates Memorial Trust.  I learned so much about myself and from the staff and fellow cyclists.  I can hardly believe that it was only a three week window of my life.
Of course, the TDF is basically about the cycling, and there is no getting around the fact that the more physically prepared you are, the better.  However, the TDF atmosphere was perpetually positive.  I remember making it to Feed Stop 4 one day, feeling ready to give in (it was late).  Despite the fact that he MUST have been cold and tired himself, Ian (Loop staffer – 'Coffee Ian') smiled at me and said "Of course you'll make it!"  It is these small moments that mean so much.  To those who are setting off this year I would like to say, be prepared to both help others, and to accept help in any form.  Talk to people at home about what you are doing, use social media and email even when you're too tired.  Their good wishes might just be the thing to carry you through the next day.
Where are you now?
I am slightly embarrassed to admit that I truly enjoy the fact that I was the only woman to complete every stage of the Tour 2016.  I have always defined myself as academic rather than sporty, so to have someone refer to me as an athlete still gives me goosebumps.  Since July, I have entered a few Gran Fondo races here in Australia upon the suggestion of a few fellow Lifers.  Whilst I have yet to place (looking forward to a new age category next year ;)), I wouldn't even have considered an entry one year ago.
The aftermath has held plenty of pleasant surprises for me (in addition to the athlete reference!).  Several friends and strangers have told me that they have learned either from my experience, either in conversation or from my blog.  Six months later, I still receive emails from people who have been inspired by my TDF to challenge themselves physically or otherwise.  I feel truly blessed to have had the chance to participate in this TDF, and the gift continues!
I am still riding, albeit in a far less organized way.  I went into the TDF secretly saying to myself that I could safely never ride again if I could just complete the Tour de France, and now that I have permission to retire, I am enjoying it more than ever!
Name: Andrew Wates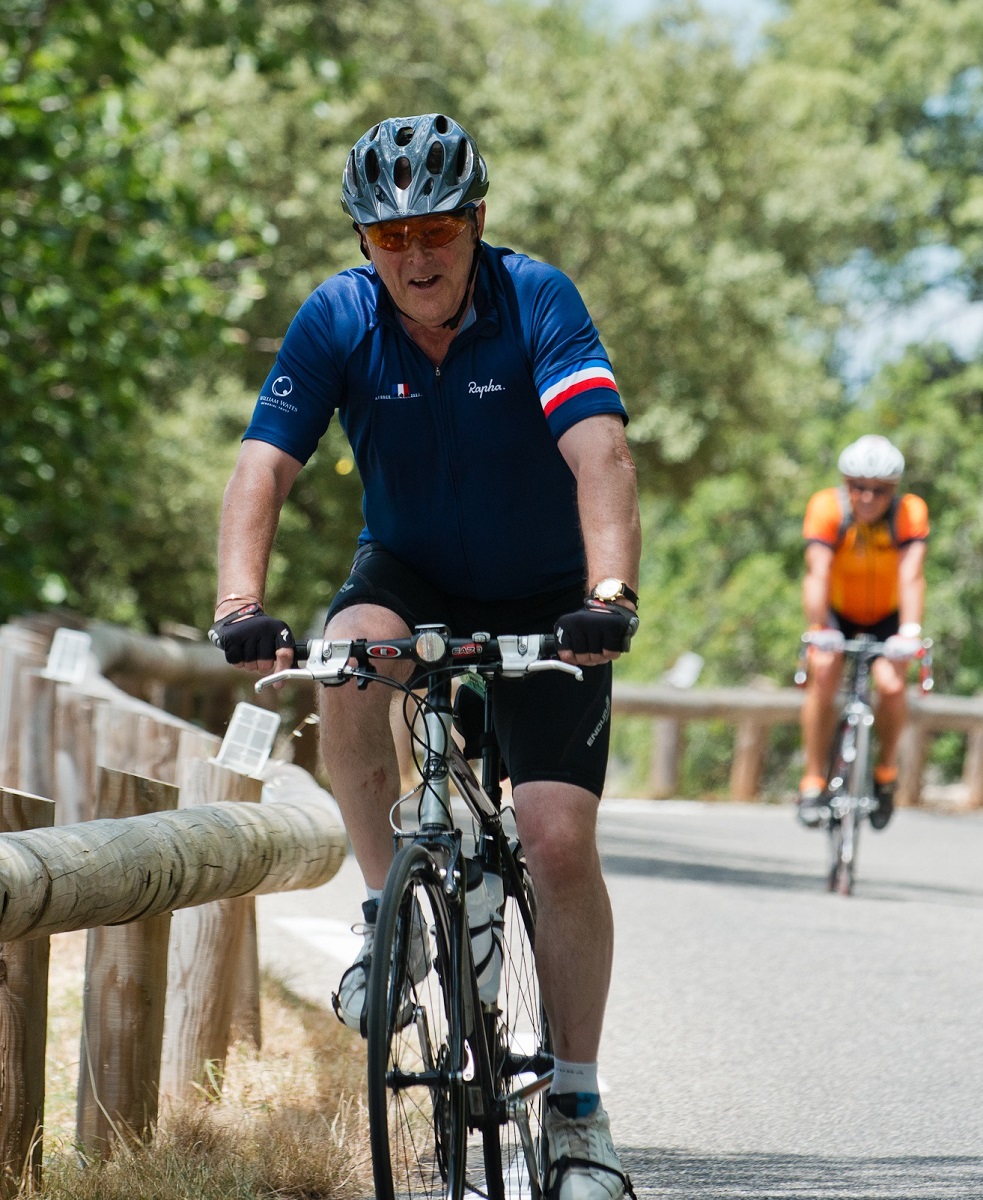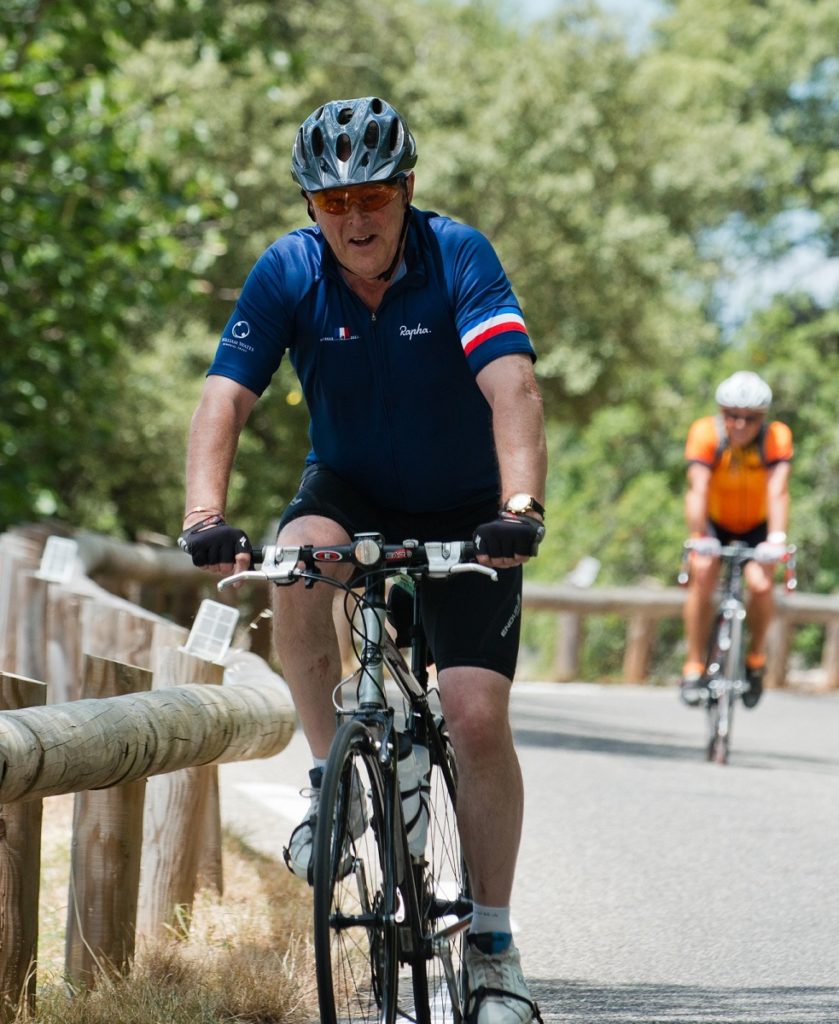 Age: 78 years young!
Location: Surrey
Pedigree:
It was Andrew's family who set up Le Loop (then Tour de Force) to raise money for the William Wates Memorial Trust, in memory of his son Will, who was tragically killed on his gap year travelling in South America.  Probably more comfortable on the horse saddle than on the bike, he is still keen to keep up with the pack as much as possible – Andrew rides a bit of every tour and won't let the inclines defeat him – with a little help from his battery!
He Says:
"The Tour combines so much to enjoy – spectacular scenery, fantastic company, and perhaps just a little hard graft!  From my perspective, it's immensely rewarding to see our riders come back year after year.  The combination of personal challenges and knowing that the hard work is helping others is a win/win for all.  And for us, it keeps Will's memory alive in a creative way.  Without the dedication of our riders and the organisation team, we just wouldn't be able to achieve so much."
Where is he now?
Although currently swapping two wheels for four legs (horses'!) and other outdoor pursuits, he is never away from the saddle for very long, along with enjoying his continued engagement with the charities WWMT support. Andrew, as every year, will join the tour for a stage or 2, accompanied by his wife Sarah (Will's Mum) who enthusiastically supports our riders from the sideline.
Name: Chris Glazier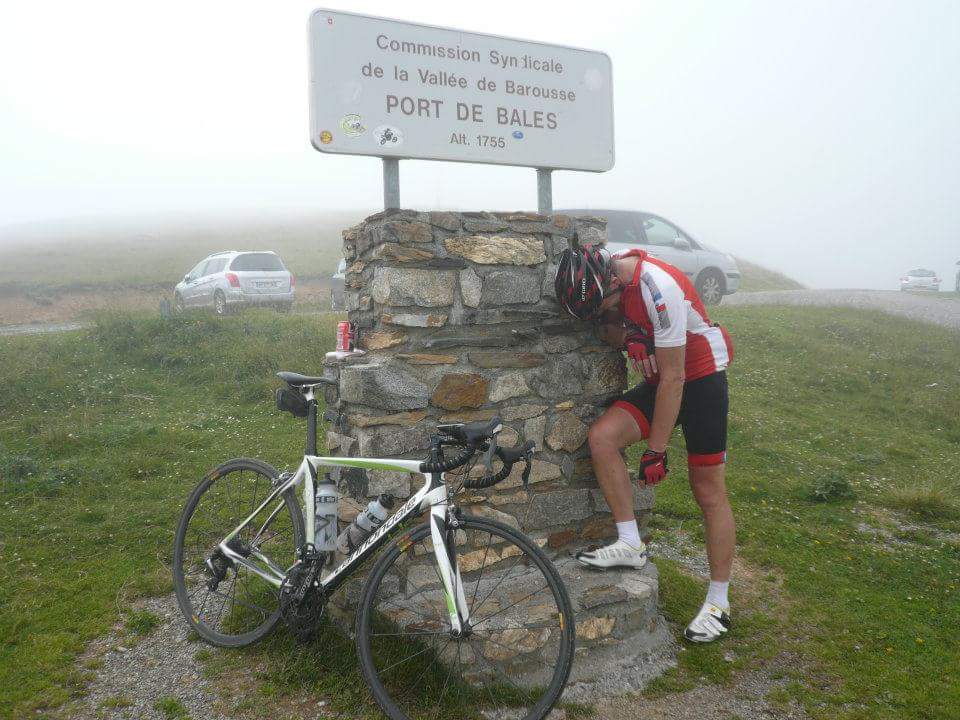 Age: 59
Location: Resides on the edge of Dartmoor but far too much time in the car as opposed to the bike!
Pedigree:
Chris completed the full Tour in 2012 with 2 fellow riders from Plymouth based YOGi cycling club – he was awarded 'top rider' of the Tour in recognition of his generosity of spirit and attitude to the challenge.
He started riding – and squeezing into lycra! at the grand old age of 50, essentially to keep fit and try and keep some of the weight off, he'd always been relatively fit but a hip operation a few years previous had stopped a lot of the normal exercise routes to good health. Prior to TdF Chris' main experience had been Sportives around the country, a favourite being the Etape Caledonia, he also dabbled for fun in some Crit racing but gracefully retired when he achieved his Cat 3 licence. His longest event was a self-organised ride from Nice to Roscoff over a week with a small group of friends that included that monster of Provence, the Ventoux. He returned to ride the full tour once more in 2017 to mark his 60th birthday!
He Says:
"If you love cycling and are looking for the one challenge every cyclist will admire you for achieving, it is unquestionably the TdF. It is without doubt the biggest personal challenge you are likely to achieve – you go to dark places and it hurts! However, the sheer elation and sense of achievement, the teamwork and friends you will make, the organisation and support, just make it the greatest challenge you can do AND it is achievable by any rider provided you plan and train for it. My only advice: do it, ride lots of miles – and lose weight!"
Where are you now?
"Like the majority of you reading this, I'm day dreaming at work and thinking of living in that three week bubble that is – Le Loop: what bike to take? perm any from three or fall back on n+1! when to start that weight loss regime? (never soon enough!), when to start the heavy miles? (never soon enough!). So so excited and can't wait for July next year!"
The photo is Chris 'enjoying' summiting Port de Bales in 2012. He revisited it in 2017 and we're still waiting for the photo of him there smiling at the camera this time!
Nage: Claire Mogford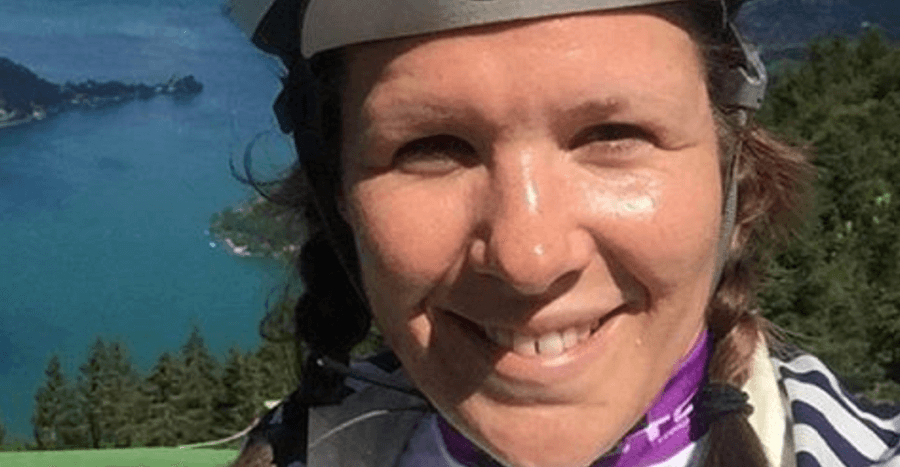 AGE: 36
Location: London 
Pedigree:
Claire joined the 2016 Tour for the Alpine stages. She bought her first road bike when she started taking part in triathlons but soon realised that the bike leg was her favourite part of it and started doing longer distance sportives. Prior to TDF she'd done a few UK events such as Ride100, Chiltern100 and Tour of Wessex and had also cycled from London-Paris but had never cycled in the mountains.
She Says:
"TDF was an absolutely amazing experience. Cycling the Alps was way tougher than I'd expected….the people who told me it was all gradual 5-6% climbs lied (!!)…. but the camaraderie of the group and the amazing TDF support crew got me through it. It was by far the best organised event I've taken part in and I'd encourage anyone thinking about taking part to sign up without delay!".
Where is she now?
Finally back in the UK after an amazing 18 months or so travelling the world. When we originally posted this article on Facebook she had last been heard of in Honduras cooking balleadas with egg and avocado!
What we say:
We applauded Claire's positivity and cheerful outlook in the face of adversity on tour. She also made a great roomy – which is an important plus on tour! So much do we admire her, that we asked her to become one of our TDF Ambassadors. If you'd like to speak to any of our Ambassadors to quiz them about their experience, training, or any advice (or even head out for a spin together), check out our Ambassador page and drop Kate a line with the Ambassador you think you will relate to best – and we'll put you in touch!