For many riders, Le Loop is the biggest cycling challenge of their lives to date, so signing up can be a daunting challenge in itself! Maureen tells her inspiring story …
Reckless. Optimistic. Naive. All of that and more. How else do I explain the fact that I'm planning to cycle five stages of next year's Tour de France a week before the real thing?
It all happened rather quickly. That's probably just as well.
I'm a member of two cycling clubs.One is BellaVelo, a women's cycling club based in south-west London. I'm at a club social event one evening in mid-October. Endurance cyclist, author and cycling advocate Emily Chappell gives a really inspirational talk about her experience as lead cyclist with Le Loop, and, more importantly, the work of theWilliam Wates Memorial Trust.
Then Ella Green, a BellaVelo member, speaks about her experience cycling two stages of Le Loop last year. Her enthusiasm is contagious. My stomach starts churning. I know I have to find out more.
I'm aware it's one of those now or never moments. Do nothing and the feeling will pass; you'll go home and it'll have been just another fun evening. Do something, and you never know. So I take a deep breath, walk over to Emily and have a bit of a chat to her about what it all entails, about how it sounds incredibly exciting but terrifying, and about whether I'm mad even thinking about it. Emily is very encouraging. Ella is too when I chat with her later in the evening.
Just two or three days later, I'm paying a deposit to secure a place on Le Loop next summer. A week later, I'm having pizza and beer with a crowd of women from BellaVelo who are also doing it. Later that same evening, we chose which stages to do and I somehow end up deciding to cycle 925 kilometres (578 miles) up and down big, bigger andmassive hills in France over five consecutive days in July 2019.
In no time at all, I'd gone from never having considered anything remotely as physically and mentally challenging as this to thinking that this would be an amazing thing to do.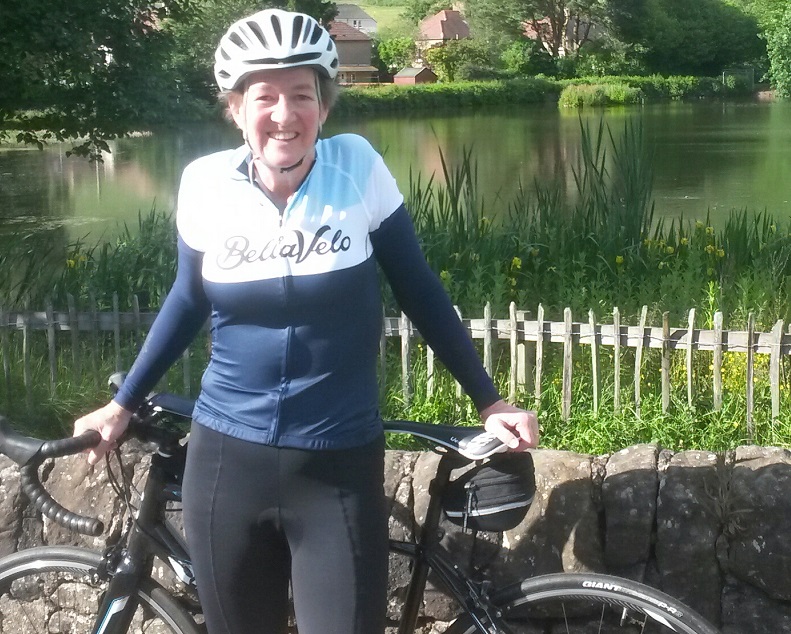 I can't deny the fact that I've had breast cancer (https://iamtheoneineight.wordpress.com) has something to do with it. I'm much more likely just to go for things now, almost simply because I can. I'm so very grateful to be here and healthy nearly three years on from seven months of pretty full-on treatment and I'm very aware that you only get one chance at life.
In general terms, none of us is getting any younger and it's good to have a challenge.
I have massive doubts over whether I'm physically – and mentally – up to an undertaking such as this but it got to the stage in the days after hearing Emily speak where I couldn't come up with a good reason not to sign up. I kept trying to think of someone I could to talk to who would talk me out of it. "Your friends and family know you," my husband said in that bemused/resigned/encouraging way he has when I tell him I'm considering another adventure. "They'll all say go for it."
I come from a big cycling family. My late dad was a big cyclist in his youth. He was a huge Tour de France fan. A few of my five brothers were or still are keen cyclists. They were all incredibly supportive when I told them what I was considering. I didn't bother canvassing any friends as I knew my husband was right. That's the kind of friends it's good to have.
"What's stopping you?", asked a cycling buddy from BellaVelo who'd already signed up. 'Nerves," I said. She made some encouraging comments on that front and that was it. I logged on to Le Loop website and paid a deposit to secure a place.
Up to 200 people take part in Le Loop every year, riding between two and all 21 stages of the official Tour de France route a week before the actual race. An incredible fifteen women from BellaVelo are taking part in next year's event. There's already a huge sense of excitement and anticipation around it.
I'm still at the terrified stage. I get butterflies every time I think about it, which is quite a lot at the moment.
I cycle quite a bit these days, but please don't get the impression I'm even remotely close to being some sort of super athlete. This is going to be a huge challenge. For a start, I'm 55, and a fit 55-year-old is really not the same as a fit 30-year-old, believe me. And if I'm not fast on the bike in general, I'm even slower on the hills.
My other club is the Balham Cycling Club. I recently did a short ride with them where we climbed 750 metres over a distance of just under 45 kilometres. I loved it, but it was hard work. Earlier this year I did the Etape Loch Ness, which involved 900 metres of climbing over 106 kilometres. Again, it was great fun, and while the hill section was manageable, it was still tough.
I've also done the 100-mile RideLondon bike ride twice now – this year in the rain. There are a few climbs on that, including Box Hill and Leith Hill in Surrey, but all these rides pale by comparison with what I'm planning to tackle next July.
The shortest of the five stages I've signed up for is the mountain stage. It's 157 kilometres. That's just under 100miles. That's not short. And it involves 4,000 metres of climbing.
The longest stage is the flat stage. It's 230 kilometres. That's 144 miles. That's long by any standard… and it's the day after the mountain stage.
There are no rest days. I'll be riding five days back-to-back. No wonder I'm nervous.
A final but important point. Women are so underrepresented in cycling but it seems on that front that the BellaVelo contingent is already making a difference. In 2019 more women than ever before will be riding the Tour with Le Loop. It seems my fellow BellaVelo riders and I can take a large part of the credit for upping the share of women in the field from an average of 11% in past years to 22% next year. Between us we'll cover almost all of the 21 stages.
There's still a long way to go but it feels good to be part of the change.
And the more we raise for the Trust, the better.
The hard work starts now. The training, the fundraising and, dare I say it, the fun.
Massive thanks to Maureen for sharing her thoughts and feelings around signing up for Le Loop. We know they'll chime with lots of other riders too. Let the fun begin!