Ceri came to the Tour as a long time fan of the Tour – its history, great personalities and dramas. He came straight in at 'Grand Loop' level to ride all 21 stages of the 2019 Tour where he experienced his own dramas, finishing the tour with a black eye and a broken bike … but a huge smile on his face. We're hoping he'll be back for more in 2021 (cycling we mean … not black eyes!).
NAME: Ceri Stone
AGE: 52
LOCATION: Tenby, South Wales
EXPERIENCE: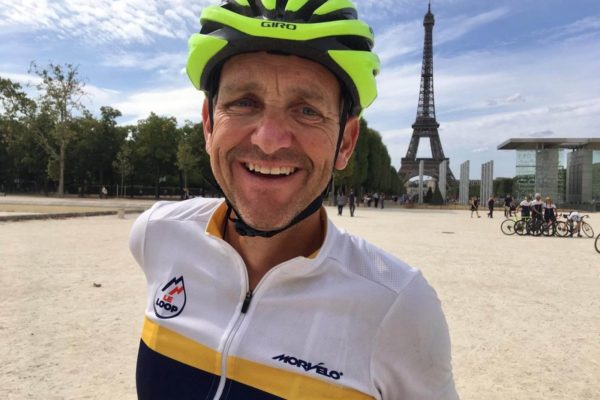 My experience before Le Loop was pretty limited for what lay ahead. I have always loved the Tour, ever since I saw Bernard Hinault battling it out with Greg Le Mond in the 80's but I never ever conceived that one day I may be following in their footsteps. I would consider myself a mediocre triathlete who survives three disciplines rather than a cyclist.
I have always been fairly fit. I played football to a semi professional level in the early 90's but after a decade of working overseas and living it large at all times I found myself slightly overweight and suffering the torture of a gout attack, which I would not wish on my worst enemy, and that turned my life around as I realised I had to get some good habits back. About ten years ago I started running marathons, which then lead onto Ironman triathlon, which is only natural given that Tenby hosts the greatest, and arguably the toughest,event in the world. I have always thrived in the hills and after five decent Ironman finishes I needed a new challenge and the hills around Nice got me thinking about the Tour again.
Before 2019 I had never ever been involved in a multi day bike ride but I knew that I could endure a lot for one day, so I just had to get the right preparation. My training from January was very similar to that of Ironman where I would get in six good quality sessions a week. Two long rides with a low/easy heartrate, two turbo/interval bike sessions and two cross sessions involving swimming and running to mix things up a little. From May I dropped all the long runs and concentrated on the bike and went in search of every hill I could find in South Wales and there are some beauties, albeit short sharp shocks compared to the long drags of the Tour.
The Tour of Wessex was my first ever multi day event and I loved it and found it to be of great help. I learnt the value of pacing myself for the three days and was able to work on fuelling strategies etc. But most of all I benefited from meeting many other previous Loopers whose brains I picked constantly. I asked every one I came across what one piece of advice would they give and I received so many varying answers that really helped me heading to Brussels.
HE SAYS: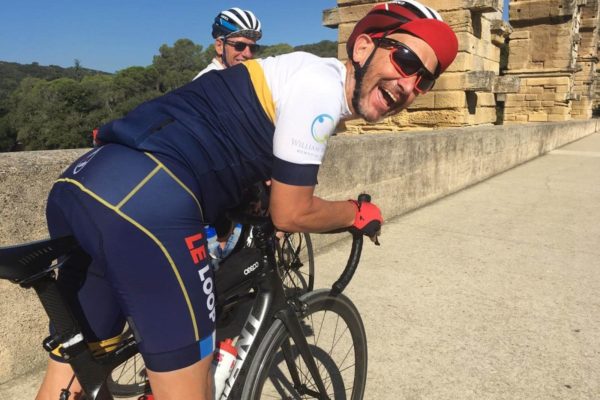 I loved Le Loop. It was eveything I dreamed of and more. The organisation was faultless, the support crew magnificent and the team of riders in 2019 incredible. I was so fortunate to ride with some incredible people who inspired and entertained me throughout.
Not sure I can offer any advice that hasn't already been given but above all else get the training in. If you don't put the miles in and hit those hills it will take it's toll over three weeks in France. I would suggest getting a good training plan and then stick to it.
Read the Le Loop web page and follow all of the advice that is there. I wish I had taken more cycling kit with me and less regular clothes because after three days nobody cares less what you are wearing for dinner at night.
I was also glad I followed up the Tour of Wessex with the Dragon Tour because both rides provide great preparation for the hills of France.
The best individual advice I received was:
* Take it easy on the first 40km each day and take the opportunity to chat to riders you have not yet met.
* If in doubt keep eating and keep drinking water.
* Pace yourself so that at the end of each stage you feel like you could ride another 30km.
* How you look after yourself off the bike is just as important as how you ride. Keep refuelled and hydrated; keep your kit clean and maintain good habits like getting a good nights sleep and constantly washing your hands; Take as many photos and videos as you can because three weeks will pass very quickly.
* Don't waste too much time hanging around at the feed stations. You can shave 2 hours off your day with good time management which is extra time for massage and food.
WHERE ARE YOU NOW?
The toughest thing about Le Loop for me was the mental recovery because it is very hard for everyday life to compare with those three magical weeks, plus your average Joe has no concepy of what we actually did or achieved. I have also been off my bike for four months because following a crash I had on stage 16 my bike was irreparable and it took four months for the insurers to replace the bike. That was a bit of a shock after riding my bike almost every day for 9 months to then be forced to either run or relax more.
Now I am back in training for Ironman Switzerland next July. I chose that one because it has a new course with hills similar to the Pyrenees, which was where I was at my happiest. I then have to decide if I return to Le Loop in 2021 or tackle Marathon Des Sables but I think Le Loop will win that battle because I am hooked.
Now with Christmas approaching it is time for a little rest and to watch my own video of my journey and reminisce and I have just started reading the most fantastic and inspirational book called 'Where There's a Will' by our very own Emily Chappell. It is brilliant.
I still do not consider myself to be a cyclist. But I have cycled every inch of the 2019 Tour De France and helped a very worthwhile cause.
Thank you!
Ceri Stone
Check out Ceri's post-tour video/slide show to get a feel for his tor: LE LOOP 2019