A couple of weeks ago a group of riders joined Jonny Wates (WWMT Trustee) for a visit to Coram's Fields in London.
Coram's Fields is a children's charity that serves as a safe place for all children to come and play. As well as a seven-acre park and playground (including extensive sports fields) situated in Bloomsbury, they also have an after school and holiday programme and a sports development programme for children up to 16 years, a youth centre for 13-19 year olds and an Early Years programme which includes a Nursery and Under 5s Drop In.
WWMT has provided a grant over 3 years to support the funding of staff to run their youth club outreach project. We met with their youth development officer to find out more.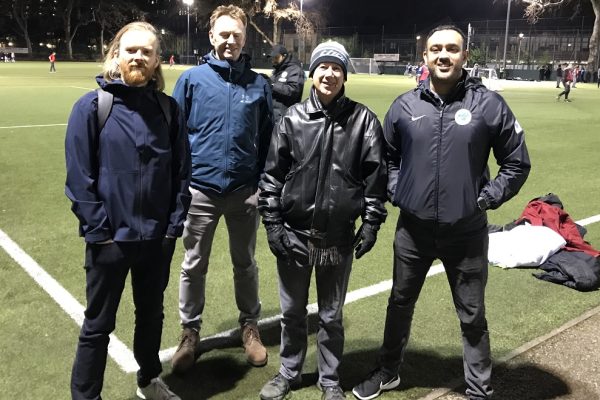 As Jonny said after the visit:
"We met lots of young people engaged in such a variety of activities from music production in the sound suite to football under floodlights on the all-weather pitches".
Paul – (left in photo) one of our riders had this to say:
"The Coram's Fields visit was impressive. The stories we heard about the dedication of the staff and volunteers was humbling, and the outlets for learning and creativity that the space offers are great. 
Seeing the opportunities for young people to express themselves, to have an outlet, and to have a bridge to reach out for support was great. The way they create a way to reach out to the community that needs support in this way, so there is a connection and rapport as a way to improve lives was inspiring". 
Massive thanks to those riders who took the time out from busy lives to learn more about the work of WWMT.
If you'd like to visit one of the WWMT-supported charities, check out our next 2 visits in 'Dates for your Diary' in My Rider Zone. Our next visit is in London, to Community Cycleworks this Friday 18th March.
And if you're outside London and fancy getting a ride with lead cyclist Emily AND a visit to a charity, then join us in Chew Valley (outside Bristol) on Sunday 27th March to visit the utterly inspiring STAR Scheme, followed by a 30 mile spin up Cheddar Gorge with fellow riders and Emily.
Don't forget to let Kate know if you're coming along so we can manage numbers.
If you can't make any of these group visits, but are keen to see a project, get in touch with Kate and we'll arrange something just for you.
And don't forget – your deadline for reaching 80% of your fundraising target isn't all that far off now: 30th April 2022. So the sooner you can engage with your supporters (and visiting a charity is a great vehicle for making that happen), the better!
Kate