How it Works
We follow each year's Tour de France route,
one week ahead of the professionals. You can join us for a loop of between 2 and 21 stages.
We cycle the same roads, often staying in the same hotels, with feed stops, luggage transfers and a team of mechanics,
medics and physios to keep bike, body and mind together.
Whether you're a seasoned roadie who's always dreamed of cycling more than 1 stage of the Tour de France, a keen weekend warrior
who's ridden a century, or a regular cyclist who's up for a challenge, Le Loop has a place for everyone.
By riding Le Loop you will not only realise your own dreams – you'll be helping young people to achieve theirs.
You can choose to ride the Grand Loop (all 21 stages), a Semi Loop (9-12 stages – either the first or 2nd half of the tour) or one of the Petit Loops (from 2 to 7 stages)
Choose the Loop that suits you best – the flat(er) stages, the mountains, the sunshine stages or a full week or more taking on some iconic Tour de France climbs
Whichever option you choose, the event is extremely friendly and inclusive (no cut off times – it's not a race) so no matter what your speed, as long as you're ready for 180 – 200km days, you'll be able to enjoy everything that's wonderful about cycling in France, riding the very same roads that your heroes will ride one week later.
Le Loop is open to anyone who undertakes adequate training, meets their minimum fundraising target, satisfies our medical checks and agrees to our Terms and Conditions
Our camaraderie is the stuff of legend, as is our support.
Is it for me?
We have riders of all ages (over 18), shapes and sizes. Some are seasoned roadies who think little of a 100 miler ride, others are real 'tryers' with very little cycling experience when they first sign up but who take the challenge head on. Of course, most of our riders are somewhere in between – which is a big range!). We strongly maintain that if you take it seriously and put in the work, there's a place for everyone on tour.
We'll give you tonnes of support through the year of your preparation. Most importantly we encourage every rider to come to one of our brilliant Spring training weekends – the perfect chance to ride in a group, meet fellow riders and gauge just how much work you still need to do (and we'll help you plan that too).
The field of riders on any given day can be very widely spread. We neutralise the first 40km every day to give everyone a chance to chat and gently warm into the ride. After that, you're free to go at your own pace. You'll soon find the riders who are a similar speed – and if you drop off the back of a group, it won't be long before the next group catches you up and gives you a wheel.
On a huge mountain day, it's not unusual for our riders to be out until 9, 10pm in order to complete the stage. We'll be right there with you, supporting you all the way (for as long as you are not a danger to yourself!).
If, for any reason, you are trailing wildly behind the rest of the pack, we may take the decision to pop you in a support van and leapfrog you ahead along the route. This is very unusual and only done in extreme cases, and even then very reluctantly. We know how important this ride is to you and our priority is to support your effort, while looking after everyone's safety too.
Teams
We encourage teams (corporate groups of colleagues, cycling club groups or even just a gang of mates) to take part in Le Loop. Teams have some unique advantages:
you can choose to fundraise individually, or as a group with a combined target
you don't all have to cycle the same loop – team members can come and go throughout the tour providing fresh legs and morale boosts
a group of 7 or more riders can include one guaranteed (coveted) Grand Loop place
we'll help you pull a team together. We can provide materials that help spread the word (email template to potential riders, flyers etc) and we'll even come along to talk to interested riders to explain the event in more detail
in some cases we can provide team-specific training sessions with our lead cyclist Emily
Here's what previous teams have to say:
"… a job needs to be about more than just roles – it's about meeting people, experiencing new things and personal growth. Le Loop provided all of this and more. It gave the individuals and the business great memories and far greater character. Relationships within the business are stronger, mutual and self-respect have been enhanced and life is more fun." – Tom Hall – Team Alitex
"We had a superb time on our Pyrenean adventure. We cycled Le Loop for 3 days – for us the teamwork and camaraderie built in the months before we rode and 
the shared experience is one that will never leave those who were on the team – we shared something special, there will always be a knowing nod that we did something different and special together. In fact we can't wait to do it again." – Hugo Raymond – Team Aon
"All of us had the experience of a lifetime … Why is the Le Loop a good event for corporate teams? The answer is simple: it is just a wonderful way of team building.
The whole ethos of the Le Loop is about supporting your fellow rider. Everyone is a different standard and everyone has times when they find it tough. To take on this challenge as a team gives an even greater sense of achievement. The satisfaction of colleagues achieving something they thought out of their league is just enormous.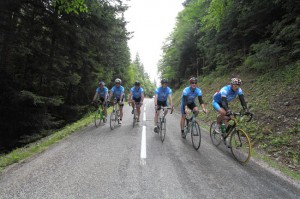 Why Le Loop rather than other team building events? Firstly, whilst the challenge is undoubtedly tough, it is achievable by anyone who is reasonably fit. Secondly, the event is superbly organised and managed and it is at a human scale. Lastly, the charity is personal; you will get to know the family who set it up and the beneficiaries of the money raised. It is a very special event." – David Johnson – Team Opta
Interested? Get in touch with Sarah to discuss your team and get you signed up: sarah@rideleloop.org