Over 30% of our field of cyclists each year has already ridden with us before. We have a lively, loyal Alumni and they just keep coming back for more!
Back in May we hooked up with Nicole, who rode the Grand Loop in 2016 and was planning to do the same all over again in 2018: Riders' Tales: A new Year, a new Challenge.
We caught up with Nicole after the Tour from her new (permanent!) base in Biarritz where she and husband Scott are busy setting up a new bike shop, to find out how she got on second time around …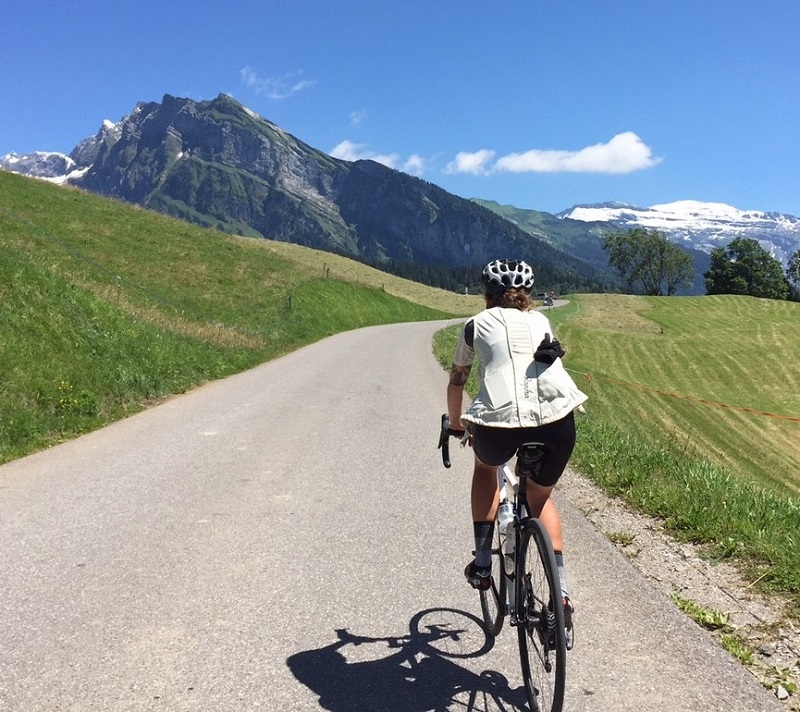 It's hard to believe that Autumn is already upon us and in no time, the holidays will have come and gone. This past summer feels like a lifetime ago. I'm still amazed at how three weeks can simultaneously move at a glacial pace and be over in the blink of an eye. Yet in that short span of days, myself and dozens of other cyclists, completed the adventure of a lifetime.
Well for me, it was actually the second adventure of a lifetime.  Why did I chose to ride more than 3,500 kilometers around France…AGAIN? Because it is an amazing experience. And as a bonus, it benefits an amazing cause. Is it easy? Of course not, but it wouldn't be worth the effort if it were. In 2016, the Tour was all about the magic of the journey; what would I see? What would I smell? And eat? And experience? Would the climbs be hard? Would I even make it to Paris? It was like a first date with France and all the wonder it might hold. Spending three weeks on a bike in the company of a supportive staff and a like-minded group of fellow cyclists taught me so much about determination and courage and community.
In 2018, the faces may have changed but the message was the same: to challenge ourselves over the mightiest of terrain with nothing but our bikes and our gumption (along with expert staff and excellent feed stops…though they still can't do the pedaling for you). The first-date magic may have gone but was replaced with something better, a little like the familiarity of hanging out with an old friend. Trust me, riding all 21 stages of the Tour de France is never easier the second time (or the third or fourth like some others have done) but it does come with the satisfaction of defying the "devil you know" and being able to help others less fortunate when once in a lifetime of giving doesn't feel like enough. At the end of the long day, it really is that simple. Helping others achieve their goals, as well as achieving your own, just by pedaling your bike. There's just nothing in the whole world quite like this experience.
Of course it wouldn't be possible without Le Loop, the William Wates Memorial Trust, our fearless ride leader Emily, Sarah and Kate the three circus-ring conductors, Coffee Ian, Yogi, Sam and all the other mechanical staff and physios and pedaling docs who supported us along the way (we're still drinking enough water Dr. Fiona, promise!). Most especially, the other Grand Loopers who rode along on this year's epic route and left lasting memories of an unforgettable three weeks in France.
You may ask yourself if you could ever ride the Tour de France. One stage, five stages, all 21? You absolutely could. The better question is how many times?