When I stood with my bike in front of the Eiffel Tower in the summer of 2016, after riding nearly 3,500 kilometers across France, I never imagined that this "once in a lifetime" experience would leave so lasting an impression that I'd be inspired to do it all again in 2018. It makes me feel immensely fortunate to have another opportunity to participate in such an extraordinary adventure. Frankly, it isn't going to be easy. Just because I've done it once, does not mean I can rest on my laurels. This is going to be a whole new challenge … a brand new course over brand new miles of road.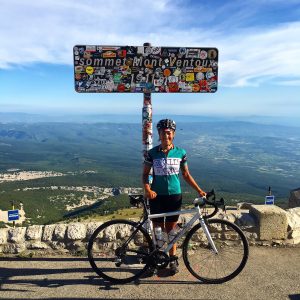 Fortunately, the experience from the 2016 tour helped me gain valuable perspective, and thankfully knowledge of how to prepare and what to expect. I remember the look on all the new rider's faces before stage 1. Fear, excitement, trepidation … we just didn't know what the next 21 days in the saddle were going to have in store for us. But in time, we learned to trust in our abilities, in each other and most of all in the incredible Le Loop team. The road really is the best teacher and whatever we lacked in experience and training, we slowly gained as the kilometers wore on. The first pedal stroke was the hardest.
You might be thinking how on earth anyone with a full-time job and modern-day responsibilities could possibly train for 21 stages of the Tour de France. It's a reasonable question and one I asked myself over and over…I ask it still. The most honest answer is that they can't. No one, save for a professional cyclist, can commit to the kind of training it takes to race the Tour. But we aren't racing, we're riding. So the goal is simply to arrive at the start in as best shape as you can manage, having ridden as many miles as your busy schedule can allow. Saddle time is the most important factor. That doesn't necessarily mean hammering hills or doing intervals or turning yourself inside out every time you ride. It just means sitting on your bike for as long as you can budget at a pace that is sustainable and appropriate for your level of fitness. You don't have to be a bike racing superhero to ride the tour. You just have to love riding your bike a lot! And don't forget about all those rest stops. Knowing there's plenty of food and water and smiling faces to refill an empty tank along the way, really helped to break the stages down into manageable pieces. Instead of letting the enormity of nearly 3,500 kilometers overwhelm me, I just worried about one stretch of road at a time and before I knew it, the day was done.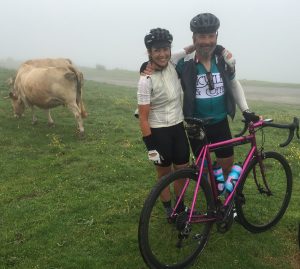 One of the biggest lessons I learned from the 2016 tour was to prepare for any eventuality … I know at times I certainly wasn't. Never underestimate the fickle French weather, especially in the mountains. Fortunately, the staff is always there to lend a helping hand or a warming blanket but this year I'll pay better attention to the suggested packing list and bring a softshell jacket. Of course, this time we could have searing heat and dry winds but I'll be prepared for that too! Being honest with yourself about your strengths and weaknesses can mean the difference between completing the tour or coming up short. Riding 21 stages is just as much about being detailed as it is disciplined. It isn't just the exciting challenge of riding all those miles but also the beauty of experiencing a dramatically changing landscape.
Of all the experiences from the 2016 tour, the most cherished often came from spending time with my fellow cyclists. I never expected to rely on the group as much as I did during some stages or have other riders rely on me. Initially, it seemed daunting to ride all those miles alone or as a pair with my husband Scott, who was also a Lifer (now called Grand Loopers). Little did we know how much we'd bond with other riders and spend so much time working together with them as a team. We learned to trust one another and share the load of a long day in the saddle. Whatever kind of rider you are, there's always going to be like-minded cyclists in the group happy to share the miles. If you prefer the solo approach, there's plenty of time and space for that too but even the soloists found solace in the bunch from time to time. It's a wonderful dynamic of trust and camaraderie and I couldn't have been more pleased with the kindness and generosity of my riding fellows.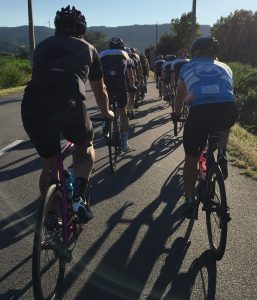 Speaking of fellows, it's encouraging to see more and more women join the tour each year and 2018 is certainly extra special with Emily as our ride leader and several stages being dedicated to women. An event like this draws a special kind of cyclist, one with gumption and determination and a whole lot of heart. Heart to accomplish the riding as well as the fundraising and doing both for an incredible cause. I look forward to meeting all the new faces in 2018 and sharing this new adventure with them all. Until then, I'd better get pedaling. The smell of an ocean breeze and the sound of tires humming along the pavement are right around the corner!
Nicole (Lifer 2016, returning as Grand Looper 2018)
Good luck Nicole and thanks for a fantastic inspiring blog! (Ed).