We invited Dan to be our featured rider because he's a perfect example of someone who brings along a group of work colleagues to share in the adventure. As he explains, everyone gets a huge amount out of it through both suffering and conquering together, creating strong bonds that translate back to the workplace. Plus it's just fun!
NAME: Dan Rees
AGE: 40
LOCATION: London
EXPERIENCE: Before doing the Tour the first time I'd just done some UK sportives – the Dragon Ride and the like – and was looking to step up to something a bit more epic (oh and Bradley Wiggins had just won the Tour!). I rode 3 mountain days the first time and in 2019 had worked my way up to doing half. I've also now twice brought along a mixed-ability group of colleagues (from 2 different companies).
HE SAYS:
I've really got into the event, the amazing camaraderie of the riders and the event team, and the brilliant work of the charity and the Wates family. The first time was really tough though. I was super-fit but didn't have the experience to manage myself over 3 really big consecutive days on the bike in 35C+. Since I learnt those lessons – its been brilliant and despite being a big, heavy guy I have become a lover of the mountains.
Bringing colleagues has worked really well with the riders going back to work having had a brilliant time and having really bonded. When I first did it, we were trying to forge stronger links between different areas of the business. The cycling ended up contributing a lot to that effort – as the riders were drawn from all parts and all levels of the business and returned to work having had a deep shared experience and developed a connection. My groups have had a broad range of cycling ability but that has worked because everybody can ride at their own pace and will naturally fall in with some well-matched riding buddies given the breadth of cycling abilities on Tour and with everybody being really welcoming. The fact that Le Loop has a female lead cyclist and is actively trying to champion female participation has also made it easier to encourage interest from the women at work.
There are always people who wonder if it's for them – given it can sound quite daunting. I always say to them (and anyone doing it for the first time) that, if they take the challenge seriously, they will have a great time and complete it. There will probably be some tough times that require 'digging in' but if you expect that and approach it with a positive attitude you'll cope fine.
You need to be reasonably fit, of course, but training to get there doesn't need to be complicated (though if you've got a sophisticated training approach – go for it!). I confess to loving the data –  tracking heart rate and power – but in terms of a plan I keep it simple. I aim to cycle at least 100 miles a week in Feb and March – whether commuting, on indoor sessions or on weekend rides. For April, May, June I step up to 150+ per week and make sure I've done at least 3-4 rides of more than 100 miles by July – usually by taking on some interesting sportives (the Dragon Ride is one of my favourites). It goes without saying that if you're doing any mountains that weight really counts so get as thin as you can – every kilo counts!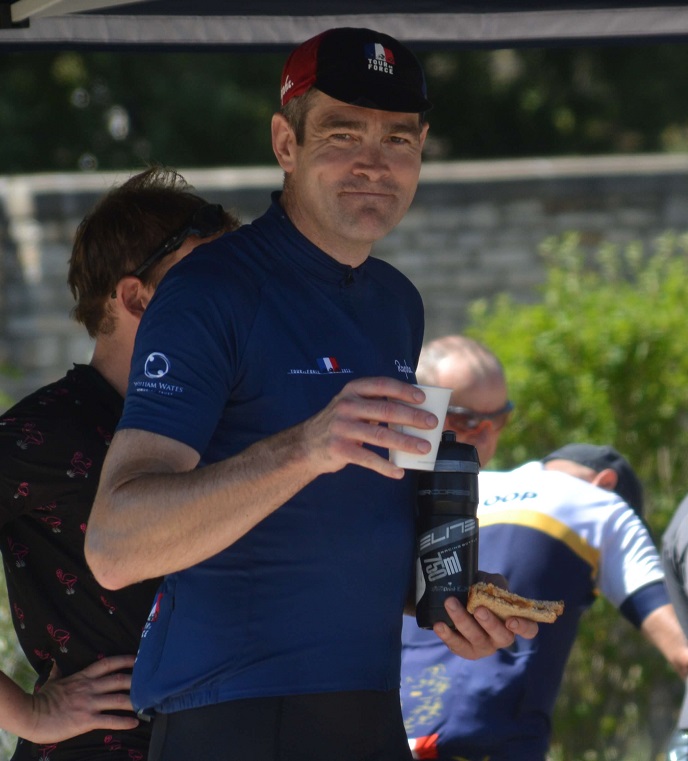 Learning how to manage yourself on Tour can only really come through experience. But for those who are doing the event for the first time I'd recommend talking to previous riders about what they found challenging and thinking through what might apply to you and how you might prepare (I suspect everybody is a bit different). I've learned that my key success factor is eating enough – I guess partly just because I'm big and burn a lot of energy. I have always been good at drinking lots to stay hydrated but now I eat regularly on the bike and eat almost as much as I can bear to take in at feed stops and meal times as well. Calorie intake was never an issue for me on a single day event but on a multi-day event it has turned out to be critical (and a key enabler of my enjoyment!)
Beyond having a clear eating and drinking strategy I give 3 pieces of advice to the new riders that have come with me:
Expect heat – 35C+
Be mentally ready to climb for an hour
Plan to minimise personal and bike 'faff' that will eat up your free/ socialising / sleeping time on Tour
Heat: There could be bad weather of course, but I've never done a Tour mountain day where the mercury didn't hit 35-38C at some point. Some people, even if strong cyclists, just don't cope well in this. I'd suggest bringing a cycling cap for these days at least (originally it was counterintuitive to me that it helps in extreme heat, but it does!). (Ed. be warned though – it can also be freezing cold, sub-zero in the high mountains just a few days later – you need to bring gear for ALL eventualities).
Climbing: I'm often asked by friends and family how I prepare for big Alpine climbs living in London. Although I do go and ride the biggest climbs I can, I think it's largely a question of mentality. If you can sustain 200W or 250W on a trainer for 30 mins or an hour, that's all you need to do on a big climb! You put it in your lowest gear and spin away at a rate you can sustain till you get to the top (whether fast or slow!)
Faff: New riders don't realise how little free time you will have before and after cycling. Time pressure is most acute on the toughest stages and for slower riders who are getting in later. Anything you can do to minimise what needs to be done at the beginning and end of day will allow you to relax, socialise and sleep more! I'd suggest arriving in France with a bike that's been recently serviced so it's less likely to give you issues, not bring anything you haven't used several times before (equipment or clothing) and having already thought through what is going in your day bags (the 2 bags that you can access mid-ride at feedstops 1 & 3, and 2 & 4 respectively). I even arrive with my day bags already packed. If you know your pre-ride and post-ride routine well you can pack efficiently and just make it easy for yourself. Maybe I'm a bit OCD but I even portion out the powder for my recovery shake so I can just open it, mix and drink.
WHERE ARE YOU NOW?
I'm at the point now of loving being able to come back and join the Tour group on a regular basis. I'd love to kick-on to some other new cycling endeavours as well, including some racing, but that's currently a compromise too far at the moment given my life commitments – not least a young family. I came close to riding the whole Tour in 2019 as I turned 40, before settling for the "half" instead so I guess that's still on my list for one of these years… In the meantime, I'm very much looking forward to 'Mountains Week' 2020!
– Dan