Charity visits are a fantastic way to really motivate you, both on the bike and in your fundraising. We can't recommend a charity visit highly enough, so if you can get to Manchester for this one, it'll really be worth the effort.
Championed by our mechanics Gideon, Yogi and Martin, Factory Youth Zone is a project in Manchester that successfully applied for a WWMT grant last year. We're delighted to help in supporting them and their Bike to the Future project (details below).
Gideon, Yogi and Martin will be accompanying a visit their for all TDF/Le Loop riders, old and new: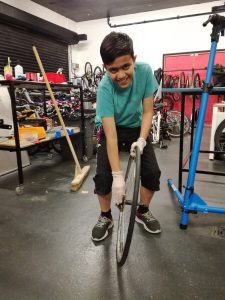 Date: Friday 26th Jan
Time: 7-8pm
Location: Factory Youth Zone, 931 Rochdale Rd, Manchester M9 8AE
Factory Youth Zone is easy to find, even in the dark (bright orange building) and if everyone reports to reception we can walk down to the workshop together.
Any problems on the night, please contact Kate on 0131 3000796 ext 2.
Bike to the Future:
The Factory Youth Zone provides innovative youth services in a particularly deprived area of Manchester and is a hub for the surrounding communities. Their Bike to the Future project has provided them with an exciting new engagement tool. Young people learn about repairing and maintaining bikes, develop new skills and achieve a recognised City & Guilds qualification. Young people are also learning about the costs and savings of repairing your own bike and the importance of safety checks. For those who don't own a bike, they are able to 'earn' one to keep by refurbishing it over a 12 week period as part of their training.
Bike to the Future will extend their reach to young people and, once fully developed, will provide a practical and high value bike maintenance service to the wider community.
** Factory Youth Zone was a charity championed by our tour mechanics based in the Manchester area: Gideon, Yogi and Martin. WWMT was delighted to support their application.