2020: Nice. Hooray hooray hooray.
This is a glorious place to start a Tour and it's super-easy to get to (maybe tack on a little family holiday before/after?). We last visited Nice for a stage 4 time trial after the Corsica Grand Depart in 2013 – a glorious summer morning and a ride along the famous Promenade des Anglais.
Nice is not only on the mediterranean but it's also very close to the Italian border, an hour from proper mountains and the gateway to Provence – so it's anyone's guess what the tour have in mind for week one.
After the last couple of years which have included hilly first week stages and 2019's team time trial on stage 2, we shouldn't expect a certain format. But it almost doesn't matter because it's bound to be good…
The tour won't go to the Alps or Pyrenees until after the first rest day, leaving the big question of where to go from Nice before returning south for the last 10 days of mountains? It's almost impossible to leave Nice without visiting Provence so this is set to be a tour of sunshine, sunflowers, icecream and the holiday feel.
---
Want to know which bits we got right for 2019? Check out the 2019 rumours below then nip over to our …
RUMOUR UPDATE #8
10 sleeps until Christmas Paris.
With the 2019 Tour de France route announcement due next Thursday, we're still quite in the dark as to the exact details of the route. This makes for a very exciting last week of waiting so after breezing through a quick summary of what we think we know, why not let our imaginations go wild with what we don't know…
What we know…
We'll definitely be drinking champagne in Epernay and Reims during the first week.
We'll climb the famous Planche des Belles Filles but probably with an extra bit of bonus tarmac to make the climb longer than ever before (calling all strava fans to a new KOM challenge!)
If you draw a line diagonally through France from the NE to the SW, the entire Tour will take place to the east and south of this line.
ASO, the tour organisers will try to break team Sky by packing in some high altitude climbs (Galibier, Izouard, Iseran?) in the Alps and by sneaking in some short, sharp, team-busting mountain stages
What we don't know…
After the 28km team time trial on stage 2, we're not sure if there'll be one or two more individual time trials. For Le Loop, a time trial is a treat of a half day of cycling so our fingers are crossed for something fun somewhere south in the second or third week of the tour.
We still don't really have a feel for the Pyrenean highlights. There's much speculation about summit finishes and a super-short stage or time trial, but no clear stage order has come to our attention yet.
How many ski towns will we visit in the Alps?
Cobbles, gravel, newly paved tracks…? Will 2019 include any or all of these? Or will it just be km after km of perfect Tour Tarmac?
If you're as excited as we are, you can watch the route release live next Thursday. Or check our blog and facebook page and look out for a Le Loop email and we'll bring you photos from Paris as well as our 2019 Loops which will be announced a few days later.
Don't just watch it. Ride it!
RUMOUR UPDATE #7
It's all about the mountains …
As we guessed in our first blog, we're now sure that we'll be heading west to return east, meaning Pyrenean fun followed by Alpine glory. It looks like the Tourmalet will almost certainly feature (but we're not sure yet from which side) and maybe even as a stage finish. Other bucket list climbs in the Pyrenees that we keep hearing mentioned are the Mur de Peguere (18%!) and the Port de Lers. If you're not familiar with this region, take our word for it: this is excellent news!
Heading back east via Provence and a couple of days of sunshine and sunflowers, the big question is whether Ventoux will get a look in or not. We were originally pretty sure of this but now it's looking a bit less certain (but not entirely off the cards). Almost guaranteed is a trip to Embrun and Gap and the stunning Lac de Serre Ponçon (that's the photo on the right). From there less is sure but one French newspaper is suggesting a stage from Albertville to Val Thorens and another based around St Jean de Maurienne so one way or another, the famous climbs will surely be out in force!
We'll keep you updated as soon as we hear more…
Don't just watch it … Ride it!
RUMOUR UPDATE #6
Rest Days are Key!
As well as wanting to know where we're cycling next summer, a small part of our excitement should be reserved for rest days because this is where many of you will arrive and depart – and where the Grand Loopers will be heading to the laundrette!
So imagine our delight to have scoured the rumour blogs and discovered that the first rest day will be north east of Toulouse, and likely in Albi, one of the lovliest Tour Towns with a fast flowing river lined with brightly coloured houses and a town square packed with cafes for those necessary rest day ice cream stops!
The second rest day (after we've puffed our way through the Pyrenees) looks likely to be in Provence. Woohoo! That means your laundrette could have a view of the Roman arena in Nimes and your icecream will almost certainly be under the parasol of a cafe terrasse with the whif of laveder in the air.
Lucky us!
RUMOUR UPDATE #5
The bits we want to believe …
We've recovered from our excitement about the beer, the champagne and the bottles of red and after a more studious look at some of the route rumours, we're delighted to bring your attention to a few more treats that (hopefully, fingers crossed) await us next summer…
The first one of real note (aside for Emily's penchant for the cobbled Mur de Geraardsbergen on stage 1) is the Planche des Belles Filles (in the Vosges mountains), made famous by Chris Froome's game-changer attack in 2012. It featured in the tour again in '14 and '17 and now, we hear from a rare TDF route-confirming tweet, will have a newly tarmacked section added to make it longer and tougher. The local tarmac trucks are bound to be late to the task: who's looking for first dibs on the strava segment?!
The next rumour we hope is true is a stage from Macon (home of Chardonnay and epicentre of some stunning scenery) west towards the Massif Centrale. We keep seeing talk of Ste Etienne, its smaller neighbour Brioude – and the Col du Beal which would be a magnificent way to arrive.
The regional cheeses line up from there; Bleu d'Auvergne (tastier than Stilton), Cantal (wipes the floor with cheddar) and on towards the Pyrenees (where do we begin?) – which brings us on to the question of which way round we attack the mountains in 2019.
Everything we've seen so far suggests that we're heading east to west to the Pyrenees – and then back east to finish in the Alps – possibly with a climb up the harder-than-it-should-be Semnoz climb (just above Annecy) before the glory ride to Paris.
As far as new discoveries are concerned, we're more than a little excited about a possible summit finish in Gavarnie. And we're still willing to bet a baguette or two on a Ventoux visit.
For more rumours, watch this space. And remember, only a month to go until the rumours are replaced with a route!
Don't just watch it … Ride it!
RUMOUR UPDATE #4
What wine will we be drinking?
While the rumour mills work overtime, there are only a few things we know for sure so far about the 2019 and 2020 routes:
An important question, not just because it's nice to have a glass of something after a long day on the bike, but also because the regions of France and their produce are part of the scenery that make up each stage.
In Belgium it's all about the beer: You pass little bars and street-side cafes in almost every village advertising their local beer with coloured signs hanging from the red brick buildings. The frites vans, chocolate shops and waffle supplies are important too. But really, in Belgium, it all starts with the beer…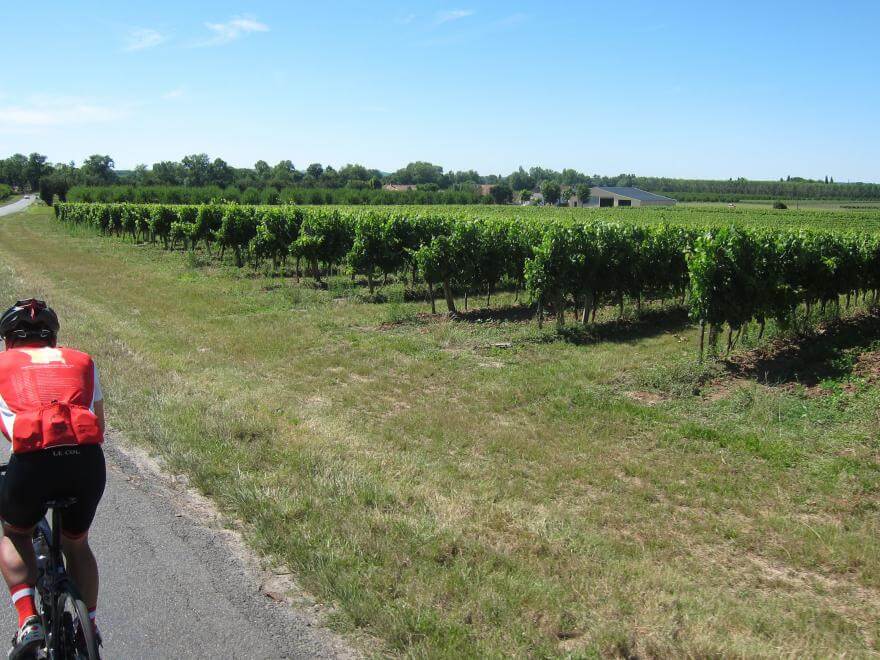 As if moving on through the perfect meal, it looks like the next stop might be the Champagne region. Imagine kilometers of vineyards with perfectly straight rows of vines and perfectly tarmacked roads winding through them. This is a lovely area of France to cycle through – it would be shame not to finish the stage with a glass!
Heading on south we'll be passing through or close to Burgundy and on to the Rhone Valley so that's at least 5 stages of back to back excellent red! The roads we cycle will become more rolling (read: hilly), the earth will be redder and dryer and you'll see small co-operatives and wine distributers dotted around the countryside.
And for those of you interested in wine, it's worth the wait. If we hang around the Toulouse area for a while (a rest day close by?), we'll have a chance to sample the fruits of the new wave of French wine producers. Apparently, Toulouse is the new Bordeaux: rare grape varieties, younger and more experimental vineyard owners and consequently more interesting and appealing wine. Don't take our word for it – come and see/taste/cycle for yourselves.
Don't just watch it. Ride it!
RUMOUR UPDATE #3
What will make the Tour de France Special?
There are rumours of a return to the Basque country after we visited briefly for a stage 20 time trial in 2018. But we're not so sure.
We'd rather put our money on a couple of gravel roads making an appearance (if not 2019 then surely 2020. It's only a matter of time) or a return to Andorra.
And although we don't imagine a fully cobbled stage like we had this summer, we already know that we're going up the Mur van Geraardsbergen so the chances of another cobbled climb somewhere along the way are high.
And what about a mountain time trial? That's something that has fuelled the rumour-mill for a couple of years but so far is yet to materialise. Imagine a time trial on Hautacam – surely that would keep the pros quaking in their cleats!
Don't just watch it. Ride it!
RUMOUR UPDATE #2
Which bucket list climbs can we expect?
The most likely answer is surely Ventoux, Ventoux and more Ventoux… which would make us very happy indeed! It's been a couple of years since we had the pleasure and the route
certainly suggests a bit of time in Provence.
The big question is maybe less 'if' and possibly 'how many times?'. Imagine; twice in one tour! What would the pros think?
It would be possible to climb Ventoux on our way from Belgium to the Pyrenees – and then again as part of an Alpine finale. Alternatively (but we think less likely) might be a double ascent in one stage. We certainly won't be surprised if we're given two chances to cycle over the moon.
Regarding other big climbs to look out for, we'll stick our neck out and say Hautacam in the Pyrenees and Izouard in the Alps. But we're also very happy to wait for a couple of surprises.
Don't just watch it. Ride it!
More Rumour Updates coming soon …
RUMOUR UPDATE #1
Alps or Pyrenees First? …
We're all excited about the 2019 Tour route and what it has in store. The rumours are that we'll head from the Grand Depart in Belgium down through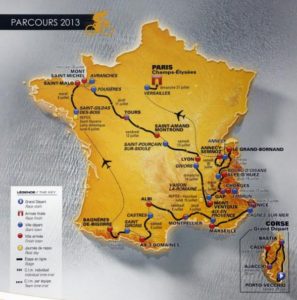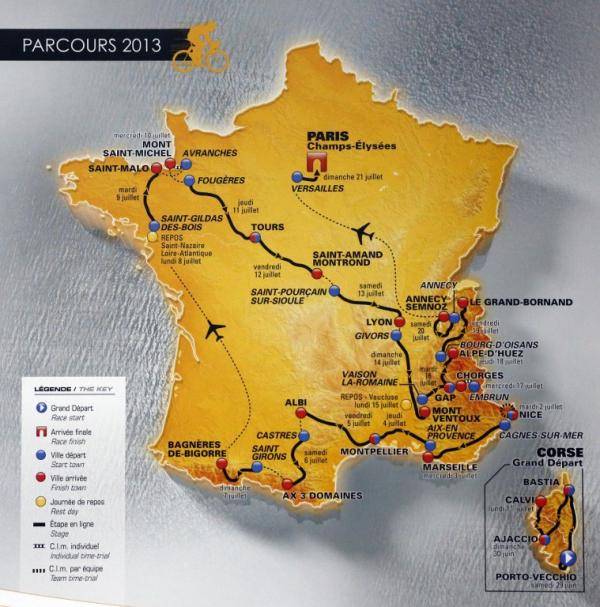 the Champagne region and on to the mountains.
By rights in 2019 it should be the Pyrenees before the Alps (alternating each year which comes first) but it would take a creative route to go all the way west and then return to the east.
Looking at the 2013 Tour route, you can see how this worked when the Grand Depart was in Corsica (early Pyrenean stages, a big rest-day transfer and a longer-than-usual set of 'between mountain' stages before the Alps – all combining to make a genuinely exciting and very enjoyable Tour), so it's definitely possible. But equally there have been a few years recently when protocol was broken and the same mountains took the glory stages two years in a row.
Either way, we can expect the trend for one or two short mountain stages to continue which is great news for us. Under 100km of pure climbing and descent: short enough to be manageable, tough enough to feel epic, amazing to watch on telly one week later!
2019: Brussels – chocolate & beer! Can't say fairer than that …

Brussels is a beautiful city with palaces, historical squares, the modern EU quarter and plenty of charm – and the Tour passes through the centre on stages 1 and 2. This means 2 nights in the same hotel (a Tour luxury!). After these first two stages, we'll be heading west for some classic first week Tour cycling which could mean cobbles (again?!).
Our guess (but it is only a guess) is a route that takes us more south than west, towards Alsace-Lorraine (quiche!) and the French-German border, including the Vosges and the gorgeous areas last explored in 2014 (our fingers are crossed for the Grand Ballon).
From there, will it be the shortest route from the Alps to the Pyrenees – or will the Tour route planners do something interesting and send us through the middle of France (or via the Mediterranean in preparation for 2020) to the Pyrenees, looping back for a grand finale in the Alps? We won't know for sure until the stage start and finish towns are announced in October. Until then, let's just focus on the beer and chocolate…!
We'll keep posting Rumour Updates below as well as on our social media feeds. Join us on Facebook, Instagram, Twitter or LinkedIn to be the first to know!